Supercars
Japan does car park car meets better than anyone else
There's something for everyone in this Tokyo service station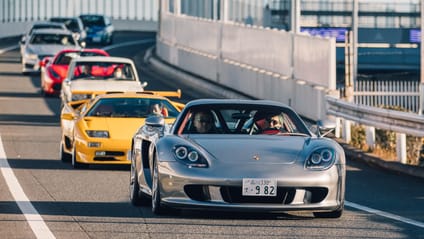 We've covered Yokohama's Daikoku parking area (PA) a few times over the years. That doesn't matter though, as it constantly changes and never ceases to amaze. Technically, it's a service station. But for Japanese car nuts, it's more than a place to stretch your legs, have a leak and grab some processed and sweaty yakisoba. For decades, it's been an open-air amphitheatre and the beating heart of the Japanese car scene.

However, when we popped down a few weeks ago we witnessed the most eclectic haul of supercars, low-riders, Boso cars, vans and everything in between. So no matter what sliver of car culture piques your interest, there's something for everyone. So click through and tell us your favourites below.

Advertisement - Page continues below

Thankfully those pesky WLTP emission regulations haven't made its way over to this Lambo and its gorgeous pea-shooter exhausts yet.

The slantnose was acceptable in the 80s. It's still acceptable now.

Advertisement - Page continues below

What's better than one R34 GT-R? Many R34 GT-Rs. Many, many R34 GT-Rs.

It's not every day you see a Koenigsegg casually parked up at a service station. Unless you're in Japan, that is. Where it's very much a possibility.

Big camber like this is known as 'onikya' which roughly translates to 'help! an elephant has sat on my car!'

All hail the king of speed: the Bugatti Chiron.

Advertisement - Page continues below

Yep, even after 10 years, the Alfa Romeo 8C Competizione is still drop-dead gorgeous.

Advertisement - Page continues below

The Ferrari Enzo. Packing a 6.0-litre V12 with 660 horses, a 0-62mph time of 3.6 seconds, 0-400m time of 11 seconds, 0-1000m time of 19.6 seconds and a top speed of over 217mph. Yeah, it's still stupendously quick.

A Stratos! In Japan! On the road! Yes, yes and yes.

Fair play. Bunnyhopping your way into a car park is one way to do it. Imagine this happening at Membury services.

You may recognise the 'Anija' cars. We've featured them before and they roll as a collective, known around town as the 'Anija A-Team'. Subscribing to the same ethos as Shinichi Morohoshi – the gently unhinged Yakuza-linked Lamborghini tuner and his mad purple Diablo SV - they're all about showing off what they've got. Big, brash and blingy is the name of the game. So if you're not into ritz, look away now.

Hmm. That exhaust doesn't look standard to us. We bet it makes a good noise though.

Raging (lowered and cambered) bull.

Liberty Walk might be one of the most polarising tuners on the planet. It has become notorious for bandsawing the arches off a multitude of exotic supercars, only to then rivet supersized bodykits and slammed suspension set-ups in place. For good or bad, you guys always have something to say about them. So what do you think of this Murci?

Elsewhere in the world, this would be put in bubble wrap and left to appreciate in value. Not in Japan.

Here's a question: Ferrari F40? Or...

And you thought the supermarket car park was a minefield.

An original 'Hakosuka' GT-R that's been modified is a bit like seeing your grandad in Yeezys.

Isn't the Porsche 918 ageing well?

Ferrari F512 M lights just look cooler in Japan, like it was made especially for The Land of The Rising Sun.

Supercars don't get much hairier than this.

Your eyes do not deceive you, that really is a Tommykaira ZZ.

Does anyone know the collective noun for Ferrari Dinos?

These couldn't be more Japanese. Unless they were driven by sumo wrestlers, that is.

A modern-day RSR Turbo like this is definitely something Andreas Preuninger and his army of go-faster Porsche engineers should think about.

Hmm. McLaren F1 might learn a thing or two from this aero package.

The XJR-15 is one of the coolest Jags ever. Only 53 were ever produced, and it was underpinned by the Le Mans-winning XJR9 race car. This or an XJ220?

Ayrton Senna had an instrumental role in the development of the original NSX. We can't remember him recommending slamming it to the ground though, but maybe that was lost in translation.

This Cossie is a long way from Essex. Still looks fantastic, mind.