Supercars
Official: the track-honed Koenigsegg Jesko is called 'Attack'
Here's your 11-point guide to Sweden's 1,600bhp bright orange track star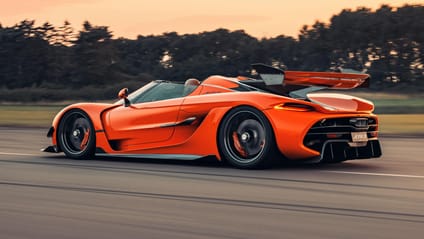 This is an orange hypercar. Specifically, a bright orange Koenigsegg Jesko: a pre-production prototype used for validation, and one that's as near as you'll get to the finished product.

And what a product. Welcome back to the Koenigsegg Jesko, first unveiled in 2019 and now in its final validation phase. Which means production of the twin-turbo V8 Swedish hypercar is about to begin. Koenigsegg intends on building two versions: a top-speed Jesko dubbed 'Absolut', and the bewinged track-honed special you see here.

The Jesko is named after Christian's father who, when CvK was but a pup, helped him set up the company and has supported him ever since. As a way of paying him back, CvK named a 300mph+ hypercar after him, which certainly beats a novelty card and a new pair of socks.

Yes, 300mph+. According to Koenigsegg, simulations of this car's prowess "go way past our target of 500kph or 310mph". The company recently detailed some of the innovations on this track-focused Jesko, so here's your 11-point guide to the fastest and most orange thing you'll likely see this year.

Advertisement - Page continues below

This one's called the Jesko 'Attack'

As mentioned, there'll be a pair of Jesko variants. The 'Absolut' ditches the enormous rear wing to shed drag – better for top speed. It also gets covered rear wheels and bins a few of the nose-section air intakes.

Koenigsegg has now revealed that the track-spec Jesko will be called 'Attack', and the difference is stark. That wing is something else altogether.

It's orange because orange is a historic Koenigsegg colour

Weird to say 'historic' and 'Koenigsegg' in the same sentence, but the company now has over two decades of hypercar experience. The Jesko's orange paint is a callback to the original Koenigsegg CCR, and CvK says the company came up with the colour back in 2004.

Indeed, back in those early days, almost 50 per cent of Koenigseggs were coloured orange. "It brings back a lot of memories," says Koenigsegg.

Advertisement - Page continues below

The wheels are hollow carbon fibre and are really lightweight

Koenigsegg calls them 'Aircore', and the front wheels alone weigh less than 7kgs. Or about a fifth of a Golden Retriever. Unlike a very excited Golden Retriever however, these rims will likely go where you command them to.

Koenigsegg developed the brakes and calipers in-house

Famously, Koenigsegg designs as much of its componentry itself, and the brakes and calipers are no different. The monster calipers get stainless steel pistons with additional heat shielding, while the caliper block itself is privy to a lot of 'strength and lightweighting'. The discs? Carbon ceramics.

The Jesko was designed from the tyres upwards

CvK says those Aircore carbon wheels are wrapped in the latest-generation Michelin Pilot Sport Cup R tyres. "We developed the car starting from the tyre and upwards; everything ties together to our footprint on the ground," says Koenigsegg.

There's no front luggage compartment so you can't store the roof on the move

This is chiefly because that enormous front splitter feeds into an air dam that sits inside the front boot, for better front downforce. Hugely important for a car built to annihilate circuits. Bad for stowing that removable roof on the move, or indeed packing anything more than a toothbrush.

Advertisement - Page continues below

There's also a front triplex suspension setup

Koenigsegg famously deployed a third damper running horizontally across the rear suspension as far back as 2010 on the Agera to combat squatting under hard acceleration. The demands of the Jesko are so great, this triple-damper setup had to be installed on the front, too. "The downforce is so high on the car we need that [triplex] to be able to hold it up," Koenigsegg said.

There's also an additional hydraulic tensioner on this front triplex setup for additional stiffness. It's incredibly complex.

Pictured: Koenigsegg Jesko rear suspension

It's the most practical Koenigsegg ever

A pair of intakes run down the rear three quarters of the Jesko's body, feeding fresh air into that 5.0-litre V8's banks. Koenigsegg says this has opened up the rear window space. "For the first time we have a reasonable rear view out of the car," says Koenigsegg.

Also, the front windscreen has been raised (better front visibility), plus the entire monocoque was stretched by 50mm to create the most spacious Koenigsegg ever built. "We can fit really large people inside this car," apparently.

There's even a glovebox, a centre storage section housing three USB-C points, heck, even a pair of cupholders. CUPHOLDERS, people, on a 1,600bhp hypercar capable of 300mph+.

Advertisement - Page continues below

There's a big rear wing because only a big rear wing will do

Other methods of creating rear downforce were considered, says Koenigsegg, but none offered the efficiency and potency of the Jesko Attack's rear appendage. No more need be said, CvK. You had us at Massive Rear Wing.

There's no flywheel, so the engine's revs and noise will be incredible

A complicated setup to reduce inertia, and one our tiny minds cannot fathom: the 'Light Speed Transmission' is said to offer lightning fast responses and gearchanges. And the most pleasing aspect of this? It sounds mighty. You can go dig out the noise via Koenigsegg's channel on a popular video platform.

"It almost feels like a Formula One engine," says Koenigsegg. Yikes.

There's a 'Ghost' mode

It's pure "theatre", according to CvK, allowing you to open everything on the car remotely via the key. Do it where you've got space, obviously.