Supercars
Road trip: Across Europe in the 903bhp McLaren P1
Tom Ford blasts from Spa to Britain in the hybrid hypercar… and ends up on a closed runway. Oh yes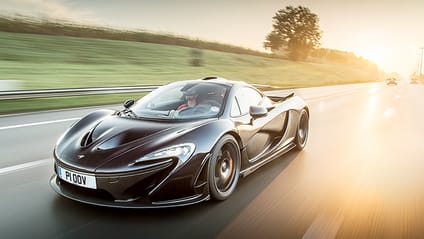 The McLaren P1 is very good at sneaking. This was my initial impression as we slink our way silently from a hotel just outside the Spa Francorchamps circuit at 5am in full furtive-ninja EV mode. It's dark, and there's mist hanging at head height as the tyres crunch on the first frost of the year, a rime lightly eroded by early morning rain. Not ideal conditions in which to test a 903bhp rear-drive hypercar, but no matter how powerful or exclusive, it's always worth remembering at the end of the day it's just a car. I've driven a few. I can probably manage this one.

 

Photography: Jamie Lipman

Advertisement - Page continues below

Ten minutes later, I think my heart has caught fire. I'm not sure it's possible to taste your own lungs, but the gulp of air I've just walloped down seems to have done something to my insides, and it's not comfortable. My mouth tastes metallic, and I think I may have bitten my tongue. Rolling onto the throttle in fifth gear on a greasy motorway, the P1 has risen through its KERS-alike electric boost at the top part of the throttle, wound its turbos to potency at around 4,000rpm, and proceeded to slap the horizon backwards through the windscreen. Unfortunately, it has also started to wheelspin. Through fifth gear.

Editor-in-chief Turner, next to me at the time, simply said "NO," and reached towards the dash - maybe in a futile attempt to physically stop the impending and possibly most embarrassing crash ever recorded in motoring history. Thankfully, the P1's steering is brisk and astute, and the resulting correction (possibly two or three corrections, but who's counting?), were fundamentally instinctive, if not especially elegant.

What followed was one of those really textured silences, where the lack of words stuffs the hush fat with the unsaid. "We will drive this home now," said CT, slowly, enunciating clearly, as if to a halfwit. "We will be very, very careful..." My response was to kick the P1's 'box up into seventh, subside the revs and ease gently into lane one. Just a car, my arse.

Except that the P1 is 'just a car' in all the important ways. Like the 12C, it is comfortable, ergonomic and uncluttered. The windscreen is wide and tall, accentuated by the glass panels above your head that let light flood the interior. You naturally sit in the correct position for leverage at the wheel, and the modified seven-speed SSG 'box works just like in the baby-brother 12C. Which is to say, without complaint or grumble. You can see out of the back through three generous and workable rear-view mirrors. It doesn't feel big, or heavy, or cumbersome.

Advertisement - Page continues below

When pottering, you can amble away in EV mode at the press of a button on the central hockey stick spar, switch to Charge mode, which charges the batteries and turns the P1 into essentially a 176bhp range-extender, or fire up the modified 3.8-litre twin-turbo V8 and make progress like any other fast car.

In fact, that's pretty much what we did, as we drove the P1 several hundred miles back to the UK from Belgium. Just played with the buttons and commuted. We took turns driving - it's relaxing enough to strip miles in that I happily nodded off in the passenger seat during one of CT's driving stints - and we poked and prodded. We found that if you need to make a phone call, you can press the EV mode button to kill the engine and glide along for several miles of near-silence, even at 80mph. Necessary because the P1's MonoCage carbon-ness means that it's a bit grumbly and acoustically reflective on bad roads - lightweight carpetry being a no-cost option not fitted to our car. We charged the batteries when we saw traffic jams ahead on the - fully operational - nav and glided through the obstruction on willing lithium ions.

Obviously, I got bored, and played the "what gear will it pull?" game, tried to fox the 'box with hesitant feet and left-foot braking, tried to convince the satnav that we needed to get lost across an Alp before home time. I gazed longingly at the buttons marked IPAS and DRS on the steering wheel. The ones marked LAUNCH and BOOST on the console. Then looked at the weather - which was flickering uncertainly from sun to mist to rain to hail and back to sun like a badly shuffled kinetoscope - and back at my passenger, whose only response was the kind of stare that could strip paint.

Most of northern Europe took a slightly blurry picture. We brought the Channel Tunnel to a near standstill, and yet there was the lingering feeling that I hadn't had the chance to poke even at the outer edges of what the P1 was capable of. Of course, we meandered through B-roads once back in the UK, felt the immediacy of this car's responses threaded through every direction change. We marvelled at the fact that, if anything, it rides better than the 12C. But it's nigh-on irresponsible to give a car like this full attack on a public road, mainly because the approach speeds towards other traffic get properly scary. Think superbike. With better brakes. Which is why, when we pitched up at Lydd Airport in Kent to find the 1,505m runway and side roads at our disposal, I got butterflies. It was sunny, too. And dry. Which meant only one thing: time to poke the animal with a sharp stick, and see what it would do.

It's not actually called Beast mode, but pull to a stop and engage the Race setting, and the P1 starts to stretch and flex like a bird of prey just before it goes and does something raptorish to a mouse. The suspension drops 50mm, tucking the wheels into the arches, the rear wing with that weird C-section blade rises up a good 300mm. Automotive T'ai-Chi, and just as hypnotic. Then, after all the transformational theatrics, all that remained was to press the Launch button, hold the car on the brake with my left foot while flattening the accelerator, wait for the boost to reach optimum, release, and inhale my own teeth.

Fast? Yep. Just a bit. No wheelspin at launch, no real fuss, just a seamless initial electric torque fluidly integrated into the vicious abilities of a 700bhp+ turboed V8. First run hit 180mph and stopped again before we'd covered two-thirds of the runway. Which threw up a most interesting fact - the P1's brakes are one of the most effective parts of the whole car. I got my teeth back, anyway. If it sounds scary, it wasn't. Yes, I was initially cautious - I'd already had my wrist slapped by the P1's delivery, don't forget - but in the dry, at galumphing speeds, the P1 gets easier. An example: there's a bump in Lydd's runway about halfway down, big enough to pop the wheels into the air and get wheelspin at 100mph when fully on the throttle. Which is a bit of an orifice-puckerer. Hit the same bump at 160mph-plus, and there is no pop, the whole car compressed into the tarmac by 600kg of downforce from the wholly viable aero package. Not something I've really felt from a road car before.

Advertisement - Page continues below

It's sticky, and reliable through a corner, too. Though I'm not sure about McLaren's claims of 2g cornering ability (I suspect this might be computer-idealistic), the P1 has the measure of any contemporary sports car in terms of grip and go. And yes, it does oversteer readily, and yes, you can pick it back up easily enough because the car is almost hysterical in its feedback. In fact, it's an inundation. You are accosted from every direction at once. Your ears ring with the buzzsaw rasp of the motor overlaid by the E-motor's whine - something like a jet engine ingesting both fireworks and a National Grid substation. Your hands and arms feed back directional inputs that have become so instinctive, it feels like you've glued your arms to the front wheels. And your lower back moves entirely within the cadences of the car, like you're at the centre of the pivot. You become an alloy of P1 and human. A Puman. It's alert, and with you, and utterly immersive.

And yet there's more. Once you've exhausted the standard capabilities, you can play with the DRS button, which flattens the rear wing, allowing for pointlessly vital extra mph on the track-day straight. Then you can pretend to be a jet pilot with an afterburner by pressing the IPAS button, which scavenges any power from the batteries and delivers it on cue, all at once, in any gear, as long as you're at more than 80 per cent throttle. It's like having 150bhp shot of nitrous knocking about on the Space Shuttle.

Advertisement - Page continues below

And yet. It's not the fastest car I've ever driven. Or the most theatrical. The Veyron Super Sport is faster; the Pagani Huayra a demented opera of wondrous excess. The P1 is something else entirely. It makes a Veyron feel like an Audi TT RS taking on a Lotus Elise. Makes it feel bloated and nerveless. And yet it makes a Huayra feel fanciful and a bit unfocused. The McLaren P1 is different. It's a well-resolved, ambitious, stand-and-stare bit of engineering that still has the frisson of danger that means you can't assimilate it in an instant. You can drive this car slowly easily, but it will take a while longer really to get a handle on all it can do. You need to learn it, and then begin to push the abilities of yourself and it in unison. And that, in its way, is magical. And also why it is Top Gear magazine's Hypercar of the Year.