Supercars
Ten things you need to know: LEGO Speed Champions
The man behind LEGO's McLaren 720S tells us the secrets behind the kits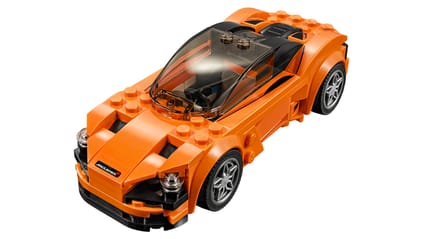 There are cool jobs, and then there are really cool jobs. Spend any time wandering around with Craig Callum, design manager at LEGO, and you need to prepare yourself for the sight of grown adults being reduced to gibbering wrecks when confronted by someone who gets paid to dream up new LEGO sets.

Suffolk-raised Craig, 33, designed Renault trucks before joining Denmark's most famous company five years ago. He's now design lead on the Speed Champions line, arguably the coolest of all the gigs even within the rarefied LEGO universe (unless you're a major Star Wars or Batman fanboy). Speed Champions now encompasses the likes of Audi, Bugatti, Chevrolet, Ferrari, Ford, McLaren, Mercedes-AMG and Porsche, with more coming down the pipe. Craig's business card is a customised LEGO mini version of himself, and he knocks about Billund – where the company is based – in a 1930 Ford Model A coupe nicknamed 'Old Red'. Frankly, he would be annoying if he wasn't such a nice guy.

TG caught up with him to discover what it takes to make some of the coolest toys in the world...

Advertisement - Page continues below

Designing LEGO is often about problem solving

"You have to think a bit weirdly," explains Craig. "I started here working on the Ninjago line, and amongst other things had to devise ways of designing weapons that looked really cool but that weren't actually dangerous. That was a lot of fun."

LEGO is full of car geeks, and the kits aren't just for kids

"I was part of the team that kick-started the Speed Champions. There are a lot of car geeks working at LEGO, and there were lots of cars within various existing lines, but we thought that something was missing. We wanted to create something authentic, that would work for 'older' LEGO builders. The primary focus is always on what works for kids, but there's a bigger story to tell sometimes, too. The Ford GT40 is a good example – not everyone will know the history and back-story, but the new GT is out there now so it's a perfect example of how you can span the generations."

Advertisement - Page continues below

The best LEGO cars are the ones with a story to tell

"I would love to build every car I love in LEGO, but the ones that work best are the cars that have something unique about them, something that really pops out. That's why we've done some of the most iconic cars – the Porsche 917K and Ford GT40, for example."

It can take up to two years to perfect the design

"There are maybe 15 guys at the design studio who are working on various cars and ideas pretty much constantly. There are four of us full-time at Speed Champions, we have drawers full of LEGO elements, and it's our job to take the cars and ideas and render them realistically in LEGO. Which isn't easy, although it's fun in the early stages. There's real complexity and imagination in the build, as you can imagine if you look at the shape of the Bugatti Chiron, Ford GT or McLaren 720S (pictured). It can take up to two years to perfect the design and freeze it."

The cars are built using standardised LEGO bricks

"With the Speed Champions line, we stick to pretty much standard LEGO bricks. The whole idea is that you could create these cars yourself. It's usually only the stickers or graphics that are different. Some cars need those to work fully whereas others are more immediately recognisable."

Each individual LEGO brick has its own name

"As a LEGO designer, your tools are the bricks. How do you achieve that curve, which bricks do you use, how do you connect them? It's a system, and you start thinking in terms of modules, platforms, studs and knubs. They all have names, too. There's one called the Erling, named after the man who invented it [Erling Dideriksen]. It's the headlight brick."

Advertisement - Page continues below

The instructions are super important

"Once we've figured how to build something, we need to work closely with the team that creates the instructions, so that everyone else can do it, too. It doesn't just have to be logical and easy to follow, the model also has to be stable and super strong once it's made. You can't have bits falling off, because the models are probably going to be subjected to a certain amount of abuse."

The McLaren 720S LEGO was a head-scratcher

"The McLaren 720S consists entirely of pre-existing LEGO elements, although the wheel-trims are specially designed. It's not a diecast replica, it's a LEGO version of the 720S. The proportions aren't going to be exactly right, it's a caricature to a certain extent, but the important thing is that kids are going to get it, and get into the whole idea. I saw the real thing as a full-size clay model about 18 months ago, and at first I really wasn't sure we'd be able to do it. Or do it justice. But I'm pleased with how it's turned out."

Advertisement - Page continues below

The 720S Lego set puts you in the designer's chair

"We wanted to tell a different story with the 720S set. We've done racing, pit stops, cones, a chequered flag, and the Ferrari FXX K set even has a dyno and rolling road. But thinking about what it takes to get a car to that end point led back to the start of the process. So with the 720S set, you're the designer, with the sketch and the desk. Maybe we should have included a coffee cup, but I don't drink coffee."

The dream LEGO build? McLaren's classic F1

"We're facilitators of imagination. Building a LEGO version of the McLaren F1 would have been the dream car for me when I was growing up. But it would have turned into a hot rod version of the car pretty quickly… Maybe our partners would disagree, but for me it's about playing with the sets that's cool. You could modify the 720S with wings or rockets, or make an off-road version with a helicopter pad on the back."