Supercars
TG's big road test: the Porsche 911 GT3 RS
Is the GT3 RS so track-focused you can't use it on the road? Ollie Marriage finds out - by going for a long, long drive...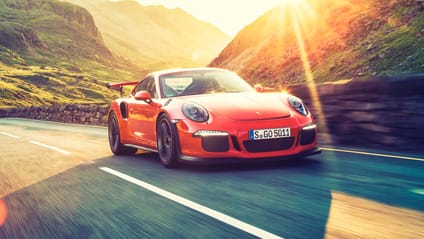 As I write this, the GT3 RS is parked outside my window. I'm finding it a struggle to remain indoors. It's a lovely warm day, I could just take off, go and get another hit.

It's not long since my last. I got home at 3am this morning, having driven 700 miles in two days all over north Wales. And all I want to do is drive some more.

Photography: Richard Pardon

Advertisement - Page continues below

It pains me mightily to admit it, but I misjudged the GT3 RS when I first drove it on its launch in Germany. "I can't help thinking it's a bit of a shame you have to be going so fast to get your kicks," I wrote. Wrong. It felt like that in Germany because on smooth roads the car never seemed to have to work anything like as hard as the driver, and on track… well, as you can read on further on, that was a different matter.

Now I'm in Wales, on the same roads I took the standard GT3 to almost exactly two years ago. Partly to play spot the difference, partly because the roads around Bala are just spectacular.

I got here in the same way, too – via the tangle of roadworks, congestion and identi-awful services that is Britain's motorway network. The new GT3 RS is only available, like the GT3, with a PDK gearbox. It goes a long way to convincing you that you could live with the GT3 RS as an everyday car.

Just because you could doesn't mean you should, though. You'd eventually become irritated by it, and that would be a shame. Your spine would hunch into the seats, you'd never hear Chris Evans over the white noise of road roar and you'd flinch at every cat's eye. Constricted, deaf and numbed, you'd suffer a slow slide into masochism and lose sight of why this car is so great. So don't do it to yourself.

Advertisement - Page continues below

And besides, who on the M42 is going to admire the carbon bonnet, boot and rear wing? The plastic windows, sticker-for-a-badge and magnesium roof panel (30 per cent lighter than aluminium)? No one, that's who. It's tempting to view all this as unnecessary sparkle, designed to sucker in the geeky and fetishistic. If Porsche had stuck with a conventional aluminium roof, the car would have weighed 1,421.1kg instead of 1,420kg. And yet they persevered with this world first, a component that's 1mm thick, made from magnesium sourced in Malaysia, shaped in Canada and finally fitted in Germany. All for a single saved kilo.

But as I'm sure you're aware, every little helps. And lots of little eventually adds up to something big. Porsche has put the same attention to detail into everything. It's highly unlikely you'll ever see the titanium con rods or the crankshaft, made of the same V361 super-high-purity steel as the 919 Le Mans car's, that had to be remelted multiple times in order to achieve the strength and grain it needs. But they're there. Likewise the dry-sump lubricated engine that now has a 4mm longer stroke, taking the 3.8-litre engine out to 4.0 litres, gaining 25bhp and 15lb ft. And the ball-jointed suspension. And the (admittedly optional) lightweight lithium-ion battery. And the titanium exhaust.

What you can see is the car itself. Oof.

Where does Cup car end and road car start? How are those rear wheelarch clearances legal? It doesn't look self-conscious or visually overblown (no parody of a racing stripe here), it just looks mighty. It looks, to be frank, like the components are too big for the bodyshell. Those wheels pop out of the arches, you could host a state banquet on the rear wing, even the headlights seem more pronounced, artificially enhanced by the newly sculpted bonnet and roof. For two days solid, photographer Richard Pardon and I can't stop staring at it. There's not a bad angle on it.

The GT3 RS wears its motorsport background so close to the surface that occasionally it bursts through. It's the first of Porsche's naturally aspirated GT cars to use the wider Turbo body, which brings wider track widths (good for grip) and side air intakes (the ram-air effect is good for power). The broader bodyshell can't help but add weight, yet thanks to all those marginal gains, it's 10kg lighter than the GT3.

And much more aerodynamically effective. Those slats above the front wheels vent high-pressure air from the wheelarches, allowing the front spoiler to do its job more effectively, generating 110kg of downforce at 125mph. In turn, this meant the engineers could fit a bigger rear wing to balance things out. Excellent. Another 220kg of downforce. In total, the GT3 RS generates 80 per cent of the downforce of the Cup racing car. Still not enough grip? Those vast 21-inch rear wheels are wrapped in comical 325/30 Michelin Pilot Super Sport tyres and, to top it all, don't forget the flat-six hangs out the back, too.

Grip, frankly, is ludicrous. There's an on-board g-meter. We took a picture of it. Have a look at the readings. Traction is equally daft. You can come out of a hairpin in first gear, give it everything, and you still won't unstick the rears. I know, I tried. Repeatedly. In fact, the only way to do the sideways stuff is to indulge a secret Porsche PDK trick. Pull both paddles and you get neutral, give it a dose of gas, release the paddles which dumps the clutch, the tyres unhook, and the noise and drama begins. Porsche isn't quite so overt about what the paddle-neutral function is for. The line in the bumf says it is possible "to influence driving dynamics by a rapid onset of propulsive power when engaging the clutch… the rear of the car can be intentionally destabilised for dynamic turn-in behaviour when cornering". Hmm, Porsche needs to learn when to call a spade a spade. Precis: it's a shortcut to hero mode. 

Advertisement - Page continues below

Skids and burnouts aren't really a key facet of the RS's repertoire. This is not a muscle car, it's a precision instrument. It will do the silly stuff, and it'll do it with utter focus, but to really understand the GT3 RS, all you need to do is drive. And keep driving. Then drive some more. Because driving is what the GT3 RS does beautifully. This is not a Lamborghini-esque piece of street theatre, it doesn't have the drama of the Ferrari 488 GTB or the ride comfort of a McLaren 650S. It has no fallback position.

It doesn't need one. Where the standard GT3 is surprisingly magnanimous, the GT3 RS is ruthless. Don't worry – it's on your side, but its take-no-prisoners attitude to roads is something to experience. It's not feral, because that implies something wild and out of control. No, this is something implacable, hinting at contained violence, but never hot-headed. It's the Terminator of roads. Lousy film reference, but you get the idea.

Advertisement - Page continues below

This makes it sound rather cold, but it's not. The way it goes down the B4391, one of my top five roads ever, is deliciously, intensely involving. I was worried from that first drive in Germany that the minimal suspension travel would make it brittle and snatchy over here – and it does skip under power occasionally as it fights the runkled surface for available grip. But you soon realise that, far from being frightening, this is a mark of how much information is coming back at you.

I've done Bala, and now I need more. Roads, scenery, driving – I can't help myself, I don't want to stop. So I'm off further north making my own compilation of Wales's greatest hits. It's mesmeric on smooth, wide A-roads such as the A470, struggles slightly on the small stuff due to width rather than body composure. It's a very wide car. But I like it best on a two-lane B-road. Enough room to play with, but with plenty to keep you occupied. And still the GT3 RS goes exactly where I point it.

Speed of attack is almost irrelevant. It doesn't understeer, it just turns. Personally, there's a part of me that misses the bobble and sniff of old 911s, the way the nose searched out cambers and ruts. Partnered with that was gorgeous steering feel, but also a hint of fear that all might not be well, that the grip might run out. The longer wheelbase has shifted the weight distribution, so the rear end no longer acts like such a lever for the front, plus there's four-wheel steering and dynamic engine mounts and downforce, all of which has helped make the front end ultra-positive and reassuring. It hasn't helped natural steering feel, but in this instance, with zero slack anywhere in the chassis, you get more information that you can possibly process.

And information is the RS's secret. As a result, I resolve to give myself information overload by driving everywhere with the dampers hardened up. It's strangely addictive and not nearly as masochistic as I feared. Because this car is about driving, you don't worry about anything else. As a result, I've no idea what the sound system is like, nor did I bother with the new Pit Speed function. This, not the wide boy Turbo S, is the ultimate 911. It compels you to concentrate, to just press pedals and turn steering. And the reactions you get from the controls are so instant, so perfectly tuned into your movements that you and the car flow together, accelerating, braking, turning. And repeating. Ideally ad infinitum. Or until the petrol runs out.

You find yourself celebrating the skips and bumps, because nothing appears to be able to throw this car off line. You relish the ruthless attitude, as you're so absorbed in the driving. And you don't have to be a great driver to enjoy it, you just have to give yourself over to the car. It feels bombproof, both in its abilities and its mechanical robustness, a hunkered-down gutsiness underpins the whole car. And the cabin. It might have a lot of equipment, but I can't think of a better driving environment.

I can't stop driving. We're way beyond Bala now, homing in on the Llanberis Pass, the sheer-sided heart of Snowdonia. The sun is setting and the mighty flat-six is chuntering and yelping and howling and soaring: 8,800rpm, that'll do. It's tight as a drum, yet bursting with energy and rips through the rev band like a whip crack. And the soundtrack, as it echoes off the slate and rock, is spectacular. Natural aspiration. There's simply nothing to beat it. Why would you need to go faster? Honestly, the speeds this car could ratchet up are insane.

I'm becoming addicted. Up and down the Llanberis Pass I drive, while a drone flies above me and shutters click in the hillsides. Just one more pass? Oh, go on then. This is a difficult, treacherous road, lined on one side with vicious slabs of hewn rock and on the other with the roots of the mountains themselves. The RS snarls along here, never puts a foot wrong. It hasn't in two days.

I was worried the GT3 RS had become so capable that at road speeds it would seem bored, grumpily insistent that it had to be taken to a track to give its best. Instead it's mesmerising. Time to drive some more.

Take it to the track…

The GT3 RS finds another dimension when you take it on a track – the rollercoaster ride that is Bilster Berg in Germany, in this instance. Here, you get to find out what happens when the grip runs out, discover just how adjustable it is at the limit. You have to be confident in it; you can't show the RS any weakness because if you do, if you back out of the throttle mid-corner, it'll start to edge out at the back, punish your indecision with a 'slow' exit and your heart in your mouth.

So instead man up, trust that amazing front end, stay on the throttle, relish the grip and you'll come out the far side fully lit and giddy with excitement. It's a compelling car, it really is. And once you get used to it, you can play with the balance through corners, tickle the throttle to adjust your line, maybe even indulge in a spot of left-foot braking. Why not? It's not like you've got a clutch to worry about.

Is PDK a good thing in Porsche's most driver-focused car? In this instance, yes. The car is so fast in every other aspect that to have a slow gearbox would be anathema. And it is a brilliant double-clutcher, a proper companion for the epic engine.

As you might have gathered, the GT3 RS is not an easy-going car, not laugh-a-minute fun. It's more serious, more intent than that. Nothing less than a driving weapon.