Supercars
Ultra-rare Koenigsegg One:1 up for sale
Missed your chance a few months back? Fear not – it's up for grabs again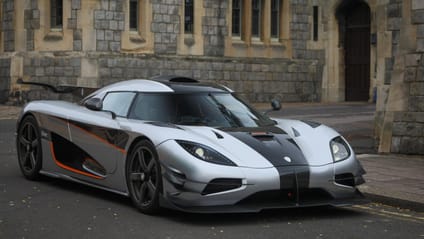 It's not too often you get a second crack at a once-in-a-lifetime chance. But, like most modern problems, a bank account with many millions of pounds in it will allow you to catch lightning in a bottle twice.

Advertisement - Page continues below

If you missed out on a chance to pick up Koenigsegg's other-worldly One:1 when it popped up for sale last time around, don't fret – you have another shot at taking home the first production car to break the coveted one-horsepower-per-kilo barrier, redefining what it means to be a hypercar in the process. Koenigsegg says it's "the world's first Megacar", which is an adjective we don't think will catch on, but you'll be glad to know they're not lying.

So, what makes the One:1 so special? Well, the one-horsepower-per-kilo thing, obviously. That figure is due, in a large part, to the 1,340bhp, 5.0-litre V8. That's 1,000kW in new money, also known as one megawatt, which is a measurement usually reserved for power stations. And, rather than let such titanic power go to waste, the One:1 employs a raft of clever and featherweight parts – active aerodynamics and suspension, hollow carbon-fibre wheels and 3D-printed titanium parts, for instance – which helps keep the kerb weight down. The practical upshot of all of this is that the One:1 will do zero to 250mph and back to zero in 30 seconds. If you let it run on, the One:1 will eventually hit 273mph. Consider that kind of speed for a moment, if you will.

Advertisement - Page continues below

Of course, taking a car of this magnitude home will come at a cost. Offered up for sale in May 2016 for £4.1m, this One:1 is now listed for £4.7m, which could be down to the weaker pound or the exceptional rarity of the superlative supercar. Just how exceptionally rare? Well, there were only seven One:1s ever built. So that's pretty rare. But this particular One:1 goes a step further – it's the prototype version, and has a bit of history behind it.

This was the super 'Segg that blew everyone's socks, minds, and whatever else you could mention on a family-friendly website at the Geneva Motor Show. It was with this particular One:1 that Christian Koenigsegg and his team developed the astonishing engine, active aerodynamics and equally active suspension. It's also the very car that smashed the lap records for production cars at both Suzuka and Spa Francorchamps. It's had a bit of a life, this 'un. And that makes it all the more interesting – it's kind of like the difference between a regular Rolex and the one that Sir Edmund Hillary took to the top of the world.

However, unlike the Rolex Oyster Perpetual that took a merry ride up Everest, don't think that this Koenigsegg is bound for a museum, ready to spend its dotage in a hermetically sealed case. Surrey-based speed merchants SuperVettura say that even with 7,100 (fairly rigorous) miles on the clock, the prototype One:1 has undergone a full factory refresh and is ready for as many miles as your licence will endure. So, who's up for a 273-mile-an-hour slice of history?