Supercars
The Venom F5 Revolution is a track-ready version of Hennessey's hypercar
Forget the top speed run, this bewinged 1,817bhp monster is all about lap times
The customer is always right, goes the old adage. So, when John Hennessey's Venom F5 customers asked politely about a more track-focussed version of the 300mph+ hypercar, the Texan was only too happy to oblige.
And here is the result of that customer request – the Venom F5 Revolution. The big headline is not top speed – that's limited to just under 250mph thanks to all of the extra aero. Said aero helps to create plenty of downforce though, meaning the Revolution should be able to put in some ridiculously quick lap times. 
Advertisement - Page continues below
"It's basically our GT3 RS iteration of the F5," John Hennessey tells TG. "So it's not a race car – it's still a proper road car but with a serious track focus to it." 
Some more detail, then. It's still powered by the bonkers 1,817bhp twin-turbo 6.6-litre V8 that Hennessey has nicknamed 'Fury', and we're told that the Revolution has "nearly identical DNA" to the 'standard' Venom F5 Coupe that it's based on. It uses the same seven-speed single clutch semi-auto gearbox (sending power to the rear wheels alone) as the original Venom F5 too, although here it's 'calibrated for competitive use'.
There's less weight for the 1,817bhp to shift too, with 'a systematic focus on weight reduction' allowing for a figure under 1,360kg and making this the lightest variant of the Venom. 
The aero enhancements include that giant rear wing, a new front splitter and additional winglets ahead of the front wheels. The wing itself, complete here with proper US-spec livery for the first buyer, is adjustable and can provide up to 363kg of downforce at 186mph or over 635kg at 249mph.
Advertisement - Page continues below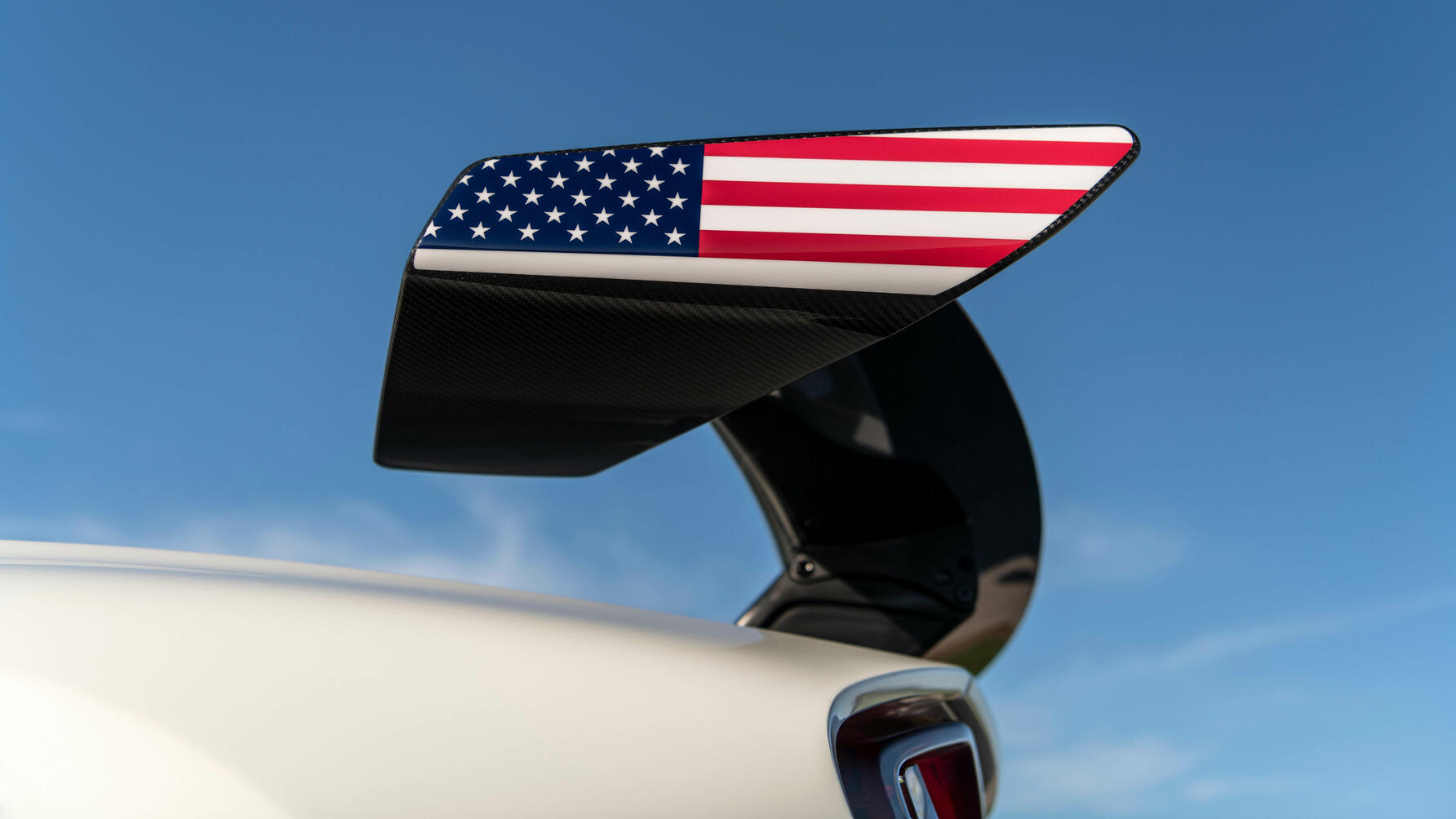 There's also a new roof scoop to ram air into the monstrous V8 and help cooling, new forged wheels and tyres with slightly larger contact patches, while the double-wishbone suspension setup is more aggressive than before and fitted with adjustable dampers that can be 'calibrated trackside with simple tools'.
The standard setup should be rather tasty though, because it's been honed by chief engineer John 'Heinrocket' Heinricy – a man with 38 years of performance car development experience at General Motors and multiple race and championship wins in his motorsport career. 
Oh, and Heinricy also has over 1,000 laps of the Nürburgring to his name, and it just so happens that some testing of the Revolution will take place in that particular part of Germany later this year. Look out for the lap time. 
"Are we intending to beat the AMG One at the Nordschleife? Not necessarily – that's not why we built the car. But certainly at some point when we do get to the Nordschleife, we're looking at the One's 6m 35s," says John Hennessey.
Top Gear
Newsletter
Thank you for subscribing to our newsletter. Look out for your regular round-up of news, reviews and offers in your inbox.
Get all the latest news, reviews and exclusives, direct to your inbox.
"We're not making any statements that we're going to set any particular lap records, but we're going to do extensive testing and make sure that we've got a car that our clients are very happy with and feel confident in. If by virtue of that the car runs a certain number then great, and whether it's the AMG One at the Nürburgring or the McLaren Senna, which ran a 2m 13s at the Circuit of the Americas, we'd like to see how our car compares. As we get into our testing programme we'll keep you posted if any of our lap times are newsworthy."
You'll be able to track your own lap times when driving the Revolution too, because it'll also come with a full digital track telemetry system. Testing will also take place at the Circuit of the Americas, Laguna Seca, Road America and Spa-Francorchamps.
The cost for all of this? A snip at just $2.7m, and it'll be limited to just 24 units too. Most of them have already sold though, so if the Revolution is your ideal track-ready hypercar (out of the many to choose from these days) then you best get that order in quickly.