SUVs
Why we love the Mercedes-Benz G-Class
As Merc's iconic box on wheels gets reinvented, we remind ourselves why it's so good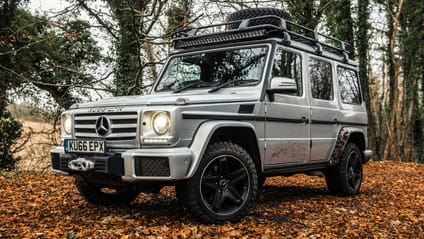 Earlier this year, Mercedes threw the covers off its new G-Class. Or G-Wagen as we still like to call it. Not that you'd have noticed as it looks pretty much exactly the same as the old one. Just a little softer. Like it'd been left in the wind and eroded in the hands of time. But don't judge a car by its new headlights. The new one is the most significant overhaul the boxy icon has had in over three decades.

Only five parts have been carried over from the old one. They're not particularly significant, either, the list including the spare wheel cover, the headlight washer nozzles, sun visors, that push button on the door handles and the tow bar. But, the new G-Class hasn't forgotten its roots. It still uses a traditional ladder-frame chassis, three differential locks and low-range gear reduction. The ground clearance is better than before, improving the G's already formidable wading depth and approach and departure angles. Only now, should you prod the right drive select buttons, there's a bit of modern tech to help soak up tough terrain and simplify any sticky situations without the use of sand paddles and swear words.

Inside, the new G has had a complete makeover bringing it bang up to date with the rest of Merc's sublime and luxuriously techy cabins. More than that, the G is up to 170kg lighter than before, but a bit bigger – 53mm longer and 121mm wider – which has apparently benefited interior space, always a bugbear in the somewhat inverse-Tardis old car. Before the new one comes in however, we thought we'd take out the current one to remind ourselves why there ain't nothin' but a G thang, baby.

Advertisement - Page continues below

It's easy to forget how old it actually is.

It all started back in the Seventies when the Shah of Iran suggested to Mercedes that it might be nice if it built an SUV. Lightbulb moment identified, Merc promptly hopped into bed with Austrian military vehicle manufacturer, Steyr-Daimler-Puch, and started creating the "Geländewagen" (German for 'cross-country vehicle') for civilian and military use.

A development programme rumbled through most of the Seventies, including excursions to German coalfields, the Sahara desert, and the Arctic Circle. And Steyr-Daimler-Puch began hand-building the G in the same Graz factory they're made in today, ready for its 1979 launch.

When it arrived on sale you could choose either a short (2400mm) or long (2850mm) wheelbase. The former came in two-door ragtop or wagon flavour, but the big 'un was only available as a four-door wagon. You could also get both of the estates as windowless two-door vans, called Kastenwagen.

Just like today, they were sturdy old things. The cubic body sits on top of a ladder chassis, under which SP fitted three fully locking differentials. Engine-wise, the lineup was all Mercedes. You could pick from a selection of three petrols (a 2.0-litre and 2.3-litre four-pot or a 2.8-litre six) and three diesels (a 2.4-litre four-cylinder diesel, or a 2.5-litre and 3.0-litre five-pot).

The marriage of military underwear and German oily bits was a successful one, and it soon found favour with the military - in its career, it's seen service with 63 armies, and Mercedes has had to promise NATO that it'll carry on building them till 2025.

Naturally, as the clientele changed over the years, Merc has continually zinged the thing up. Make it a bit more, erm, Kings Road.

It cuts through society in a way few cars can

It's hard to put your finger on why the Mercedes G-Class (or G-Wagen, if like us, you're still stuck in Benzo's late-Nineties nomenclature) has such a strong magnetic attraction to a wide-reaching demographic of people.

The archaic box on wheels is loved equally by kids, oligarchs, sheikhs, rappers, farmers... hell, even the Kardashians. Oh, and us car enthusiasts who find utilitarian charm and classless park-anywhere-ability as virtuous enough reason to file it under the 'good car' banner.

They're literally more popular than ever, despite the imminent arrival of the new model: UK sales of the current model were up 30 per cent year on year in 2017. And you're now more likely to see one traversing the urban jungle than an actual wet, bushy one. Hence why we'll see the new G63 in the UK before the normal, utilitarian diesel option.

Now, the outrageous and exceedingly expensive AMGs normally steal the limelight (and sales figures). But there's an honesty to the G350d that encourages you to push it to its limits, throw a slobbering gun dog in the boot, kids in the back and go have fun. Then, afterwards, you can still park it up outside the poshest hotel. Even caked in mud. Just like a Defender. Which, remember, you can't buy anymore. So if you want that kind of experience, the G is the closest thing you're going to get. 

Advertisement - Page continues below

You have to concentrate while driving it on road

The G-Class's rough and ready "trailing link and Panhard rod" suspension setup may be effective off-road, but it makes for an alarmingly wavy ride when the road gets a bit more tarmac-y. You bobble along, bolt upright with your face squished against the windscreen - albeit with a constant smile on your face - as you hustle it along faster than physics would like you to.

Unsurprisingly, there's roll, not helped by the steering which changes viscosity with speed, input, and tyre inflation (not helped by the fact we have fitted knobbly space hopper tyres). The recirculating ball set-up dates back to the 1979 G-Wagen and you can definitely feel its age. That's changing for a new one, which gets an electric setup.

But there's than enough performance for something so square, roly and slow to react. In a G350d you see a 0-62mph time of 8.9sec and a 119mph top speed. In the G63, the 0-62mph drops to 5.4sec and goes on to a slightly terrifying 130mph top speed. Its big V12 'G65' brother? That's like carving somewhere to sit into a breeze block and then being fired out of a cannon.

It's incredibly capable off-road

First and foremost, the G-Wagen was built to plug mud, bash dunes and go bulkhead first into whatever the planet threw at it. To this day, the simple elements of a torquey engine, three locking diffs and chunky tyres (doubly chunky in our case with two spares) means it's pretty much unstoppable.

You just point it where you want to go, lock the appropriate diffs and maintain momentum in the gloopy stuff, or keep the power pinned in softer surfaces and watch as it scrambles and squeaks its way through. Just watch out for ice. Stopping a 2.5-tonne lump on a slick surface leaves it gliding down the road like a very expensive curling stone.

With handling dynamics that prefer a slower, sludgier environment, the best thing about the G-Class is that you have the ability to explore. The pop to the shops becomes a Pokemon hunt for byways and potential disaster. But that's entertaining.

Being so bloody square – but smaller than you'd think – it's easy to place and know where you're at. Especially with the flank-mounted indicators. This means you can get off the UK's clogged road arteries and slither through the cross-country capillaries of our nation's last remaining BOATS (Byway Open to All Traffic). It really is a tremendously fun way to reinvigorate your milk run.

You can bolt all kinds of cool things to it

Yes, there's potential for a V12, posh leather and a banging stereo. But if you want to get a bit more 'Humanitarian Aid Worker' than 'Harrods' you can also bolt a winch on the front. Great if you need to winch yourself back up onto a byway if you fall off it... or do some unexpected clothes drying. Then there's potential for a giant lightbar. Great for seeing where you're going... or if you need to light an entire football pitch. Then there's the roof rack. Handy place for your Waitrose meal deal, that. Plus that extra chunky spare tyre.

Advertisement - Page continues below

It's a mobile climbing frame

Kids aren't getting outdoors anymore. They're too busy buying Bitcoins or having their retinas glued to a tablet's display. With a G-Class, as soon as they get a little bit aggy, just tell them to blow off some steam by climbing all over the four-wheeled jungle gym. They love it. 

Merc's unashamedly aware of how much people will spend on it

Bigger is better. Well, more profitable. That's what Mercedes has learned through the evolution of the G-Class. That's why we've had special editions like the G 500 4x4 Squared, six-wheeled G63 6x6 and most recently, the outlandish Mercedes-Maybach G650 Landaulet.

The Landaulet was quite possibly the most heroically outrageous new car in recent memory. A part drop-top, long-wheelbase G-Wagen with portal axles, a 6.0-litre bi-turbo V12 and ride height measured in stories, is as unnecessary as cars get. Only 99 examples were built and all apparently sold almost immediately after the car's reveal. The 'standard' version sold for around €630,000, but the final car was auctioned off for €1.2m, or £1.07million. That's a lot of dough for a car made out of loose bits from the factory, so good for the profit margins. 

Advertisement - Page continues below

It has one of the most satisfying door slams on the planet

You don't shut a G-Class' door. You slam it. Hard. Anything less than a tricep-burning hurl won't get you past the weighty latches so you'll have to do it again. And again. Which means you have to press the delightfully satisfying release that clunks free with a pop before throwing the door shut again. Then, while driving away, the doors lock with the same reassuring noise of an old black cab. Or a 50 .cal gun. We're told this has been carried over for the new car. Which is great, because it's the little things that make a car as characterful and rugged. So will the new one stack up? Check back soon to find out...