Tech
How to make a Lamborghini Revuelto: inside the factory building 1,001bhp hypercars
Talk of the robot revolution was exaggerated, but technology dictates the pace at Sant'Agata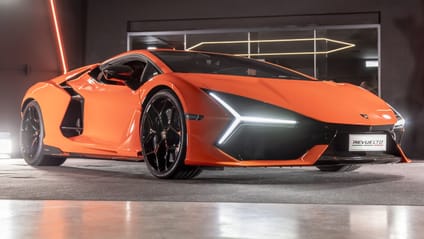 It's hard not to love Lamborghini's approach to a plug-in hybrid: start with a V12 engine, add more power. The Revuelto's a pivotal moment for the Bolognese bull, a bridge between two eras just as the Countach was nearly five decades ago. There's a lot riding on it.

And the winds of change haven't just shaped the Revuelto itself, but the manufacturing of it, along with the rest of Lamborghini's fleet. Nobody wants to lose touch of the legendary manufacturer's roots, but no matter how poetic the image is of artisans casually assembling supercars by hand, efficiency keeps car companies profitable and automated devices offer just that.

What TG found during its trip to Lambo's Sant'Agata factory, then, was an impressive combination of befuddling futuristic technology and recognisable craftsmanship. It felt like the same place where the Miura had once been devised, but also where space-age moving platforms roamed around an immaculate space, literally driving the production line forwards. Here's what we found there.

Advertisement - Page continues below

Lamborghini doesn't have a test track, so it just uses the local roads

Unlike its illustrious neighbour down the road in Maranello, Lamborghini never constructed a purpose-built race track to test out new machinery. Why? Maybe Ferruccio Lamborghini was just that hellbent on doing things differently to fellow Bolognese Enzo Ferrari. Perhaps he thought it was all the test track time that made Ferrari clutches break like a teenager's falsetto.

The solution, obviously, was just to use the roads around its Sant'Agata headquarters instead, where presumably the locals are accustomed to seeing a rampaging Sesto Elemento appearing in their mirrors with heart-troubling rapidity.

Robot engineers were conspicuously absent… but autonomous mobile platforms were everywhere

When TG last checked in on the Revuelto we heard about the COBOTS, or 'collaborative robots', that were helping to build it on the factory floor. While Lamborghini did specify that these devices merely assisted human engineers with repetitive tasks, it's hard to suppress the image of C-3PO fitting brake discs with a fag in his mouth.

Such sights were nowhere to be found during TG's tour of the factory floor, but what we did see were partially constructed vehicles on mobile platforms at each station. There's some tech wizardry called MEV (manufacturing executive system to its mates) managing the entire production line which allocates time slots to each station. When the timer's up in one station, the autonomous mobile platform drives it along to the next one, with no pesky human input needed. Speaking of…

Advertisement - Page continues below

Once production on a Revuelto starts, it doesn't stop

MEV runs a tight ship. Building a supercar is like a minutely choreographed dance - one wrong move, and a whole sequence of timings gets thrown off. So to prevent the automotive equivalent of a Strictly judge ripping into them for not pointing their toes, darling, the Revuelto's production line maintains its flow at all costs. That means from carbon fibre monocoque assembly to steering wheel stitching, once assembly begins it continues uninterrupted until there's a completed car in the quality assurance area.

The cobots help here, of course, but human engineers might also finish the last few tasks on a car while it's in transit to the next station. Halting the process is a last resort here, then.

The interior upholsterers train for four months before entering the factory floor

Variety's the spice of life for most of the factory workforce - they're rotated every few months to prevent burnout and build a broad range of expertise. With the exception of one highly skilled, intensively trained group - the interior upholsterers.

These specialists are picked from a nearby fashion university initiative, having already honed their trade with a steady hand and a needle there, and before they're let loose on a vehicle interior they're given four months of intensive training. That's considerably more than any other team - usually it takes six weeks or so to get up to speed with the other stations.

There's a customisable passenger side display dash

Speaking of interiors, the Revuelto's is particularly spellbinding even by Lamborghini standards. Not only has the steering wheel had a significant refresh of the Aventador's layout with repositioned, easily identifiable TC and launch buttons, the passenger side catches the eye now too.

Above the passenger glove box is a customisable digital display that you can configure to show live performance readouts and map displays. While this is dire news for stakeholders in 'first to spot a green car' and other such passenger entertainment classics, it represents a step forward for supercar interiors, which haven't historically lost too much sleep over the passenger's needs.

It's Mitja Borkert's first time designing an interior

Over the course of 17 years at Porsche and another six as head of design at Lamborghini, Mitja Borkert's delivered some striking exterior designs to the road, from the Boxster 987 and the Taycan's concept precursor, the Mission E, to the Huracán Performante. We've seen his swooping lines and aggressive headlights on numerous vehicles. But what we haven't seen, until now, is a Mitja Borkert interior.

The Revuelto features that very debut, and you get a sense of a fresh design sensibility making itself known in the aforementioned passenger side digital display, the central display, and the increased headroom - you can sit comfortably with a helmet on how, a feat that only the more diminutive Aventador drivers achieved on track days.

Advertisement - Page continues below

The first 300 are staying with Lamborghini - and they're on car 239

Despite all the frighteningly advanced processes that speed up production at Lamborghini's factory - it takes about 18 hours to build a Huracán from start to finish now - you're still in for a two-year wait if you order a Revuelto right now.

Partly that's down to the sheer popularity of the outgoing Aventador and its replacement. But before it can get cracking on the customer cars, Lamborghini needs to build 300 vehicles which will stay within the company. They'll be used in marketing materials, motor shows, and some will probably find their way into the private collections of the board. As of TG's trip to the factory in September 2023, they were on car 239 of 300. Come on, put your back into it C-3PO, yeah? We've got reviews to write.