Retro
Here are ten facts about Caterham as it turns 50
Time to remember some interesting moments from Caterham's long and storied history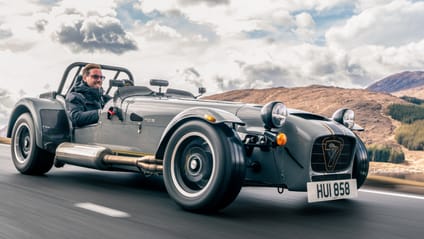 Caterham is 50. The pace of time these days seems to move as fast as a supercharged Seven 620. Celebrating five decades of Caterham's existence, the brand has released 50 facts about itself. We've cobbled together our own, er, 10, because time, people, time.

Bob Laishley, CEO of Caterham Cars, said: "The Seven of today may still share a strong visual resemblance to the car from 1973, but much has evolved underneath to ensure this truly iconic car delivers a modern driving experience while continuing to offer unrivalled outright fun and thrills." Quite. So, here goes...

Advertisement - Page continues below

It all started with a handshake and a pint...

In 1973, in the well-respected Primrose Hill establishment, Pub Lotus, Graham Nearn of Caterham Car Sales & Coachworks and Lotus founder Colin Chapman, agreed to go into business together over a pint and a handshake. This typically British beginning would see Caterham acquire the tooling, designs and exclusive rights to the Seven and set out manufacturing these iconic vehicles in summer that year.

 

There have been over 100 different versions of the Seven

That's right, more than 100 different variants of Seven have seen the light of day since it launched in 1957, the vast majority created on Caterham's watch. From 2016's limited-edition Seven Sprint celebrating the Lotus Seven's 60th, to the Kamui Kobayashi ones that were inspired by none other than the TG team. You're welcome.

Advertisement - Page continues below

Caterhams aren't made in Caterham anymore

As the name suggests, from the get-go the cars were built in the town of Caterham, but in 1987 the firm moved production to a larger premises on the Kennett Road in Dartford, Kent.

Dartford Seven sounds like a gnarly underground grime outfit though, so...

The Super Seven starred in 1979 French flick 'Cop or Hood'

James Bond may have the DB5, but French police inspector Antonio Cerutti, played by Jean-Paul Belmondo, had the Caterham Super Seven.

Starring in the '70s action movie Flic Ou Voyou, the movie, translating to 'Cop or Hood' was based on the book 'L'Inspecteur de la mer' by Michel Grisolia.

The 2004 Superlight R500 Evo was faster off the line than a Ferrari Enzo

The 2004 Superlight R500 Evolution shredded the 0-62mph sprint in just 3.2 seconds. The 2.0-litre K-Series engine developed by Minister Racing Engines proved itself faster than the £425,000 Ferrari Enzo — not bad for a c.£30k price tag. Heck, even the supposedly lesser Superlight R400 pictured here would hit 60mph from a standing start in 3.9 seconds. 

Sir Chris Hoy once did 19 donuts in a Caterham in just 60 seconds

Caterham has a bunch of celeb customers. All have driven their cars enthusiastically. Some have broken a variety of world records, including — though not limited to — the fastest accelerating production car in 1992, the greatest number of non-stop donuts (566) thanks to stunt driver Terry Grant in 2011, and the greatest number of donuts in 60 seconds (19) set by Sir Chris Hoy in 2017.

Advertisement - Page continues below

A Honda Fireblade engine helped Caterham set a new world record

After fitting a Seven with a Honda Blackbird 1100cc motorbike engine in 1999 (and realising the sheer amusement value in doing so), the brand specially adapted a car with a Honda Fireblade engine to set a new world record for fastest speed in driven reverse in 2001. Piloted by Darren Manning, that Caterham hit 102.52mph going backwards. Yikes.

The Caterham name had a two-season stint in F1 from 2012

The Lotus/Caterham synergy has been around forever.

Just like the Seven, F1's Team Lotus became Caterham F1 in 2012 to avoid a fallout with Renault. Sadly, the team failed to get any points in all 56 races it entered, placing 19th at best. Not the prettiest cars either, were they?

Advertisement - Page continues below

2013's Caterham 160 weighed less than 500kg

Launched in 2013, the entry-level Caterham 160 weighed only 490kg and delivered 80 bhp. With half shafts, live axle suspension and a 660cc three-pot Suzuki engine, our decision to build our very own is definitely one of our finer moments.

Lego sells 10 times more Caterhams than Caterham

As with everything that goes down in history, in 2015, the Caterham Seven was recreated by Lego. The 620R Lego set has 770 pieces and epitomises the miniature construction kit of the real thing. To date, Caterham says more than ten Lego Sevens have been sold for every full-size one.