TG Awards 2019
Revealed: the 2019 Top Gear Awards winners
Please be upstanding for the cream of the crop from twenty nineteen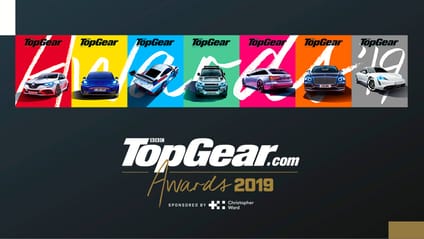 Welcome to the Top Gear Awards 2019, a celebration of the very best cars of the year. At TG we always like to do things differently, so unlike most other automotive awards we don't have set categories that get repeated every year. We award cars on their merits, not because we need to find a winner of the Compact Hybrid SUV Coupe by a Korean Manufacturer of the Year. In short, only the best of the best ever collect a TG Cog.

Sitting down to discuss a long list that – after a few frank exchanges of views – will be distilled to the pure essence of brilliance in this here gallery and the accompanying Top Gear magazine, makes for a particularly good audit of the past 12 months. And what a year it's been: a year during which we've driven every new car we could get our hands on, been surprised and delighted by some and frustrated and underwhelmed by others.

So, click through now to find out who the winners are…

Advertisement - Page continues below

Physics Lesson of the Year: Bugatti Super Sport 300+

"While the 38mph jump over the standard car doesn't sound like much, it required a very special car, a team of the brightest minds from Bugatti, Dallara, and Michelin and balls of steel attached to Le Mans driving legend Mr Wallace."

Family Car of the Year: Audi RS6

"It's certainly not as blunt as the previous car – that was a V8 warhead with a boot attached. This is more multi-faceted and intelligent.

"It truly ticks all the boxes; it's fast, practical, comfortable, the right side of attention- seeking and properly desirable."

Advertisement - Page continues below

Luxury Car of the Year: Bentley Flying Spur

"Name another four-door saloon you can be seen driving without being mistaken for the chauffeur. Another that gets the blend of presence and dynamism spot on.

"It's a deeply clever, superbly executed car. Luxury four-doors have slipped out of fashion. The Flying Spur is the best advert for the return of the saloon we've driven in years."

Hot Hatch of the Year: Ford Focus ST

"The Ford Focus ST has no vices. No weaknesses. No chinks in its armour. It's a car that stands at your shoulder in any situation, exuding an 'I've got this' confidence.

"The 2.3-litre four-cylinder engine is strong and tuneful, the manual gearbox's shift is swift, slick and sweet, it brakes hard, grips well, has a brilliantly integrated diff and well chosen adaptive damping. And, above all, it's a lot of fun.

"The new Focus ST is simply a terrifically well-balanced car: no peaks and troughs, just consistent high scores across the board."

Muscle Car of the Year: Ford Mustang Shelby GT500

"Bold, brash, designed to get your attention and be unapologetic about it, the GT500 is an assault on the senses – an addictive and welcome one in current times.

"It's a sizeable chunk of metal to hustle down America's equivalent of a British B-road, but the front-end grip, the balance and communication of the chassis builds confidence with every turn, and the mass shrinks around you."

Off-Roader of the Year: Lamborghini Sterrato

"The Sterrato is the antithesis to that static supercar culture, a car designed to be used, and used hard.

"Few things can compare to the sensory overload of hammering a V10 supercar sideways round a gravel rally stage throwing up huge rooster tails of dust as you Scandi flick in and powerslide out of every corner."

Advertisement - Page continues below

Performance Car of the Year: Renault Megane RS Trophy-R

"Fitted with a dizzying array of exotic components – from carbon fibre wheels to ceramic brakes – our Performance Car of the Year is unlike any other hot hatch.

"It takes guts to ask Porsche money for a family hatch, even if said family hatch has had an unprecedented amount of effort lavished upon it in pursuit of speed and lightness."

Car we're most looking forward to driving in 2020: Land Rover Defender

"Looking at the specs, this will be a car that can outperform 99 per cent of potential owners' egos off-road – LR just wouldn't launch a car that couldn't.

"Is this a car that will start to eat full-fat Discovery sales by virtue of being new, capable and interesting? Will it be a car that spans the gap from legendary name to new market, or a vehicle that simply looks towards the future? We won't know until we eventually, finally, get to drive it."

Advertisement - Page continues below

Racecar of the Year: Porsche 935

"Of course it's mighty to drive. Hard on the brakes, downshifts whoomphing through, face being dragged off your skull – it's not the kind of thing you forget.

"The 935, is not 'just' a GT2 RS. Not even 'just' a slick-shod one."

Saloon of the Year: Tesla Model 3

"An EV so capable, so in-demand, that it has fundamentally changed the conversation on EVs from early-adopter interest to genuine mass-market proposition.

"Everything about its operation, from the way it drives, to the purity of the interior, to the quality of its charging infrastructure is designed to make life easier, simpler, more Zen."

Game Changer of the Year: Porsche Taycan

"When you find a good road with some space, corners and sightlines, you find that the Taycan is bipolar in the best of ways.

"The genius is not that it has created a very quick BEV, or even a startlingly capable one – more that it has managed to make a Porsche out of it."

City Car of the Year: Renault Zoe

"Renault could have gone back to the drawing board and tried to rewrite the formula. But it didn't – instead of an all-new Zoe, it's simply revised the existing one. Chamfered the edges, fixed only what needed fixing and left the rest. Confident in its product.

"It's even quite good fun – and there's talk of RenaultSport doing a hot one. If the Megane Trophy-R is anything to go by, it'll be a proper bit of kit."

Manufacturer of the Year: Renault

"It's the variety that's key to Renault's ascension to TG award-winning excellence. Its mainstream cars are fine, but give it a brief to nail, a set of very specific parameters to fulfil, and it chases perfection quite unlike any other car manufacturer."

Car of the Year: Porsche Taycan

"It takes all of about three minutes driving a Taycan to realise that Porsche has permanently altered what people who love conventional cars will think of electric cars.

"Porsche has been threatening to make a genuinely beautiful saloon car for years, and it might just have achieved it this time. The wide-track stance and sense that the bodywork has been melted over the wheels is stunning.

"It hints at what will be possible with an electric platform in the future. Lower emissions, yes, but also a world of speed and capability that might make those who have hollered for the death of the internal combustion engine wonder if they've actually opened a Pandora's box of raw speed. What a machine."