News
TG rides along with the Carabinieri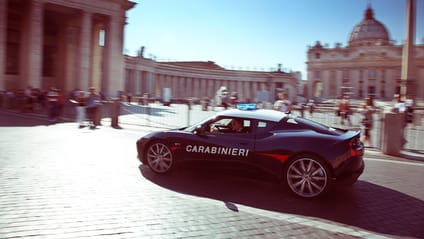 I am Jason Bourne. I am Bullitt. I am in the middle of a real-life Hollywood car chase. I am terrified.

On a sultry, sweaty autumn afternoon, TopGear is flying through the jam-packed streets of Rome, pursued at close quarters by a navy Lotus Evora S in full carabinieri livery, its blue lights flashing manically as it darts in and out of our rear mirror.

Scooters swerve into the kerb, and Smart cars dive for cover as we blast along Rome's cobbled roads, past ancient arches and crumbling viaducts.

Words: Sam Philip
Pictures: James Arbuckle

This feature first appeared in the December issue of Top Gear magazine 

Advertisement - Page continues below

According to the Immutable Laws of Hollywood Car Chases, we should be behind the wheel of something pluckily iconic but fundamentally unfit for the task: an original Fiat 500, perhaps, or a Reliant Robin. We're not. In fact, TopGear is in the passenger seat of a vehicle with a far better chance of keeping an Evora S at bay: another identical Evora S, being driven at pace by a policeman called Rocco.

Rocco is wearing excellent sunglasses and scary, shiny black boots. Rocco has a large gun and a pair
of leather gloves clipped to his belt.

OK, this isn't technically a car chase. We're not being hunted down, nor are we on the tail of an underworld chief with a body in the trunk of his Lancia Thema. We're not on the tail of anyone. This is a dry run, a chance for the carabinieri to get to grips with its pair of box-fresh Lotus Evora Ss. But on the two cars' very first outing in the Italian capital, they're letting Rome know who's boss.

Luckily for Italian criminals, the Evoras won't be used as standard patrol cars (though 20 minutes wedged in the rear compartment of the Evora while pounding over Rome's cobbles would surely be enough to deter the casual felon from a life of crime forever). Instead, they'll be employed for the emergency transportation of blood and organs - the squishy internal bits of body, not the large instruments - all over Italy.

Advertisement - Page continues below

Behind the driver's seat of each car lurks a refrigerated compartment for keeping lungs, livers and pancreases tasty-fresh. You're looking at a pair of 345bhp, 172mph, organ delivery vans. Today, mercifully, the Lung Fridge is empty. But, though this is a mere warm-up for the carabinieri, it is still, unquestionably, the fastest method of making progress through Rome in a midweek rush hour.

This traffic is pure, unadulterated, gridlocked carnage. The recognised method for calculating journey times in Rome is as follows: plug your start point and destination into a route finder, multiply its result by 15, add a few hours and then cancel anything you were planning on doing until next week.

Dented, dinged cars jam every inch of road surface, three abreast across single-lane streets, crawling forward in a sticky, honking maelstrom. Average speed is measured in metres per hour, not miles.
Unless, that is, you're in a pair of Evoras on full blues 'n' twos. Our mini-convoy cleaves a clear path through traffic, drivers and riders squeezing respectfully to the edge as we glide ceremoniously through.

As we pull to a halt beside Constantine Arch, the gathered crowd breaks into a spontaneous round of applause. I could get used to this. A pair of Roman centurions stride over. Interesting. Does our ballistic cop-car convoy have the ability to cut holes in the space-time continuum? Centurion II fishes out a mobile phone from deep within his subarmalis. Apparently not, then.

"Low-toose!" cheers Centurion I, giving me the ancient Roman seal of approval, a cheesy thumbs-up. I'm surprised that a small British brand registers on the radar of a country with more than its fair share of fast-car marques, but Rome really gets Lotus. We're assaulted with a barrage of questions from the locals. They all know what these cars are.

Two state police officers edge past in a baby-blue Panda, gazing intently at the Evoras. If you're unsure how the Italian police system works, you're not alone. There are, in total, some half-dozen police forces in Italy, including - and I'm not making this up - the Forestry Police (presumably they're Special Branch). The carabinieri is unique among these because it holds military status, its officers trained as both soldiers and policemen, even acting as the official force of the Italian army, navy and air force.

This means two things. One, they are really not to be messed with. Two, they're often engaged in missions overseas: carabinieri are stationed in Iraq, Afghanistan, Kosovo and Lebanon.

Advertisement - Page continues below

So, unlike the domestic police, the carabinieri are recognised around the world. And that, says Lotus, is why it gifted a pair of Evoras to them: a present from one 'global brand' to another. At least, that's the marketing line. My suspicion is Lotus donated the Evoras because it knew they'd make jolly good police cars. It is a truth universally acknowledged that any car can be improved with a police livery, but the Evora looks born to be a jam sandwich.

That's because it was. Well, these two were, at least.

Lotus didn't simply ship a pair of navy Evoras out to Italy for the carabinieri to slap on a few stickers and a set of blue lights. These cars are the result of a year-long collaboration between Rome and Norfolk, the livery and preparation done in-house at Hethel.

As well as the Spleen Freezer and the many rows of blue lights, Lotus engineers also fitted the Evora with the carabinieri's EVA (Enhanced Vehicle Automation) unit - a combined satnav/comms/surveillance device that, for some reason, TopGear is prevented from fiddling with - and a whacking great PA system that, for some reason, TopGear is not prevented from fiddling with.

Advertisement - Page continues below

We're somewhere outside the Vatican when Rocco hands me the microphone. It's at this point I wish I
knew the Italian for: "Get yer trousers on. You're nicked!" Sadly I don't, so I limit myself to reciting: "Stay calm. The situation is normal. Please carry on," through the speakers in my finest Pathé accent.

This doesn't seem to have the desired effect on the Roman public. Time to leave.

As impressive as the carabinieri drivers' traffic-cleaving abilities, is their extraordinary cab-driver knowledge of Rome's thousands of tiny back streets. Every cut-through, passage, rat-run... these guys know the lot, slipping down impossibly narrow alleys before popping up in front of another stunning ancient monument. Or a scooter.

As we sneak out of a scrawny side street, a gangling teen on a Vespa with a long, drooping cigarette flopping between his lips, jumps a red light, wobbling unsteadily in front of us. Catching a glimpse of blue light, the rider glances over his left shoulder, his face freezing in a portrait of rictus terror as he spots the sleek, evil pair of police cars.

Rocco pulls alongside him and winds down the window. There follows a short lecture that, (a) I don't understand a word of, (b) is delivered in a friendly voice with a cheery smile, and, (c) leaves me in no doubt that you don't want to get on the wrong side of the carabinieri. The scooterist slinks off into the Rome afternoon like a reprimanded puppy. A practice run this may be, but the carabinieri is still keeping Rome in line.

Diving out of the city centre, we drop into the carabinieri's HQ in northern Rome. It's like the lair of a benevolent Bond villain.

Behind the main gates, vast queues of armoured vehicles line up beside carabinieri-liveried SUVs and motorbikes. Dozens of well-groomed horses, topped with well-groomed riders, trot in neat rows along well-groomed paths as uniformed men roll between well-groomed bushes, brandishing pistols in what I only hope are training exercises. As if today wasn't Hollywood-surreal enough already.

The Evoras receive the same red-carpet reception from the carabinieri as they did from the Roman public. I wondered if there might be some lingering distrust of the Brit pair from a nation with such a distinguished heritage of building sports cars, but there's only love for the Evoras and, particularly, their link to Lotus's Formula One heritage.

Almost every one of these mustachioed, chain-smoking, boot-wearing carabinieri name-checks the Lotus drivers of the Sixties: Hill, Moss, Clark.

Back on the road, back into the cheery bedlam of Rome, and I endeavour to discover what Rocco thinks of his new company car. There are just two tiny problems with this plan: firstly, my appalling Italian, and two, Rocco's nearly-as-bad English.

"Good to drive?" I ask slowly, waggling my hands back and forth in the internationally recognised 'steering a car vigorously' pose with a questioning look on my face.

"Si!" replies Rocco, cheerily. I'm not sure whether he's agreeing that the Evora does indeed handle well, or simply confirming it has a steering wheel. "And... it's pretty fast, eh?" Rocco shrugs politely. Undeterred, I persist. "Fast. Erm, veloce? Accelerare?" Rocco nods in comprehension. He plants a sturdy leather boot upon the accelerator and the Evora lunges off through the traffic with
a squawk of tyres and whine of supercharger.

Ah. He thought I was asking him to go faster. A TopGear Top Tip: never bellow 'veloce' at a carabinieri driver in a Lotus Evora S. Actually, you know what? If you do ever find yourself next to a carabinieri driver in a Lotus Evora S - and you're not about to be chucked in a cell or being transported in several pieces in the Organ Cooler - bellow 'veloce', sit back and enjoy the ride. If there's a better city commuter than a carabinieri Evora S, I'm yet to find it.

This is a British car with heart. And liver. And kidneys...