TG24 2019
Gallery: the Porsche 718 Cayman GT4 at TG24
Want to see more of Porsche's track weapon at Portimao?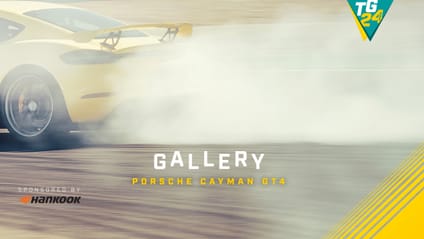 Advertisement - Page continues below

Portimao circuit in southern Portugal was the setting for our mammoth track test. Night time offered a sweet release from the stifling heat but, unlike the Megane and our own bodies, the Cayman felt like it could go all day. 

"The Porsche feels tougher than a cockroach smeared in dried Weetabix," is how Ollie Kew described its ability to complete lap after lap.

Advertisement - Page continues below

Looks fantastic too, doesn't it? This new 718 GT4 offers 50 per cent more downforce than the previous generation thanks to a redesigned front splitter, rear wing and diffuser.

Ah, the sweet sight of sunlight and open circuit ahead. It may be Stuttgart's entry-level track car, but the GT4 packs a 4.0-litre flat six which produces 414bhp and 309lb ft of torque. 

It isn't actually the fastest Cayman in the range, though. If you spec the PDK 'box and Sport Chrono package, the road-biased GTS will do 0-62mph in 4.1secs. That's compared to 4.4secs for this GT4. 

But then again, this is a drivers' car. It isn't all about the numbers. It's about the sense of occasion, the chassis, the feel…

Advertisement - Page continues below

"Confidence – the GT4 brims with it. I'm flattered. I'm a hero. I'll stay out for one more lap. It's so accurate, it's addictive, and next time round, I'm carrying a few more miles per hour," says Mr Kew.

Unfortunately, as was the case with its predecessor, the 718 GT4's gearing is too long. Having given us a manual gearbox once again and improved the feel of the clutch over the Mk1, Porsche should have made us work that gear lever. As it is, second, third and fourth could all be shorter. 

Advertisement - Page continues below

But overall, the 718 Cayman GT4 is a fantastic car. It may not always bring ultimate bragging rights, but it'll make you feel like one hell of a driver.

Options? Yep, of course there are. The carbon ceramic brakes will set you back £5,597, and those bucket seats are £3,788. They're really very good, though. The driving position is spot-on as you'd imagine.  

The rest of the interior is bathed in lovely Alcantara, leather and carbon fibre. It may be stripped out, but it certainly doesn't feel sparse.