TG's guide to Japan
Driving the wonderful MZR Roadsports Datsun 240Z
As the Nizzan Z-car approaches 50, we try a British-built restomod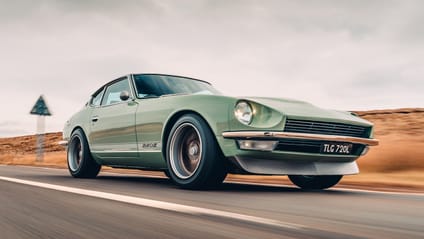 Bradford does not, generally, come top of the list when you think about automotive start-ups. It might have the best Industrial Museum in West Yorkshire, operate a bang-up-to-date National Science and Media museum and do a mean line in Brontë Sisters origin stories, but bespoke, low-volume specialist cars? Not so much.

But that's changed. Because Bradford is the home of MZR Roadsports, the best thing to come out of Bradford since David Hockney or, um, Morrison's Supermarkets.

Situated on what can only be described as a practical-looking industrial estate on the north-west side of the city, MZR are busy taking pretty-but-unloved Datsun 240Zs and making them incredibly special.

Photography: Mark Riccioni

Advertisement - Page continues below

Why? In this case because MZR loves Datsuns. But more generally because old sports cars are cool. Compared to most modern fast things they seem impossibly tiny, slim-pillared and delicate. They say volumes more about your character than any casually bought modern lump, have an air of romance and style that cares little for servo assistance, pedestrian safety, crash structures, airbags or death in general.

Unfortunately they are also, generally, lightly terrible. Noisy. Comparatively slow. They wander, fail to stop properly, fail to go properly and will terminally and completely fail at random intervals, just to remind you how romantic they can be. Old sports cars are therefore must be used under the caveat that they are cool when they work.

Which is where MZR steps in, and steps up. The 240Z is probably one of the better old Japanese foundations for a restomod but it's still up to half a century of fragile, and MZR aims to take this pretty little coupe to the next level by giving it a dose of convenience-slash-performance while retaining that old-school look'n'feel.

A car sympathetically underpinned with modern engineering, taking care not to slice off any vital chunks of character. But the watchword for the success of any restomod - in my opinion - is subtlety. Some do it well, others badly. MZR does it very, very well.

Advertisement - Page continues below

So I've spoiled the surprise a bit, but who cares. I've always loved the Datsun 240Z (latterly the 260Z, 280Z, Nissan S30 and/or Fairlady Z, depending on who you talk to), and MZR are making what was a nice little 1970s sports car into a properly brilliant one. Run by two immensely, infectiously likeable blokes called Rahail Tariq and Martin Ryland, MZR takes (predominantly rust-free US imported) Z-cars and fettles them onto the far side of desirable.

It's familiar stuff done well. Cars are sourced to spec, shells and chassis are stripped, dipped and stitch-welded, beefed-up, sealed and armoured with sound-deadening and judicious reinforcement. On goes 30-way adjustable damping, bespoke suspension and heavy duty limited-slip differentials, modern five- or six-speed gearboxes, contemporary brakes, a slick exhaust and fuel tank.

Engines come in two original and naturally-aspirated 'L6' straight-six flavours - 2.9 and 3.1 litres - stretching from about 240 to 280bhp, though in a car weighing just over a tonne, they actually don't need more.

Essentially basic but blueprinted and balanced motors, MZR says it goes for tractability and durability over bald horsepower claims. Which is reassuring. The engine bay is rigorously tidied, EFI (electronic fuel injection) is added, and a wiring loom worthy of a high-end racing car plumbed in.

Then there's a greatest hits of new bits, and it's a bit long to go into here, but includes: a heavy-duty CV conversion, adjustable suspension arms, stainless bumpers, custom stainless exhaust and headers, bespoke fuel tank, fast road brakes, electronic gauges, LEDs all-round and essentially all new fixings, bits and pipes.

After all that convenience is introduced, with barely there power-assisted steering, proper heating, air conditioning, DAB, central locking and some gorgeous seating and interior trim. Wheels, paint, bespokery to the far reaches of your wallet and imagination. It still keeps the manual wind-down windows, which pleases me greatly.

Basically a re-made car with all the most appropriate modern bits you need to be able to pop to the shops or have some fun on a good road without that nagging feeling that you might not make it back home again. You then start to bespoke it with your personal perversions and it gets properly expensive. It's probably inevitable – and I've heard this already several times – but you can't help but compare what MZR does for these swoopy Datsuns to the singular passion that Singer has for 964 Porsche 911s.

The specific model focus, the attention to detail, the knowledge of what works, the integration of modernity with subtlety and empathy. The comparison is an absolutely fair one. These aren't 'done up' cars as such, they're healthily re-engineered to try and remove some of the frailties of the '70s engineering while retaining the stylish character.

Advertisement - Page continues below

The 'range' as it stands, is pretty simple. There's the Sport Edition (£89,995), Sport Design (£99,995) and then commission builds like the generous widebody you can see above. Which isn't cheap. Upcoming are MZR50 variants re-worked to celebrate the Z-car's 50th year, and there's a particularly tasty take on that line commissioned by a customer called the California Gold Edition MZR50. That one is all kinds of tasteful in black'n'gold like the later ZX 10th Anniversary. Black body, slim bumpers, gold wheels and decals. Proper stuff.

And pretty much all par for the restomod course.

Well, it would be, but these are cars put together by men who truly love what they do, and the really special bit is how authentic these cars feel. Because an MZR doesn't comes across like a restomod. It feels like an optimisation. A streamlined, enhanced, progressed, developed and evolved Z-car.

You look out across the same plastic dash, ponder the same binnacles and needles. You stare through a frame of thin chrome pillars across a long bonnet, tucked up cab-rearward near that sloping rear hatch.

Advertisement - Page continues below

There isn't much to see on the inside; no interior nappa-leathered into a porn dungeon, no blazing bright TFT screen or dancing LEDs, no multi-stage traction management dial or confusing barnacle of wheel-mounted controls. It's as pared back and perfect as a Scandi show home. Just you, a small, leather wrapped wheel, three pedals and an endlessly tactile nugget of wooden gear knob.

Engage the engine, and it barks into life with joy. Grab first, release the light clutch, and the car pulls away with a massless, tippy-toe feel that makes a modern sports car feel like a pudding. Thread it through town and it's slim, direct and so easy to place on the road that something like a Golf R feels like an untidy, nerveless behemoth.

The upgrades aren't fanciful or indeed very noticeable without an un-remade car to compare them to – the 240 just seems to potter along quite happily not acting like a temperamental oldie from the first half of the '70s. And then you get to a crappy, bumpy, twisty moorland road, and you realise that this is nothing like it should be.

The engine spins up the dial as if it's excited to be outside, always asking for a few more revs, always with the urgency you don't get from modern cars with their mapped-for-torque mid-range.

The steering feels a little nervous at first, but soon settles with you, dipping into corners lightly, delicately. I'd probably set the adjustable dampers slightly softer, to make the most of the generous grip, but that's a matter of a few clicks of a knob and a couple of hours working out what you prefer.

I'd also probably go for a slightly slimmer set of rear wheels to balance the car a bit both visually and dynamically, and hide the starter button under the dash to keep it looking relatively old-school, but when you start nit-picking at that level, you know it's a good car.

And when you really let that engine run through the rev range, you start wondering whether this is a truly great one. The car has a radio. Apparently. I never even thought to switch it on.

All this and no squeaks or rattles, no hissy fits on start-up, no crunchy gears or overheating. No mis-aligned carbs or flat spots. No hassle. It's all the good bits of a stylish old sports car without the bad, the epitome of what a good restomod should be.

But it's also not as simple as it sounds. This isn't a random aggregation of expensive bits, kitchen-sinked at a low-key icon. It's a car put together by people with passion, skill and experience, experience gleaned from years of trial and error, old-school skill and bright, contagious passion.

It helps that Rahail and Martin feel like the good guys, more interested in making cool cars than skimming the bottom line, because you get the feeling that you're being welcomed into a family rather than an owner's club.

But the product speaks for itself. It's one of the most joyful, absorbing and fun cars I've driven in a long time, where bald statistics fail to be relevant, numbers mean nothing and success is measured in the width of a grin. Old sports cars are cool.

And this is one of the coolest.