TG's guide to Japan
Ten Japanese kei cars we need in the UK
Micro sports cars, quirky camper vans, teeny tipper trucks: we want these midgets over here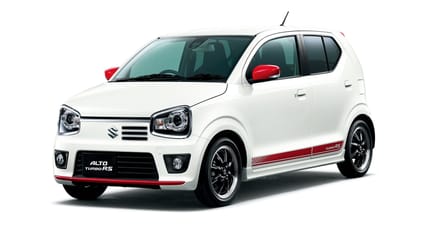 If Suzuki won't bring this to markets outside of Japan, then surely there are enough of us interested Brits out there to start a whipround to get a shipload of them brought over?

There may be plenty of hotter hatchbacks out there – as in 'all of them' – but there are none cuter. And while 63bhp isn't even half the output of Suzuki's still-tame Swift Sport, the little Alto Turbo is also roughly half the price, starting at the yen equivalent of just £6800.

It has significantly fewer kilos to shift, too, despite its paddleshift gearbox. And, well, it's got Turbo RS decals. Winner.

Advertisement - Page continues below

You ought to know the name Copen. It was worn by an intensely cute car that resembled a Kinder Egg toy Audi TT Roadster, and which was sold in the UK from 2002 until Daihatsu's withdrawal from our market in 2011. That's a shame, as the Copen was a genuinely unique proposition in a country where convertible cars are unfailingly popular.

Its replacement comes in three flavours, the Cero aping the cute looks of old, the XPlay pretending it's some sort of SUV-roadster crossover, and the amusingly named Robe, pictured, which sits somewhere between the two.

With Recaro seats, a Momo steering wheel, Bilstein dampers and BBS alloy wheels available, it plays the two-thirds-scale sports car at every turn. And like Copen Mk1, it comes with a folding hard-top roof just like those on far pricier premium roadsters.

The Copen's arch rival, if you will, and a successor to the kei-complying Honda Beat of the 1990s. It follows a similar recipe – a mid-mounted, 63bhp 660cc engine driving the wheels – only this time it's turbocharged, and linked up to a six-speed manual gearbox.

And we have extra cause to pine for it, as we've driven the S660. It's every bit as irresistible as we feared, that gearbox just like the ones you find in Type-Rs and dynamically, it's amusingly wieldy and more than quick enough in the city situations it's designed for.

Honda, you know you want to…

Advertisement - Page continues below

Kei regulations naturally lend themselves to boxy cars, the vast majority of them using every centimetre of the width and length limits and then growing upwards.

Boxy can be boring, but boxy can also be utterly glorious. We refer you to the Pixis Mega, Toyota's version of the even more obscurely titled Daihatsu Wake.

There are 52bhp and 63bhp versions, and front- and four-wheel-drive options, while sliding doors and an extremely low boot floor make it exceedingly practical for its size. The colour scheme is also shared with a packet of Skittles. Beats a Yaris every day of the week.

Another box, and another silly name, too. The Slash takes the regular, more prosaic N-Box and funks it up considerably.

It follows the usual pretend-your-car-is-more-stylish-than-it-is rules, with shallow windows and hidden rear door handles, while there are some wonderfully curious options, particularly inside.

The interior can be personalised in all manner of ways, our favourite being an American Diner theme, complete with red leather seats that transform the Slash's interior into a lurid lounge. Brilliantly bonkers.

Listen to hip hop music and we'll wager your interpretation of the word 'Hustler' is not what you see before you now.

That makes Suzuki's effort no less appealing, though. A panda-eyed mini people carrier that's smaller than a Smart Forfour is something that would cheer up London traffic no end.

You can even turn it into a mini camper van, a gazebo unfurling from the rear hatchback and the interior folding into a double bed for especially small people. And all from a smidge over £5,000.

Those with long memories will remember the Daihatsu Hijet, a weeny six-seater sold in the UK in the '90s. Well it lives on in Japan, and not only as a people carrier – there are Hijet vans, pickups, teeny tipper trucks…

Any job you want doing, there'll be a Hijet to do it. Though, given its size, it might do it in many, many small stages.

Advertisement - Page continues below

Another vehicle pushing kei proportions to their practical limits, the Scrum's panels are wafer thin to ensure as much load space as possible has been scalloped out of a kei-shaped box.

We've picked the Scrum for its quite magical name, but in truth it's one of several minivans that look nigh-on identical, each wearing the badge of a different Japanese carmaker. If Scrum doesn't do it for you, there's always the Mitsubishi Town Box, Suzuki Every and Honda Acty…

Aiming a car so flagrantly at women would have the political correctness police knocking at your door over here. The Mira Cocoa's colours include 'silky lavender metallic opal', there are jewels in the lights, and your velocity is recorded not by a speedometer, but a 'cocoa meter'.

And if the condescending pictures of handbags and shopping trips in the marketing bumf don't hammer the nails into its sexist coffin, the optional Cocoa cushions, slippers and necklaces ought to.

Yet who are we to judge the tastes of the Japanese market, a market which also accommodates a Hello Kitty edition of the Mitsubishi Mirage, complete with cat-shaped cushions? Each to their own, and all that.

Advertisement - Page continues below

The final kei car is not one we pine for because it's a crackpot, or because it looks like an NSX that shrunk in the wash. The EK Custom is here because it's a Mitsubishi we actually want.

Yup. Since the Evo X departed from UK showrooms there's little from Mitsu to titillate the car enthusiast, the miserable Mirage the lowlight of the range. This swish little city car, on the other hand – complete with its Evo-like scowl – would surely improve the Mitsubishi line-up?