Advertisement Feature
Welcome to the cars of Italy's Motor Valley Fest
The Emilia Romagna region of Italy is the crucible of all that we love about cars. And here's why…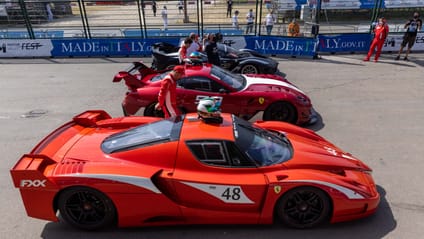 The pick of the bunch from Italy's home of motoring

Whatever's in the water in the Emilia Romagna region of north-central Italy, we'd like to know. There are few places on the planet that play host to such an illustrious and storied group of automotive icons. Here in Italy's motor valley resides the likes of Ferrari, Lamborghini, Maserati, Ducati, Pagani, Dallara and Energica. 

Between sleepy villages in picturesque valleys lie roads that have seen multiple generations of Italy's finest road vehicles honed before taking on the rest of the world. And every year, the Motor Valley Fest celebrates all that's glorious about cars past and present from this pocket of motoring greatness. You can read all about this unique bucket-list event for the Emilia Romagna region – the crucible of Italian automotive excellence – right here, where discerning car experts, race fans, supercar buyers, and excited kids alike are in their element. 

And now read on for just a taste of the incredible cars and bikes that were spotted around the festival to provide this year's bellissimo highlights…

Advertisement - Page continues below

Lamborghini Countach

Rightly taking centre stage, the most outrageous supercar of the 1970s – perhaps in all of history – turns 50 years old in 2021. The Countach doesn't just owe its V12 heart or iconic Marcelo Gandini lines to the Motor Valley: its infamous name is a piece of Piedmontese northern Italian slang befitting a wedgy supercar.

Ferrari 308

If you've ever lusted after a mid-engined Ferrari Berlinetta – the F355, perhaps, an F430 or maybe the 458 Italia – then you can trace that glorious lineage back to this car: the Ferrari 308. Originally launched in 1975 with a mere 252bhp from its 2.9-litre Tipo V8, the 308 GTB coupe and GTS targa-top kickstarted the heartland Ferrari supercar scene that thrives to this day with the F8 Tributo and new 296 GTB hybrid.

Advertisement - Page continues below

The Ferrari XX family

If you've heard of Ferrari's XX cars, you'll know the story of these track-only hardcore beats is that they're kept at Ferrari's Modena factory and hand-picked owners only drive their million-quid missiles on allocated track days. Clearly, an exception can be made for Motor Valley fest, hence this very rare line-up of FXX, 599XX, and FXXK.

 

Alfa Romeo GTV6

While an imposter in the Motor Valley, Alfa Romeo is as storied an Italian marque as you can find, founded 111 years ago in Milan, winner of the first official Formula One world championship in 1950, and capable of producing some of the most enigmatic and characterful cars ever to grace the public highway. The Alfetta GTV6 coupe was a successful racing and rally car, and was even deemed cool enough for a starring role in James Bond film Octopussy.

Maserati 420 Super Monoposto

Certain car names just sound better in Italian. Case in point: 'monoposto' is just way cooler than 'one seat'. This rare speedster began life as a Maserati 4200, before being rid of its doors, roof and windscreen to create perhaps the ultimate Italian summer weather and V8 appreciation device.

Lamborghini Miura

One of the legends of motor valley really begins with this beauty. The Miura was not Lamborghini's first car, but this after-hours mid-engined V12 project was the era-defining, game-changing upstart that put the Raging Bull of Sant-Agata firmly on the map and set the template for Ferrari's historic rival to build brightly-coloured exotica that would adorn bedroom walls for decades to come.

Advertisement - Page continues below

Ferrari F40

Every now and again, Ferrari tires of just building regular supercars and goes a bit crackers. The result is usually a limited-edition legend which rewrites the rules of supercar performance. And here are your examples from the 1980s (the wild turbocharged F40), the 1990s (the F50, an F1-engined road car with a detachable roof) and the 2000s (the Enzo, so crammed with F1 tech it was deemed complete enough to wear the name of the company founder himself.)

Lancia Delta Integrale

As a palette-cleanser to the gentrified exotica, here's a working-class hero of the down-and-dirty world of rally. Lancia's Delta Integrale is one of the most iconic WRC contenders of all time: a turbocharged four-wheel drive hatchback that was so invincible it won the world rally championship six times in a row from 1987 to 1992.

Advertisement - Page continues below

Lancia Stratos

Of course, Lancia had been finding success off the beaten track long before it made a hero out of a humble shopping car. The Stratos is perhaps the genesis of the Lancia myth, an impossibly diminutive mid-engined wedge that won three consecutive WRC titles in the mid-1970s. See, it wasn't the decade that taste forgot after all. Not in northern Italy, anyway.

Dallara BR1

While Dallara isn't the bedroom wall poster household name that the Prancing Horse or Raging Bull usual suspects are, it's incredible quite what a backbone of modern motorsport this Motor Valley stalwart is. Founded in 1972, this one race team build Le Mans cars, Indy Cars, and supplies the Formula 2 and Formula 3 grids. The BR1 is a Le mans Prototype race car built by Dallara for Russian BR Engineering and competed in the 24 Hours of Le Mans and the FIA World Endurance Championship. What's Italian for 'master of all trades'?

Ferrari Enzo

The Ferrari Enzo isn't actually called the Ferrari Enzo. Strictly, it's referred to as you would the company founder: Enzo Ferrari. This 660bhp V12 hypercar offered no radio, no electric windows, and was only available from the factory in red, black or yellow. It's a pub fact machine, this thing. Best of all: Ferrari built one for His Holiness The Pope, who auctioned it for charity rather than wringing it out.

Lamborghini Huracan Polizia

You might imagine Lamborghini's bona fide police car is a 600bhp monster that stays in the police garage. But no – it serves a noble purpose. In 2020, Italian police used their pet supercar to transport a donated kidney 300 miles in two hours, aiding life-saving surgery. The nee-naw-ghini averaged around 145mph for a journey that would ordinarily take five hours. So, if you're visiting Motor Valley fest, don't even think about outrunning a speeding ticket.

Maserati MC20

We have a new Maserati supercar to get lathered up about. The MC20 features a carbon fibre tub, a highly advanced bi-turbo V6 engine which develops north of 600bhp from just 2.9 litres, and reports suggest an all-electric version is currently in development. The future of Motor Valley will be battery-powered. Perhaps after all this time the locals have earned a bit of peace and quiet.

Pagani Zonda C12

Still as outrageous as it was when it made its debut more than two decades ago, no Motor Valley fest would be complete without the attendance of a Pagani. This Zonda C12 is even more notable for not (yet) being returned to the factory for upgrades. Yet more power, louder exhausts and even colour-coded carbon fibre are all of Mr Pagani's menu. Long may the glorious artisanal madness continue.

Energica Ego

If you're a four-wheels-good, two-wheels-better sort of individual, Motor Valley fest has exhibits for you too. The Energica Ego is Italy's first all-electric superbike, good for 0-62mph in 3.0sec and a top speed of 150mph. Impressively, the dashboard structure and the headlights are manufactured through 3D printing.

Ducati Multistrada V4S

Ducati also calls Motor Valley home. Its acclaimed Multistrada V4S is a curious but compelling bland of wild Panigale V4 engine with the more upright and versatile silhouette of a go-anywhere adventure bike. Think of it like a Lamborghini SUV or lasagne pizza topping. It shouldn't work. It should be overkill. And yet…

Ferrari 275 GTB

It's a mark of progress in Motor Valley's laboratories and factories that the modern successor to Ferrari stunning 275 GTB – the appropriately named 812 Superfast – develops around three times as much horsepower from its V12 as the mid-Sixties old-timer. While specs age, however, style, class and sheer cool does not.

Ferrari FXX

A genius idea from Ferrari and one that's been widely copied. Build a massively desirable track-only 800bhp Enzo, and in the battle to own one, the successful collectors help the team at Ferrari build detailed data to build its next flagship. 29 were sold, while a 30th example was gifted to the great Michael Schumacher in recognition of his towering racing achievements with the Scuderia.

Plan your visit to Motor Valley Fest

 Click here to find out more about next year's Motor Valley Fest 2022 and book tickets

Pictures: Andrea Casano / courtesy of EmilioRomagna region 

Motor Valley Fest sponsors 2021

The 2021 Motor Valley Fest took place thanks to the Made in Italy project (www.madeinitaly.gov.it). An initiative that aims to promote the best businesses in the country as part of an agreement between the Italian Ministry of Foreign Affairs and International Cooperation, the Italian Trade Agency – the government agency for the promotion and the globalisation of the Italian companies abroad – and the Emilia-Romagna Region.