Top Gear Advice
10 of the best cars for £10k: a Top Gear guide
Got £10k in your pocket? Need a car? Here are some sensible (and not-so-sensible) options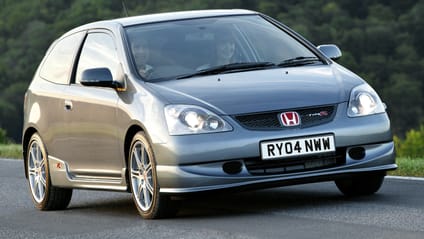 A properly old-school roadster with a 2.0-litre, nat-asp engine that delivers peak torque at 7,500rpm. Odds are any S2000 up for less than £10,000 will have done a load of miles (the tidiest low-mile facelift cars can command over £20,000), but that's not a problem long as it's been looked after.

Click here to read our retro review of the Honda S2000. 

Advertisement - Page continues below

We know – the super saloon you really want is an E39-era BMW M5, but good luck finding a decent one of those for less than £10,000 in 2021. You could go for a tatty Merc E55 AMG of course, or you could take our advice and get a super tidy and incredibly cool Jaaaaaag XJR instead. You want the 'X308' shape car, with the supercharged V8. 

If you want a reasonably modern (let's say within the last 20 years) hot hatch for less than £10k, you can't go far wrong with one of these. The EP3-era Civic Type R is a corker, and you shouldn't have trouble finding a good one for less than £10k. 

Advertisement - Page continues below

You can get a Range Rover for under £10,000. But before you swallow that particular brave pill, look at the Disco instead. A tidy Disco 3 is well within budget. Ok they're not known for being especially reliable, but they're ace off-road, mega practical and still look brilliant years after launch. 

Good LS400s appear to have dramatically increased in value in the last few years. Sure there are still cheap ones around, but the very best cars can command almost £10k, which sounds like silly money when you can pick up an old S-Class for pittance. But remember, the first-gen Lexus LS is the car that re-wrote the luxury car rulebook back in 1989. It would take Merc, BMW and Audi a while to catch up. 

Not long ago you'd have been able to buy a mint 205 GTI for £10k. Nowadays the most pampered cars are worth nearer £15k, but you can still get a drivable high-miler for sub £10,000. And drive it you'll want to, because the legendary 205 GTI is undoubtedly one of the best hot hatches of all time. 

Time for something sensible, and another TG Award-winner. The Skoda Yeti, our favourite sensible family SUV until its demise in 2017, is a brilliant all-rounder. We'd still have one over and above many current-gen crossovers, in fact. 

Advertisement - Page continues below

A former TG Award-winner, the last-gen Fiesta ST is quite simply brilliant. £10,000 buys you a good one – and there are so many around you can afford to be picky on spec/colour/condition.  

Sorry folks, you've missed the 911 boat. The most Porsche sports car you can buy for under £10k is now the Boxster, which celebrates its 25th anniversary in 2021. For this kind of money you're looking at a very clean 986 or a high-mile 987.

Click here to read our retro review of the first-gen Porsche Boxster. 

Advertisement - Page continues below

There's no shortage of R230-era Merc SLs for sale at less than £10k, but that's not where you should be sticking your money. The R129 is one of those brilliantly over-engineered Mercs from the late-Eighties/early-Nineties (whereas the 230… isn't). They're lovely things – even the sixes – and prices appear to be on the up, so act fast.