Top Gear Advice
10 used cars under £5k that are actually worth having
Reliable, fun, and less than 5,000 pounds? Good grief, you're making us work for it, aren't you?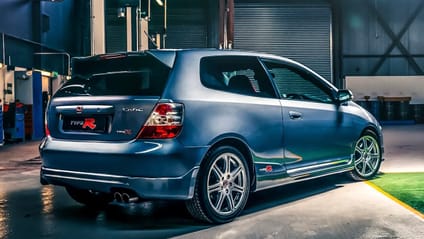 Renaultsport Clio 182

Of course. The Clio 182. If we were any more obvious and unoriginal, we'd have to start writing dialogue for Michael Bay films. 

But, much like the 100th viewing of Bad Boys, such concerns as 'obviousness' and 'originality' really fall by the wayside when you're enjoying yourself that much.

Advertisement - Page continues below

Mazda MX-5

Yes, it's the cheap-fun-car hero, as packed to the gunwales with fresh excitement as tired anecdotes. It was a car journalist's idea. Miata is always the answer. It's basically the British recipe for a fun roadster; just crucially one that works. And yet it's still not weighed down by any of it. 

The fact we're still having the same old conversations is irrelevant; the vital piece here is the fact that we're still talking about it at all. Like Dali and Picasso, Kubrick and Hitchcock, or Hall and Oates, we're still discussing the MX-5. And that means we still care, and it's still important. 

OK, obviously not Hall and Oates. But 'Out of Touch' is still a banger

Jeep Cherokee XJ

You need a ladder chassis to go off-road. Americans can't build cars properly. Off-road-ready solid axles mean appalling on-road manners. These are just three of the myths shattered by the XJ Cherokee during its 18-year production run*.

And while we've had other 4x4s perform similar feats reconciling on- and off-road prowess, the XJ still somehow manages to be one of the most desirable. Boxy, utilitarian and somehow both retro and timeless.  

*After which it was built in China in one form or another until 2014, if you can believe it

Advertisement - Page continues below

Mercedes 190E

The eagle-eyed among you may notice that the 190E also featured in our '10 used cars under £2k that are actually worth having' list. So what gives? 

Well, it's pretty simple. At two grand, you're really scraping into 190E ownership. At £5,000, you'll be well into the mix of better-specified cars with lower miles and larger service histories. And the fact that the 190E still stands up just as well as a five-grand proposition tells you all you need to know about this modern classic. 

Golf GTI Mk5

It's hardly surprising that a list of fun cars for reasonable money includes a few hot hatchbacks. And it's even less so to find what's arguably the high point of the Golf GTI – itself a decent pick as the high point of hot hatches. 

The classic GTIs are too expensive, the Mk3 and Mk4 are too slow, and the later ones are too clever by half. The Mk5 is the Goldilocks GTI. The Golfilocks, if you will. But if you won't, that's absolutely understandable. 

Ford Focus ST

The Volvo five-cylinder turbo remains a firm favourite around these parts, due to its soundtrack, serious shove, and superior cylinder count to pretty much every other hot hatch. No, not you, 147 GTA. You win on soundtrack too, in case you were wondering. Shove? Well, that's a discussion for another time. 

But is an engine really enough to recommend an entire car? Well, as much as we've said so in the past... possibly not. Luckily, the Focus ST sidesteps this entire conundrum by being... well, a Focus ST.

Honda Civic Type R EP3

A pretty classic (if also pretty cack) sales technique is to crank up the pressure by pointing to the clock. 'Offer available for a limited time only', for instance, 'A deal too good to last', or 'Get in now before prices go up'. 

Which brings us to the EP3 Civic Type R. Even now, we're still somehow able to buy one of the most entertaining, free-revving and lift-off-oversteer-rewarding hot hatches ever made. We're not going to put the hard sell on you, but maybe you should be thinking sooner rather than later... 

Advertisement - Page continues below

Nissan 350Z

OK, fine. The 350Z was a bit coarse. And the people who flocked to it could be accused of something similar. But it's likely time to send that high horse to the knackers and just enjoy the simple pleasures that are easily seen when one's nose isn't stuck in the air. 

One look at the treatment (and indeed mistreatment) endured by any number of 350Zs proves its longevity and endurance, and then the rest is a matter of choice. In this new era of EVs and silenced exhausts, does a muscular two-door coupe with a constantly vibrating, loud and gruff V6, short wheelbase, six-speed manual and rear-wheel drive appeal a little more than it used to?

Suzuki Swift Sport

For the SSS, if we may, we'll quote... er, ourselves: "This car captures everything the Golf GTI MkI and Peugeot 205 GTI and the rest stood for: natural aspiration, buzzy handling and, most of all, lack of weight." And if that doesn't appeal to you, perhaps there's something over on TVSN you could check out. 

Speaking of, we checked out a few old Swift Sports for sale and came across one with more than 130,000 miles on it for less than £4,000. And aside from a bit of creasing on the bolsters on the driver's seat, it looked like a new car. Looking at a few other examples proved that this wasn't a fluke, either. So, inside and out, as a fun and reliable car, the Swift Sport holds up.

Advertisement - Page continues below

Subaru Impreza WRX hatchback

Practical? Check. Well made? Absolutely – if the past two decades or so of being treated like the road-going rally cars they are haven't scuppered the entire fleet, we'd say they're robust enough. And fun? Perhaps go back to the 'road-going rally cars' part of the conversation. 

With that said, the only ones we've seen available for less than £5,000 are those with more than 100,000 miles. And we'll note the general consensus is that Subaru EJ engines can start to string up the sword of Damocles beyond that point. The trick, beyond picking the best-maintained example you can find, is to keep the oil up and the temperature down. And, having now been about as forward-thinking and practical as we can manage without self-combusting, all that's left to do is wish you good luck and happy holidays.