Top Gear Advice
The beginner's guide to Koenigsegg
As clever as Anders Celsius and mad as Meshuggah, 'Segg is Sweden's home of hypercars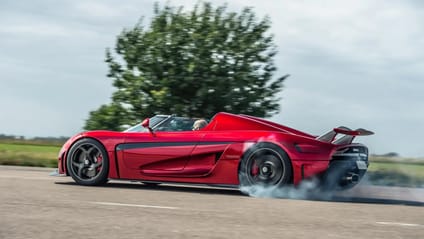 Who's Koenigsegg, and when did it start making cars?

Koenigsegg, aside from a purveyor of mesmerisingly quick, technologically bonkers cars, is one of those 'and what were you doing at that age?' moments that hits harder than most. In August 1994, at just 22 years old, Christian von Koenigsegg started his own car company, developing a working prototype by 1996, dazzling crowds at the Cannes Film Festival in 1997 and a very different crowd at the Paris Motor Show in 2000.

In the space of eight years, Christian and his team took Koenigsegg from a nice idea of a Swedish supercar to its first customer delivery at the 2002 Geneva Motor Show. Now compare what you did from 22 to 30 years old. Suddenly that Euro trip doesn't seem as epic, does it?

Advertisement - Page continues below

Where are Koenigseggs built, and how many does Koenigsegg build a year?

In an old Swedish Air Force base in Ängelholm, in Sweden's south. It's so far south, in fact, that it's only a one and a half hour drive from Copenhagen, but more than six hours drive to Stockholm. Possibly less in a Koenigsegg, though.

In terms of build numbers, well. If we told you that Koenigseggs sell for seven-figure sums, that it takes about 4,000 hours to build each car and that Koenigsegg manufactures most everything in-house – down to the titanium bolts – it's hardly surprising that you could count yearly production numbers on your fingers and toes... even if you aren't Cornish.

What cars does Koenigsegg build?

At the moment, that's the Jesko Absolut – Jesko in honour of Christian's dad, and Absolut because of Christian's affinity for local vodka. One of these might not actually be true.

The other version of the Jesko is called the Attack, and favours on-track performance over outright top speed. Oh, now the Absolut spec makes more sense.

Koenigsegg still lists the Regera as a current production vehicle, even though the entire run of 80 cars sold out back in 2017. So, what gives? Well, revisit that whole "takes about 4,000 hours to build each car" bit we mentioned earlier and you might find an answer.

Finally, there's the Gemera, which is an utterly beguiling four-seat hybrid. And just the fact that we've called a four-seat hybrid beguiling is testament to the way Koenigsegg does things.

Advertisement - Page continues below

What's the cheapest car Koenigsegg builds... and what's the most expensive it builds?

Ha. Haha. Hahaha. Good one.

Only a hundred or so out of more than seven billion of us have the kind of cash to buy a Koenigsegg (or Bugatti, Pagani et al). And while we might harbour some suspicions about how that money was accrued, we love the fact that a small part of those huge bank accounts goes to some of the most innovative and interesting machinery we've ever encountered.

You're comfortably into seven-figure sums for a Koenigsegg. It's just part of the whole deal. You either have that much and you buy one, or you're like us and appreciate it in a Saturn V rocket kind of way – you may not have used one to slip the surly bonds of Earth, but you can still appreciate the engineering that allowed some else to do so.

Of course, all this may have changed if Christian's bid to save Saab went any further. We'd either be talking about Saabs at the forefront of tech – freevalve, direct drive and all that good stuff – or about Koenigsegg in the past tense. You never do know with these things.

What's the fastest car Koenigsegg builds?

That'll be the Jesko Absolut. It is, according to Christian von Koenigsegg, the fastest car Koenigsegg will ever build. And this is from a man who's somewhat au fait with building quick cars. The ballpark is 310mph, which is comfortably nestled in the Venn diagram overlap of terrifying and transfixing.

What's been Koenigsegg's best moment?

That one's a little hard to pin down, actually. But such is the way with those who continually succeed in the highest echelons of their profession. Imagine trying to pick Usain Bolt's best moment, or Pink Floyd's. In a sea of success like that, all you're really doing is picking a favourite.

With that in mind, how do we actually answer this question in a way that's remotely worthwhile? Well, pick a moment that's got enough in the way of warm and fuzzy feelings to spontaneously spawn a Care Bear.

So. Back when Koenigsegg was putting the finishing touches on its replacement for the Agera RS, Christian knew he wanted to dedicate it to the man who'd made his dream possible. And no, he didn't reward himself. He's not that sort of guy. Instead, he decided to name the upcoming car – which would be the fastest Koenigsegg ever – after his father, Jesko, who had poured his life savings into his son's fledgling car company.

But Christian wanted it to be a surprise, which became a much taller order than you might think. By the time the Jesko made its debut at the 2019 Geneva Motor Show, Koenigsegg's PR team had to create a fake press release to throw Mr Jesko Koenigsegg – who wanted to know everything there was to know about his son's upcoming creation – off the scent. If you want, Koenigsegg's YouTube channel has a video of Jesko finding out that his son's incredible creation bears his name. No, you're crying.

What's been Koenigsegg's worst moment?

In terms of appalling fortunes or staggering self-administered kicks to the goolies, Koenigsegg's rounding 30 years in the business without much of anything in that department.

In fact, only one moment sticks out to us. It didn't cripple the company, bankrupt its founder or foreshorten anyone's life, but it did destroy quite a bit of Koenigsegg history. Before Koenigsegg set up shop in Ängelholm, its factory was a historic building in a nearby town called Margretetorp. And this building, as old European buildings often do, had a thatched roof. You probably already figured out what happened next.

Staff who were working on a Saturday – the CC8S was two weeks away from making its debut in Geneva – managed to save cars, tools and so on, but a swathe of Koenigsegg history went up in smoke. And not just the car brand's history, either – Christian's own childhood drawings and early sketches of the car he wanted to create were lost to the flames as well.

Advertisement - Page continues below

What's Koenigsegg's most surprising moment?

Well, we're sure that Stig would say when a CCX spat him into (and indeed through) a tyre wall on the Top Gear test track... if he possessed the ability to understand syntax, or even conceptualise what a mistake is. But we can do better. Not on the driving front, obviously.

Koenigsegg's biggest surprise isn't the utter speed of its cars, nor the bewildering technology that enables it. It's not the staggering amounts of money they cost, nor the simple realisation that they're probably worth every penny. Or indeed Krona. Meaning absolutely no disrespect – in fact, meaning very much the opposite – Koenigsegg's biggest surprise is its success.

It's almost impossible to conceive just how stressful, difficult and terrifying it must have been for Christian to take an idea – and his life savings – and dive into one of the most difficult businesses in the world. This is the business that's humbled any number of well-heeled, well-intentioned and well-versed entrepreneurs, and it's very far from nothing for Koenigsegg to exist at all, let alone be an internationally renowned manufacturer of ne plus ultra supercars.

What's the best concept Koenigsegg built?

It can only be the original Koenigsegg CC. This was the idea that made a home in Christian von Koenigsegg's mind and never left, an irresistible impetus that drove him to quit his job and put everything he had into making something truly unique and utterly unexpected: a Swedish supercar.

Even though the original CC is about as Nineties as an Ace of Base album, you can see the harbingers of Koenigseggs yet to come. Even 25 years later, in something as unique and ultra-modern as the Jesko, it's easy to spot just how foundational – and fundamentally brilliant – the CC was.

Advertisement - Page continues below

Tell me an interesting fact about Koenigsegg.

Because what we've been doing up until this point is discussing the migratory patterns of mallards.

Moving on. If we can agree that the original Koenigsegg CC still heavily influences the shape and the ethos of the cars that came hence (and as reading a written article is somewhat of a one-way conversation, we'll have to assume you're with us on this one), what can we say about the powertrain? Well, hopefully something interesting so you can get off our damn back. But we digress.

The monumental V8s that have powered every two-seat Koenigsegg from the first CC8S to the current Jesko are kind of taken as read, as are the perplexingly large power numbers that Christian's team manage to extract from them. Even the CC prototype had Audi's 4.2 V8. It's been a bit of a thing for about a quarter of a century. But it nearly wasn't.

Audi was keen to supply Koenigsegg with V8 engines, but not so much on the plans Christian had to tune them up to 600bhp for his cars. So the deal fell apart. The next step we would have taken would probably have been to call AMG, or perhaps Porsche. Or just buy a shipping container full of LS engines and make merry that way.

Christian's next idea? A flat-12 engine, designed by legendary race car and engine designer Carlo Chiti, intended to power a Subaru-supported entry into the 1990 Formula 1 season. Because all of that is super logical.

Truth be told, they got pretty far down the line with the flat-12 – bestowing road manners on the racing engine and still getting 580bhp at 9,000rpm on the dyno. But Chiti's engine-building company didn't soldier on long after his death, which left Koenigsegg... well, powerless. Some say it's been making up for it ever since...