Top Gear Advice
The beginner's guide to Peugeot
Everything you never wanted to know, but we're going to tell you anyway, about Purr-joes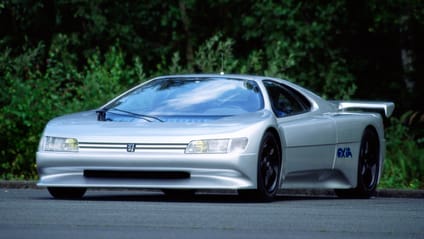 Who's Peugeot and when did it start making cars?

Peugeot is one of the French 'big three'. Or should that be 'grande trois'? Rival to Renault and Citroen (though it's actually part of the same company as Citroen now, in the PSA group) Peugeot was founded way back in 1810 by Emile Peugeot. Originally, the company made coffee grinders and bicycles (how Parisian is that?) but it wasn't until 1896 that Emile's son Armand Peugeot broke away with the family name to set up a car company – still with the lion emblem – and became a proper automobile maker. By 1903, half of all the cars in France were Peugeots. The Peugeot 203, pictured here, was Peugeot's first post WWII product, and went on to sell half a million units.

Advertisement - Page continues below

Where are Peugeots built, and how many does it build a year?

Peugeot maintains several factories in France, including one in Souchaux, where the Peugeot family originally hails from. It also builds local market cars in Argentina and Brazil, while factories in Spain and Portugal look after some van production. The new 208 is an exception – it's built in Slovakia. Peugeot built and sold almost 1.5 million cars and vans in total in 2019.

What cars does Peugeot build?

All the ones with an '0' in the middle. The car range comprises the 108 city car, 208 supermini, 308 family hatchback, 508 saloon and 508 estate. Then there are the crossover SUVs: the 2008 is the smallest, the 3008 is the middle-sized one, and the 5008 is the big seven-seater. The RCZ coupe is now dead, and performance-wise, the main model currently on Peugeot's books is the £55,000 (!) 508 Peugeot Sport Engineered, a hybrid saloon that eases us in to a bunch of electric hot hatches.

Advertisement - Page continues below

What's the cheapest car Peugeot builds… and what's the most expensive it has ever built?

The entry-level Peugeot is the L-plate friendly 108, which is basically a Toyota Aygo underneath, and is also a twin (or should that be triplet) of the Citroen C1. The lil' 1.0-litre entry-level version kicks off Peugeot's range at £12,715 – a Dacia Sandero-style bargain this is not. But, you can get into one for around £120 a month, which is pretty reasonable for an actual car with an engine and wheels. 

The priciest Peugeot? That'll be the 1914 Peugeot L45 Grand Prix racer. One of two built to race at the Indy 500 over a century ago, one sold at auction in 2018 for some $7.3million. As one of the first cars to feature a double-overhead camshaft engine design, it's a real datum point in engine development, and was capable of 100mph when most of the world was still on horseback.

What's the fastest ever car Peugeot has built?

Are we allowed racecars again? Peugeot supplied V10 engines with 700-800bhp to various Formula One teams throughout the Nineties, but in terms of a purely in-house effort, you have to look at the Le Mans-winning Peugeot 908 HDi FAP of 2009, which punctured Audi's streak of eight wins in the previous ten races. A diesel winning Le Mans – you'll never see the like again.

Okay then. Road car-wise, the fastest Peugeot to date was the rare and unsung RCZ R. The front-wheel drive coupe brandished a rampant 270bhp 1.6-litre turbo engine, good for a limited top speed of 155mph and 0-62mph in 5.9 seconds. It's since been leapfrogged by that 355bhp 508 hybrid - which is another 0.7sec quicker to 62mph.

What's been Peugeot's best moment?

Peugeot's moment was the Eighties. It ruled in the 1980s. In that decade, Peugeot gave us the 205 GTI – possibly the best hot hatch of all time. And the 309 GTI, which was the same, but with a boot. We got the 405 M16 – has there ever been a sports saloon with a cooler name? And in 1988, Peugeot even starred in a classic short film: the iconic Climb Dance, showing the heroics of Finnish rally ace Ari Vatanen piloting his bonkers Peugeot 405 Turbo 16 GR to a record run at the Pikes Peak hillclimb in Colorado. 

What's been Peugeot's worst moment?

Oh, the 2000s. Dearie me.

Peugeot absolutely lost the plot, making a succession of dull, imagination-devoid crapboxes whose only distinguishable feature was the hideous guppy-faced grille Peugeot grafted onto the lot of them. The Peugeot 307 inexplicably won European Car of the Year in 2002 despite being totally outclassed by the then four-year-old Ford Focus. Everything that followed, from the hateful sliding doored 1007 to the dreary 607 and hideous 3008 was just miserable. Thank goodness the styling mayhem of the latest 208, 308 and 3008 have turned the tide, and Peugeot Sport's started making good hot hatches again. 

Advertisement - Page continues below

What's Peugeot's weirdest moment?

While it was exclusively building terrible cars in the 2000s, Peugeot was funnelling all of its actual creativity and inspiration into mad concept cars. In 2004, for example, there was the 907: a carbon fibre front-engined super GT powered by a 5.0-litre V12. Peugeot wasn't pretending either: it spliced two of its V6s together for the job, to make a Ferrari 575 rival with a Peugeot badge. Madness. 

Then there was the 908RC: an S-Class rival containing the turbodiesel V12 from Peugeot's Le Mans car. You want another? Okay, look up the Peugeot RC: a mid-engined four-seater that was showcased with both petrol and turbodiesel 2.0-litre engines. Oh, and don't forget the Peugeot 20Cup – a 207 supermini at the front, and a motorbike at the back. 

What on Earth did someone put in the design studio's water supply, and why didn't they give any to the folks making the street cars?

What's the best concept Peugeot built?

In the power-crazed, greed-is-good 1980s, even Peugeot wanted a slice of the supercar pizza. So, it cooked up the Oxia. What we have here is an aluminium chassis, carbon and Kevlar panels, a 670bhp (!) 2.8-litre V6 in the middle driving all four wheels, and a verified top speed of 217mph. If Peugeot had built this, France would've had a genuine rival to the likes of the Jaguar XJ220 and Bugatti EB110. Wonder if anyone would've taken the badge seriously? Remember, the Oxia is from a time when Peugeot made the best-handling everyday shopping cars in the world…

Advertisement - Page continues below

Tell me an interesting fact about Peugeot

Peugeot's proud history with an unlikely motorsport event, the Pikes Peak hillclimb, extends further than just the iconic Climb Dance genius of Ari Vatanen. For the 2013 event, Peugeot decided to return, and created a mighty 208 for the job. The 208 T16 shared almost nothing with your supermarket-ready 208, wearing a brutal aero kit and running a mid-mounted bi-turbo V6 good for 875bhp. Oh, and the car weighed 875kg. Peugeot Sport claimed it was good for 0-60mph in 1.8 seconds, and could hit its 150mph v-max from rest in seven seconds.

Piloted by nine-time WRC champion Sebastien Loeb, the 208 T16 smashed the Pikes Peak record by almost a minute and a half in 2013, completing the 12.42-mile, 156-corner course in 8 minutes 13.878 seconds. Amazingly, that time beat even Peugeot's most optimistic simulations by around a second. That's some Peugeot.