Top Gear Advice
The beginner's guide to Rolls-Royce
Everything you need to know about the most luxurious car brand on the planet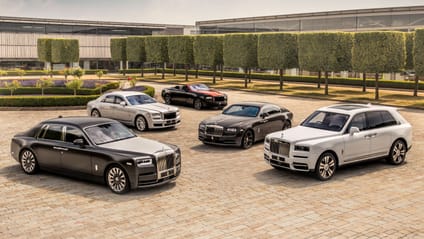 The maker of the finest production luxury cars money can buy, and therefore the boujiest car brand on the planet. Rolls-Royce itself says it has no competitors. We'd normally snub such hubris, but annoyingly, it's right. It's the peak of aspirational motoring and the easiest way to flex on the 'gram. End of.

If you have the money, nothing is off the cards when you spec a Roller. But, considering the price tag of a Rolls-Royce can go into the millions, amazingly it's a marque that magically sidesteps social stigma… mainly through the sheer magnetism of its reverence. The Spirit of Ecstasy, Pantheon Grille and 'Double R' monogram are all iconic hallmarks, and any of its cars that wears them is instantly synonymous with success.

Rolls-Royces are the chariots of choice for kings and queens, heads of state, celebrities, captains of industry and stars of stage and screen. In fact, about 20 per cent of Rolls-Royce buyers are celebrities: everyone from The Beatles to Kim Kardashian has had one. But, they're also the car of choice for the world's despotic dictators. And wedding car rental services. Basically, if you want to be seen as having 'made it' you drive – or are driven in – a Roller.

Advertisement - Page continues below

When did Rolls-Royce start making cars?

Just like how Off-White, Nike and your favourite YouTubers team up for clout, Rolls-Royce too started as a collaboration. A bit before overpriced shoes and online boyfriend makeup tutorials though. On 4 May 1904, Charles Rolls (an aristocrat with a degree in engineering from Cambridge and a World Land Speed Record) met Sir Henry Royce (an engineer from humbler stock) at the Midland Hotel, Manchester.

Captivated by Royce's vision and proven engineering skill in land and air, Rolls declared he would sell every car Royce could build, under the name Rolls-Royce. From that moment on, the world's most famous and illustrious automotive brand was born and has been producing cars ever since.

Where are Rolls-Royces built?

In a factory. A posh one, naturally. When Rolls-Royce was snapped up by BMW in 1998, it built a brand spanking new worldwide headquarters and production facility in Goodwood, West Sussex. Being in the heart of the South Downs National Park (a bonafide rubber-stamped Area of Outstanding Natural Beauty) and close to the famous Goodwood Motor Circuit, it's properly posh and British. Perfect for Rolls-Royce. But it's also 10 miles from the village of West Wittering, where Sir Henry Royce lived and worked from 1917 until his death in 1933. The first car built there was the all-new Phantom. The one Alan Sugar made famous on The Apprentice.

Advertisement - Page continues below

How many cars does Rolls-Royce build each year?

A lot more than it used to. Due to some clever marketing and an increasing portfolio of cars, RR's clientele has changed over the last decade. Back in the day, your average Rolls-Royce buyer would be a snooty old man with chinos of a similar hue to a 1970s bathroom. But now the brand has had an injection of youth and newfound inclusivity, bringing the average age of an owner dropping down to 43. But it's also shifting more cars.

In 2019, 5,152 Rollers were spat out of the factory and delivered to customers across more than 50 countries - the highest number ever recorded. You have its SUV – Cullinan – to thank for that. It accounted for 40 per cent of all its cars sold in 2019 and eight out of 10 Cullinans were bought by customers who had not previously owned a Rolls. Knocking these out has seen the workforce growing almost tenfold, while the overall output has risen to more than 20 cars per day. That may sound like nothing, but remember every single Rolls-Royce is meticulously hand-built.

What cars does Rolls-Royce build?

The current line-up includes the big dawg Phantom, the 'high-sided car' – or SUV, in modern parlance – Cullinan, the soon-to-be-replaced Ghost ( a Rolls-Royce to take when the parking is tighter and the chauffeur's got the day off), the more dynamic Wraith and its topless sibling, Dawn. Now there are also 'Black Badge' variants of Ghost, Wraith, Dawn and Cullinan that offer a raft of assertive upgrades including more power and dark metal detailing in place of dazzling chrome. Even the Flying Lady has become "a high-gloss black vamp". Their words, not ours.

What's the cheapest Rolls-Royce?

The £250,000 two-door Wraith. Which, in anyone's book, is still a hefty purchase. But the Wraith is a rapid coupe that's unlike any other car on the planet. Uniquely weird, easy to fall in love with and still dripping in luxury. And that quarter of a million quid price tag really is just the start, too. Few Rolls-Royces leave the Goodwood factory without first having been made fully bespoke to their buyer's needs: colour-matched inside and out, fibre-optic star headlining fitted, the full works. Half the fun of having a Rolls-Royce isn't driving it (or being driven in it), but the buying process itself. Just make sure you have a fat wallet.

What's the most expensive Rolls-Royce?

The Rolls-Royce Sweptail. No one knows exactly how much it cost, but word on the street is that it's in excess of £10 million. The best part was that it was a simple case of Top Gear maths getting out of control.

A man (let's assume a very wealthy one) walked into Rolls-Royce asking for a full glass roof on his Phantom. He ended up walking out having commissioned the first fully coachbuilt Roller since the Thirties. The Sweptail began life as a Rolls-Royce Phantom Coupé but the owner – a fan of the brand – requested that it referenced Rollers from a time gone by.

He wanted the drama of the 1925 Phantom I Round Door built by Jonckheere; the svelte-tapering glasshouse, dramatic dash to axle proportion and up-sweep of the rear departure angle of the 1934 Phantom II Streamline Saloon Park Ward; the elegantly falling waist-rail, swept tail coachwork of the 1934 Gurney Nutting Phantom II Two Door Light Saloon, and the flowing roofline, rising departure angle, and swept tail coachwork of the 1934 Park Ward 20/25 Limousine Coupé. It also features the largest grille fitted to any modern-era Rolls Royce. It's milled from a single piece of aluminium, before being hand-polished to a mirror shine. Think of it as a very expensive cherry on top of a very, very expensive cake.

Advertisement - Page continues below

What's the fastest Rolls-Royce?

That's the 623bhp Rolls-Royce Wraith Black Badge. Now, you may think that a fast Rolls-Royce is the ultimate diamond-encrusted oxymoron but the Wraith BB is properly rapid. In fact, in 2016 it was the sixth fastest car in the supercar run at the Goodwood Festival of Speed. It finished ahead of the likes of the Jaguar F-Type SVR, McLaren 675 LT, McLaren P1 GTR and Aston Martin Vantage GT8, no mean feat given that the Wraith is roughly the same size and weight as Goodwood House itself.

What's been Rolls-Royce's best moment?

The seventh-generation Phantom. It was the first car since BMW took the reins and came with stacks of pressure. Could the Germans build a British luxury car? Err, yep. The Phantom VII was on sale for a whopping 14 years but didn't age a day in that process. Mainly because they built something different. A car that concentrated on silence, smoothness and – no-one guessed this – apparent simplicity. The Phantom was also a car that eschewed styling fashion and found new ways to do an interior. None of this has become less relevant. And it's probably only on the quietness that some newer cars have caught up. It's a legend.

Advertisement - Page continues below

What's been Rolls-Royce's worst moment?

That's easy: the Rolls-Royce Camargue. It was an utter lemon that's seen its prices tank fast than a bowling ball thrown out of a plane. Back in 1975 it was the most expensive car you could buy. Now you can pick them up for less than £50k. Just 531 were produced during an 11-year run that ended in 1986 and they still look rather gawky. Hence the heinous depreciation.

What's Rolls-Royce's most surprising moment?

The company's belated and controversial response to the boom in SUVs, the Cullinan. Nothing symbolises human contrariness more than the rise of the vehicle designed to do things 95 per cent of its end users will never engage with and, depending on where you stand, the Cullinan is either the pinnacle of automotive achievement or a near-£300k white elephant. Even if you struggle with the concept of the big, fast, heavy SUV, you can't argue with RR's execution. The Cully is exactly what rich people want, so they're serving the demand and lining the company's pockets thanks to it. Remember, the Cullinan is now Rolls-Royce's best-selling car. Even if some people think that it looks like a London taxi.

What's Rolls-Royce's best concept?

Well, there aren't many to choose from. Rolls-Royce has only ever done one concept, the suitably mad 2016 Rolls-Royce Vision Next 100, or 103EX as it is known internally.

It's Rolls' first-ever visionary concept, and easily the most out-there thing it's ever done. It was kind of an exercise to reassure oligarchs that ultra-luxury can still exist in the future. At 5.9m long and 1.6m high, the 103EX is the size of one of Jupiter's rings but powered by batteries and four in-wheel electric motors, so there's no need for a torquey V12 under the bonnet. The wheels, covered save for a semi-circular cut-out, are 28 inches in diameter, while the entire canopy is a stargazer's fantasy – fashioned front to back from tinted glass.

Being a concept car, it has more than a fair few wacky flourishes. And the 103EX has either a wonderful, or rather embarrassing, treat waiting for you on arrival, depending on the breadth of your ego. As you approach your destination the grille and bonnet mascot begin to glow, a glow that spreads around the wheelarch and down the side of the door. Then, as you come silently to a halt, the glass canopy, door and step deploy, and a red carpet is projected onto the pavement. Fine for a night at the opera, probably a bit much for popping down to Co-op. Rolls Royce calls it "The Grand Arrival", we call it "The Best Way to Get Eggs Thrown At You".

Tell me an interesting fact about Rolls-Royce.