Top Gear Advice
The beginner's guide to Skoda
Everything you ever wanted to know about Skoda, right this way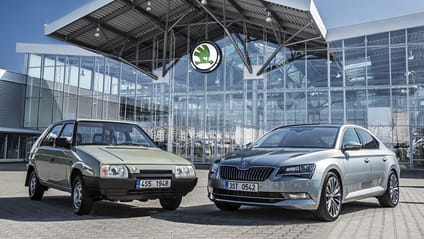 What's Skoda, and when did it start making cars?

Czech Republic-based Skoda's story begins on two wheels. Its founders, locksmith Václav Laurin and bookseller Václav Klement, started out making bicycles in the mid-1890s, before moving on to motorcycles in 1899. 

The pair eventually progressed to manufacturing cars in 1905. The first was a two-seater called the Voiturette A (pictured), which had a two-cylinder engine with 7bhp and a top speed of around 25mph. The price? 3,600 Koruna. In today's money that's about £30,000. 

After World War One, Laurin & Klement merged with machine engineering and armaments firm Skoda Works to create Skoda Auto. Soon after, Laurin & Klement's cars became known as Skodas.

Advertisement - Page continues below

Where are Skodas built, and how many does it build a year?

As you might expect, Skoda's two main plants are in the Czech Republic. Between them Mladá Boleslav and Kvasiny build more than 900,000 cars a year. Skoda is one of the country's largest employers, and its products account for around nine per cent of the nation's total exports.

Skodas are also built in Slovakia, India, Russia and China, mostly in VW-owned plants. Last year, it also announced it was looking to build a new European factory to meet demand. 

Total production? A lot. In 2019 it delivered 1.24 million vehicles, the sixth year in a row that the manufacturer has delivered more than one million vehicles. The Octavia leads the way at just over 363,000 units, more than double the second-best Fabia. It also has a goal of increasing total deliveries to two million a year by 2025. Show-offs.

What cars does Skoda build?

OK, deep breath. 

In the UK the range consists of the Citigo E-iV (the brand's first fully electric car), two regular hatchbacks (the mid-size Fabia and slightly bigger Scala), two saloons (the best-selling Octavia and the Superb) and MANY SUVs. In size order: Kamiq, Karoq, and Kodiaq. Oh, and the Fabia, Octavia and Superb are also available as estates. Got it?

Skoda customers are apparently some of the most satisfied people on earth. Yep, that's right. Far from being a joke car manufacturer, according to last year's J.D. Power Dependability Study Skoda is the second most dependable car manufacturer in Britain. 

Advertisement - Page continues below

What's the cheapest car Skoda builds… and what's the most expensive it has ever built?

The Citigo might be the smallest Skoda, but its EV drivetrain means it isn't actually the cheapest. That would be the Fabia hatch, which is available from £12,990. Our thoughts? Good value, lots of clever touches, and refined 1.0-litre TSI engines. No surprises that it's a hugely popular model, then. Read the full review here.

The most expensive of the current line-up is the Kodiaq vRS, which starts from £45,740. What does that get you? A 2.0-litre, four-cylinder diesel with twin-turbochargers. It also happens to be the fastest seven-seater around the Nürburging. Discover the full details here.

It's still someway short of Skoda's most expensive car, a bulletproof Superb Estate that comes in at £118,688. The armoured car gets a specially reinforced passenger cell, bullet-resistant glass, and more. You can explore the model in all its glory here.

What's the fastest car Skoda builds?

Skoda's range-topping saloon, the aptly named Superb, takes the crown thanks to a 268bhp version of the same 2.0 TSI engine you'll find in MANY other fast VW Group products, plus all-wheel drive and a quick-shifting double-clutch automatic gearbox. 0-62mph takes just 5.6secs, and the top speed is limited to 155mph. 

The Superb might be the fastest Skoda you can actually buy, but it isn't the fastest Skoda there's ever been. Back in 2011 the company's UK-arm modified a 2.0-litre Octavia vRS and hit a whopping 227mph on the Bonneville Salt Flats, setting a record in the process. 

What's been Skoda's best moment?

Arguably its acquisition by the VW Group in 1991. 

Back then it was the butt of many a cruel joke (what do you call a Skoda with a sunroof? A skip, etc), and it was plagued by issues of poor quality and unreliability. The range consisted of two models, and it was only producing about 200,000 cars a year. 

Fast forward to today, and Skoda offers an extensive range of really very good cars, produces almost two million vehicles annually and is active in more than 100 markets worldwide.

What's been Skoda's worst moment?

Advertisement - Page continues below

What's Skoda's weirdest moment?

Really only one answer for this one – who remembers the Skoda Fabia life-size cake? The star of a 2007 TV advert, it cost a whopping £500,000 to put together, and took eight chefs and model makers ten days to mix, bake and build. 

Weighing a tonne and a half, it even included a replica engine oiled with Golden Syrup, Rice Krispies mouldings and a chocolate speedometer. Sadly, by the time filming had ended it was not thought fit for human consumption. What a waste.

Image credit: Creative Fabrications

What's the best concept Skoda built?

Back in 2002, Skoda introduced a two-door coupe at the Geneva motor show, named the Tudor (after the 1948 two-door Tudor). Based on the Superb, but with lowered suspension, a sport-tuned chassis and a six-cylinder engine, it attracted plenty of attention – too much attention, some might say. 

During an exhibition in India, the car somehow got 'lost'. Following an intensive search by the authorities, it was found at a train station several months later. The Tudor is now securely locked up (in chains, we presume) in the Skoda Museum in Mladá Boleslav, where it can be admired today. You know, if you're ever in the area...

Advertisement - Page continues below

Tell me an interesting fact about Skoda.

Ever wondered where those trees keep appearing from, Czechs? Allow us to explain.

Back in 2007, Skoda announced that for every model sold in the Czech Republic, it would plant one tree. By the end of 2018 820,000 trees had taken root in Czech soil, in an area equivalent to approximately 260 football pitches.

The scheme aims to balance carbon emissions while also involve staff, who help choose the locations suitable for planting the saplings and with the planting process. 

Saving the world, one Skoda at a time. Nice.