Top Gear Advice
The Beginner's Guide to Volvo
Everything you wanted to know about the Swedish powerhouse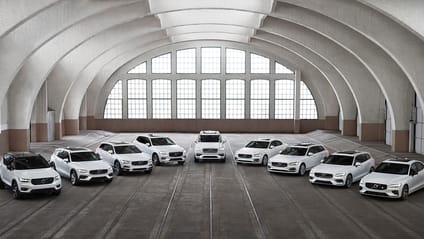 Who's Volvo and when did it start making cars?

Volvo started building cars in 1927 – company founders Assar Gabrielsson and Gustaf Larson saw that foreign cars weren't able to cope with the snowy climes of their native Sweden and wanted to build something safe enough to stay on the road. Bizarrely, their first car was the ÖV4, a cabriolet powered by a 1.9-litre four-cylinder engine. Dress warm, kids.

Safety has always been a key part of the Volvo philosophy – the company has been responsible for a raft of features we take for granted these days. It invented the three-point seatbelt in 1959, the rear-facing child seat in 1964 and introduced head-protecting airbags on all its cars in 1998.

There are diminishing returns on such innovations – the 2018 V60's thing was beeping at the driver if it thinks they're tired. But cumulatively it all adds up to the company's safest car yet, scoring high on the Euro NCAP test. 

Volvo is known as Swedish the world over, but it hasn't been properly pickled herrings since 1999, when it was sold to Ford for $6.5bn (a 1993 merger with Renault was knocked on the head by shareholders). 

It was a mixed period, with the Blue Oval trying to juggle a number of luxurious new acquisitions. The company was hit badly by the 2008 recession and was looking around to offload Volvo – which it did in 2010 to Chinese carmaker Geely, for $1.8bn. 

It's been a fairly prosperous time, with a new engine range developed, a new shared platform to cut engineering costs, and a move upmarket with swankier cars. 

Advertisement - Page continues below

Where are Volvos built, and how many does it build a year?

You might think of them as peculiarly Swedish, but Volvos are built all over the world – in fact the company has had factories pumping out its motors in Belgium and Malaysia since the 1960s. 

There are factories in the US, India and Russia that cater for various local tastes, but controversially (for some, everyone else doesn't really care) production of the S90 saloon was moved from Sweden to China with the latest-generation version of the car. Gasp.

Numbers-wise, Volvo sold just over 700,000 cars in 2019, growing nearly 10 per cent on the year before and well on its way to its target of 800,000 sales a year. 

What cars does Volvo build?

Unlike some people, Volvo's range and naming system is simple and easy to understand. It has three sizes of cars, numbered 40, 60 and 90. If the number has an S in front, it's a saloon, a V makes it an estate and XC means it's some sort of SUV. Isn't that great? 

Currently, the 40 range only has an SUV, while the 60 and 90 lineups goes the whole hog. There's a new V40 on the way for 2022, and that's about as ambitious as the Swedish firm is to expand its selection. What we'll see over the next few years is the gradual electrification and refreshing of the existing cars. 

Interestingly, the current naming structure was supposed to be a single digit, but Audi complained (S4, etc) and the estates were meant to be F for flexibility, but Ferrari complained (F40). It's a minefield. 

Advertisement - Page continues below

What's the cheapest car Volvo builds… and what's the most expensive it builds?

The baby Volvo is the XC40 SUV, built on the company's new CMA architecture, which it hopes will make it lots of money. At just over £25,000 for its base spec XC40 Momentum Core model, that one probably isn't the golden ticket to early retirement its creators hope. The XC40 range goes up to around £60,000 for the full electric version.

Coincidentally, technically the cheapest production car that Volvo sells is another EV, its S90 ride on electric car for kids. It only costs £341, but the range is a miserable 2.8 miles. So probably not a practical proposition.

The most expensive Volvo is the XC90 SUV – specifically the £73,970 Inscription Pro Recharge version, which is so extravagant it has two engines. Admittedly one of them is electric. 

Strictly confidentially, if you happen to be a Very Important Person with a tendency to get shot at or blown up and you don't want to be ferried around in the same tat as everyone else, then Volvo does do an armoured version of the XC90 that quietly starts at around £450,000.

What's the fastest ever car Volvo builds/has built?

Volvo and speed have never really gone together – no one needs max top speed when they're shifting a wardrobe or driving through metres of snow in deepest brightest Scandinavia. That said, the firm did enter the British touring car championship in the Nineties, but it raced an estate car. 

If you do have a particular need for speed, the V90 R Design Pro T4 will get from 0–62mph in 4.8secs and on to an electronically limited 155mph. If you're in a real rush, the S60 T4 Business Edition Lux gets you to 62mph even quicker, in 4.4secs.

Volvo has had enough, though, and announced in early 2020 that it would be removing itself from the fast car racket permanently, and restricting all of its future models to 112mph top speeds. The Polestar sub-brand isn't affected by the commitment, but if you're driving one of its EVs you'll want to keep it steady anyway to save juice. 

What's been Volvo's best moment?

Inventing the three-point safety belt in 1959 must have been a proud moment for the company, but we wouldn't know because they don't like to talk about it. Perhaps its best moment was when the safety-enthused funsters at Thatcham Research announced in 2018 that no one had ever died in an XC90 during the car's 16 years on sale. From a road accident, at least, we can't rule out assassinations... although there's always the armoured version.

Back in 2014, Ikea founder Ingvar Kamprad moved back to his home country of Sweden at the ripe age of 91, revealing that he'd only recently given up the 1993 Volvo 240 GL that he'd been driving since new. That's just how those humble Swedes roll. 

What's been Volvo's worst moment?

In 2010, Volvo invited a bunch of journalists and suchlike to its Gothenburg HQ to experience the majesty of the company's emergency braking system, by firing an S60 at a parked truck. The S60 didn't stop, much to the embarrassment of Volvo and the glee of the journalists present as it ploughed into the back of the lorry trailer. 

Volvo said the car had needed a jump start prior to the test, thanks to a flat battery, which somehow contrived to turn the safety system off. The crash test dummy was also blamed for ignoring the in-car warnings that the system was inactive. 

The company has form in this area – when its very first ÖV4 was set to be demonstrated to the press on 13 April 1927 as it rolled off the production line, the engineer behind the wheel put the car into first and it went backwards. Apparently the differential had been fitted the wrong way round. Whoops. Volvo launched to the world on 14 April 1927.

Advertisement - Page continues below

What's Volvo's weirdest/most surprising moment?

The Volvo 480 turned up in 1986 like a recently divorced woman at a nightclub, as Volvo tried to rework its 440 family saloon into a sporty coupe number. It harked back to the golden days of the Sixties P1800 coupe and was supposed to show Volvo's frivolous and exciting side – lightweight construction, angular styling and handling tuned by Lotus. New haircut, sharp dress, juicy lipstick. How could anyone resist? And that's before we even mention the pop-up headlights. 

Sadly the 480 wasn't as successful as it should have been – partly a poor exchange rate with the US dollar that diminished profitability, and partly the fact that it couldn't carry a washing machine. Probably. It did the trick, though, paving the way for a sleeker Nineties look for Volvos – no longer frumpy, these things could occasionally be cool. 

What's the best concept Volvo built?

The SCC concept in 2001 was a looker that previewed the upcoming C30 Coupe while previewing a host of safety features including a nifty lattice structure in the A-pillars with glass that free up an area of reduced visibility that has only got worse as rollover structures have got rightly tougher. 

Perhaps the coolest (no, really) Volvo concept was the LCP 2000 from 1983, a car which tried to preview what we'd be driving in the new millennium and getting it largely right, thematically speaking. None of that flying cars nonsense, this was a fairly sensible look at ways in which carmakers would deal with environmental challenges. It was lightweight, used innovative tech and downsized engines to great effect. Also, rear passengers had to climb in through the boot hatch.

Advertisement - Page continues below

Tell me an interesting fact about Volvo

Volvo means 'I roll' in Latin – the company was originally started as a subsidiary of Swedish industrial firm SKF to sell ball bearings in America, but was never used. When Assar Gabrielsson managed to convince the company bigwigs to throw some money behind his efforts to build a decent Swedish car, Volvo was considered an ideal vehicle, as it were. The logo, a really old symbol for iron, was meant to tap into that industrial heritage and communicate the strength of Volvo's car.