Top Gear Advice
Car control with Catie: driving in the wet
Extreme E driver, TV presenter and British rallying star Catie Munnings shares some driving wisdom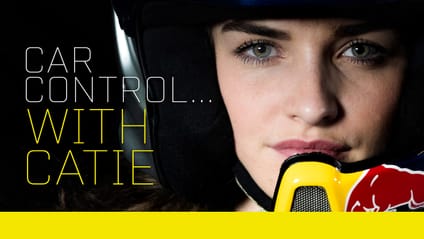 Full wet or drying? Damp? Somewhere in between? Slicks or wets? Driving in wet conditions is always a lottery, but there are basics that could save your skin. Before you even think about setting off to get in the flow behind the wheel, make sure the windscreen wipers are on! This mistake lost me a race last year, although it wasn't raining, there was a lot of standing water – one mud puddle was all it took to put me at the back of the semi-final heat.

Advertisement - Page continues below

Straighten corners as much as possible – the more you lean on the tyres the more risk you take, so think about driving lines and gentle steering inputs. You need to be able to feel what the car is doing, the quicker you can feel the start of oversteer, the quicker you can react. At that point, brakes are a no-no – straighten the steering, but don't snatch an armful of opposite lock as overcorrection will snap you violently the opposite way.

In the event of a slide... rear-wheel drive: lifting off the gas will allow the rear tyres to reconnect to the road, hopefully... Sometimes this can snap back the other way when they grip, so practice is key. Front-wheel drive: gentle acceleration pulls the car forward stopping the rear trying to go sideways. Four-wheel drive: keep the wheels pointing the way you want to go and acceleration pulls you out.

Advertisement - Page continues below

In a race situation, ultimately you drive through the seat of your pants, get a feeling for the surface and keep your inputs sympathetic. In the real world, never underestimate standing water in the inside lane no matter how good your tyres are. If you do find yourself splashing through it, try to keep your tyres in the lines left by the vehicle in front – aquaplaning at speed is no fun at all.