Top Gear Advice
Car control with Catie: how to do the Scandi flick
Extreme E driver, TV presenter and British rallying star Catie Munnings shares some driving wisdom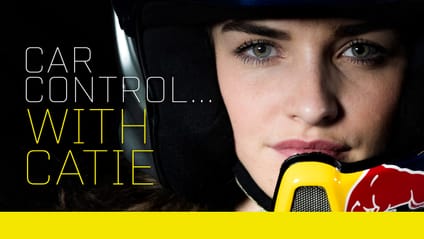 I've not needed this technique much, but every rally driver has it in their back pocket for slippery conditions. It's a flick of the wheel in the opposite direction to the corner, to send the car's momentum in that direction before transferring it back towards the corner, creating a pendulum effect. Rally cars used to have pretty poor brakes so it helped slow the car before releasing the momentum in the desired direction in a controlled slide.

Advertisement - Page continues below

As you approach, say, a 90° right, give yourself room on the left, get your braking done early then aggressively and quickly flick the wheel to the left, just enough to feel the car's momentum slide and lean on the right side of the chassis. Then you need to be fast and precise, looking past the apex and steering in that direction. The rear will rotate quickly and the front will be pointing at the apex. Get it right and you can get on full throttle... now.

Absolutely. On slippery surfaces it's stylish and fast. You had to be aggressive with older rally cars (especially FWD), using weight transfer to find the grip and avoid endless understeer. The flick also helps you to feel the grip first, instead of braking super late and committing to the bend. These days cars are set up to rotate with a bit of brake pressure and the slightest steering input. Driving them aggressively can put you in a spot of bother.

Advertisement - Page continues below

Despite the flamboyant angles, it's actually a really safe driving technique in slippery conditions, and you can carry a lot more speed through the corner in the form of sideways momentum – you're more in control when the car is set up mid-corner and you can steer with the throttle. When you get understeer, there's not a lot you can do but grab the handbrake, which kills your speed.