Top Gear Advice
Car control with Catie: how to heel and toe
Extreme E driver, TV presenter and British rallying star Catie Munnings shares some driving wisdom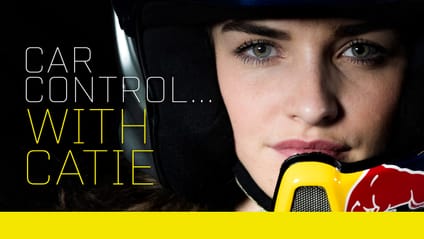 Heel and toe is a way to smooth gearshifts, and ultimately your entire driving technique in anything that uses a manual gearbox. It's particularly important in racers where being smooth not only keeps your speed up, but prolongs the life of components too. I recently did a tuition day with Rob Wilson, a coach who has worked with many F1 drivers – we talked a lot about it and how it's the most efficient way to get the fastest lap time.

Advertisement - Page continues below

The technique originated from old cars that were designed with the accelerator in the central position between the clutch on the left and the brake on the right. As most of the power is found at higher revs, when braking and downshifting, you could keep the revs high and smooth out shifts by 'blipping' the accelerator with the heel of the right foot while maintaining brake pressure with the toes and pressing the clutch on the left to shift down.

Of course, these days we have the accelerator on the right and the brake in the middle, which makes the action a little different. Forget using your heel at all, you want to push the brake with the ball of your big toe, and as you're about to release the clutch and engage the next gear you roll to the right blipping the throttle with the outside of your right foot. The distance between brake and accelerator can vary, so adjust the angle of your foot.

Advertisement - Page continues below

When done perfectly, you can match engine speed to wheel speed and select a lower gear for exit speed, all without a jolty gearchange locking your wheels and losing traction on entry. It sounds complicated but just needs practice to create the muscle memory. Having raced for years with sequential boxes and single-speed electric cars, when I jump back in a manual there are lots of jerky gearchanges – I'm still perfecting this one!