Top Gear Advice
Ten awesome used cars for less than a new Vauxhall Corsa
It's Britain's best-selling car, sure. But since when did 'best-selling' mean 'most interesting'?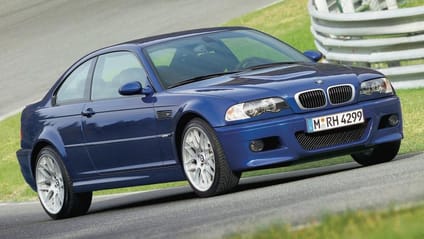 In perhaps the least important news of 2021, the Corsa topped Britain's sales charts, with Vauxhall selling more than 40,000 of the (admittedly pleasant-looking) little things. And that's in a year that took an axe to pretty much every car manufacturer – and any number of industry hangers-on.

Vauxhall's sales figures are helped, of course, by the fact that a massive proportion of Britons lease cars rather than buy them outright, yet leased cars still count towards the number 'sold'. So saying, 'Hey, for that much money, you could buy this' is already an argument more spurious than taking horse dewormer for a respiratory infection. But, it must be said, one that's more entertaining and almost definitely less lethal. And who exactly doesn't want to daydream about the heroically bad ideas they could indulge in, rather than signing the lease on a small hatchback?

Technically, you can spend upwards of £30,000 on a Corsa. And while that wouldn't be cheating as such, it'd definitely be signing up for an Ashley Madison account. So, to keep things kosher, we'll limit ourselves to the £17,380 list price for the cheap-seats Corsa. Even so, there are some properly good choices here – unlike signing up for Ashley Madison.

Advertisement - Page continues below

Mazda MX-5 ND

Another 'depreciation is your friend' article, another nod to the MX-5. Yes, it's time to drag out a reference that's only slightly more tired than your average Simpsons moment – Miata is always the answer.

Now, there's going to be slightly less utility than your average city car, and we're reliably informed that trying to pass off child number 2 as a bonnet ornament won't be viewed favourably by... oh, most anyone. But that's rather missing the golden opportunity that the MX-5 offers to the parents of multi-child families – taking your kids to school, one at a time.

Oh yes – this one has the whiff, sniff and indeed the pungent odour of genius about it. For best results, try to find a school that's somewhere in northern Scotland or Wales, then drop your progenies off at your chosen academy in a time-intensive but thoroughly entertaining school run. You could even sell the idea to your significant other as a way to get one-on-one time with your kids, and have a rota for which of your kids has to leave first in the morning. Honestly, we feel we're transcending mere car advice and moving into life advice. You're welcome, you know.

Caterham Seven

What if you're in the situation we've just mentioned and love our solution (you're only human, after all), but feel like we've played the choice a bit too safe? Well, the obvious answer is to pick a car that is monumentally less safe.

The realities of sitting in a narrow aluminium tub underneath the world's most fiddly and least waterproof tent are perhaps pondered in your quiet reflection time. Just kidding – you're a parent! There is no time for quiet reflection; just a headlong slog that combines running the gauntlet with the myth of Sisyphus, just with more time spent cleaning food off the floor.

And knowing you can have a featherweight shortcut to fun, are you really going to be happy with a sensible little hatch? Will you think about it sitting in the garage, picture it itching to help you blow off some steam? Is it the car you want to take to the national speed limit, the windrush drowning out all the cathartic four-letter words you can't use at home? And are we perhaps a little worn down by this parenting thing?

Advertisement - Page continues below

Alfa Romeo 147 GTA

The 147 GTA was the very definition of champagne on a beer budget. Alfa had grand plans of all-round double wishbone suspension, multi-pot Brembo brakes and limited-slip diffs beefier than a gaucho's breakfast – to say nothing of the ultimate iteration of one of the all-time great V6s. And that was all gravy, right up until Fiat demanded that each car be made for about half a lira apiece.

So to buy a 147 GTA is to buy a rough diamond, regardless of how clean and original the car is. You replace the open diff with a limited-slip version before the Busso V6's torque shatters it, and your gearbox. You replace the shock absorbers and whichever of the ball joints that have gone bad. Hint: it's always all of them. And you watch the cambelts like they're the sword of Damocles. Because they really are.

But should you take on a little fettling, a touch of upgrading and a good deal of active preventive maintenance, you will have the very best-sounding, probably best-looking and possibly most luxurious hot hatch to ever make it to market. And we'll just be here, pining for our little Alfie.

BMW M3 E46

Welcome, everyone, to the most obvious car ever recommended in one of these articles. An E46 M3, eh? Wow. Had to think long and hard to get there. But there's a very good reason the M3 is obvious: it's a) brilliant, and b) a benchmark. And it's that second bit we should probably talk about.

See, 'benchmark' gets thrown around quite a bit – especially if you're in the business of testing cars, or indeed computers – but the bit about the word 'benchmark' that always seems to fall by the wayside is the fact that a benchmark establishes a commonly understood reference point that competitors can be compared to.

The fact is that the E46 M3's engine, gearbox, suspension, handling, packaging and so on are impressive to the point that sports cars from competing manufacturers are judged by how well they do against the exemplar in its field, that is, the E46 M3. In its day, everything from Porsche 911s to one-off supercars were benchmarked against what's likely the best-ever M3, because to outdo it was to exceed the high-watermark. And that makes it a rather special thing.

In any case, if this is all sounding entirely too common for you, there's always the E36 M3 Evo for the same money...

Audi RS4 Avant 2.7

Who says Top Gear can't do practical advice? Look – an Audi A4 estate, big enough for all kinds of things and humans and practicality and so on.

Also, it must be said that our choice of A4 estate also comes with a good deal of added interestingness, courtesy of a 375bhp twin-turbo V6 and six-speed manual. See? The true joy of compromise.

Of course, servicing costs might be a touch higher than a small hatchback, but it's worth remembering / convincing yourself that with each expensive part replaced, you're paying a premium for all that space and practicality. And, y'know, interestingness.

Honda S2000

Let's go ahead and get this out of the way now: if you are tall – like struggle to fit in economy class seats in aeroplanes tall – you will find the Honda S2000 to be as comfortable as a punji pit and about as easy to manoeuvre yourself in.

If, on the other hand, you're more of a 'starts fights at the pub' kind of height, you'll absolutely adore the S2000. It is the car that MX-5 drivers secretly wish they owned, a new interpretation of the formula that concentrates and distils the recipe without sacrificing anything in the way of enjoyment.

Also, to dispense with food analogies for a moment, it also has an engine that makes so many horsepower per litre, it took the Ferrari 458 to beat it. And when you're winding the revs out to 9,000rpm, food will likely be the last thing on your mind – to say nothing of some hatchback you were going to lease.

Advertisement - Page continues below

Clio Sport 182 Trophy... or Renault Megane RS 275

To be in the market for a hot hatch and not consider the French is like booking a date at a fancy restaurant without considering French, or thinking of ways to kiss your date without considering French.

And there's a very good raison for this. While the VW Golf GTI rightly gets a lot of credit for the incredible popularity of the hot hatch, the French had already had that idea with the Simca 1100Ti, two years before it. And just to add insult to injury, the Renault 5 Gordini (nee: Alpine) pipped the GTI to the post by two months.

Since then, France has been a reliable front-runner in the hot hatch game, even if reliability itself has never been so freely associated with French machinery as say, performance, entertainment and general... well, joie de vivre. And yes, to reach for a phrase and not consider French...

The point we're lazily lilting towards is that two of the all-time great hot hatchbacks – from the home of the hot hatchback – are available for less than the cost of a base-model, very-much-not-hot hatchback. You'll make the right decision, we're sure.

A bona fide Porsche 911

Not so fun fact: in a lot of places in the world, Porsche 911s are beyond ridiculously expensive. Case in point: in Australia, the very cheapest 911 currently listed for sale on a large used-car sales site is a 996 convertible, with an automatic gearbox and more than 160,000 miles. As you'd expect, given it's the worst possible spec of 911 known to man. And yet it's listed for more than £27,000.

Meanwhile, over in Britain, you can get your choice of manual 911 coupes – 3.4 or 3.6, Carrera 2 or 4 – in good condition and with low mileage for (an admittedly small amount) less than a base-model Corsa. That's £17,380, in case you've forgotten. In fact, there's a manual 3.6-litre Carrera 2 (probably the best choice) with less than 65,000 miles and fetching blue paint listed for £18,995 on a dealer forecourt. Head in with cash and a Mike Brewer-esque bent for bargaining and there's every chance you could drive away in exchange for our target figure. And we're struggling to think of reasons why you shouldn't.

While there are 996s for seriously sub-Corsa money, they're what Mike Brewer might call a fixer-upper and what the rest of us would rightly view as a cross between a dumpster fire and a money pit. And when good examples are available for, again, less than the cost of a new Vauxhall Corsa, do you really want to cheap out at the buying stage, only to pay through the nose later on to get it working as well as the Corsa-priced ones?

In any case, please relish the bargain that's presented to you in the US and in Britain. Buy a 996 Carrera and experience the joy that is the 911, even at its cheapest.

Advertisement - Page continues below

Only the Jag 5.0 V8 XFR

For Corsa money, you're looking at the older, 'surprised face' XFR, as opposed to the arguably better-looking later models. Unsurprisingly, this also means you're not going to get the XFR-S estate version, but as we'd take one of those over the holy grail itself, it's likely worth the price premium.

So, enough on what you can't have; what could you have for your Corsa-sized budget? Well, we begin with five litres of supercharged V8 – an all-new design for the XFR – and some supremely handsome styling thanks to noted pensman Ian Callum.

From there, you'll find trick suspension and a tricky e-diff, like you got in the Ferrari F430 and, on the inside, fancy motorised air vents that'll almost definitely keep working.

The XFR will be quieter and more comfortable than its contemporary BMW M5 – then again, given that we're talking about the E60 M5, wars tend to be quieter and are invariably more reliable – and yet will run just half a second off Germany's top-tier sports saloon around the Top Gear test track.

Or, you could have a little hatchback in base-model poverty spec. Your choice.

Lotus Elise

Since its introduction, the Lotus Elise has been a byword for peerless handling, driver involvement, lightweight construction and raw purity. Since its introduction, the Vauxhall Corsa has been a byword for driving school, those who should probably attend driving school, and the kind of car that teenagers drive to school.

For Corsa money, you can choose between Series 1 and Series 2 Elises, depending on your preference for ultimate lightweighting and B-road flow or better quality and engines. And it's probably worth mentioning better crash safety, too.

After nearly a quarter of a century, Lotus finally let the golden goose out to pasture. And what usually happens after a particularly loved model is discontinued is that prices stabilise, then start to rise. So now might be the absolute right moment to nab your own Elise...