Top Gear Advice
These are 10 of the best convertible cars
The best drop-tops money can buy, just in time for... um, the depths of winter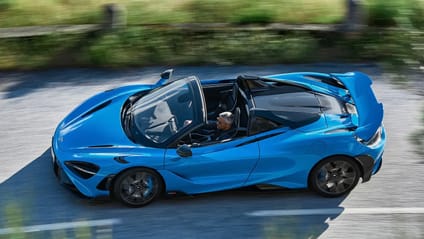 Mazda MX-5

For the past three decades (and counting), one of the best convertibles that money can buy is still a car that'll take a mere fraction of the money needed for just about anything else on this list. 

The formula that's so right today – a small, lightweight roadster – was just as right at the MX-5's debut in 1989, and long before that with cars like the Triumph Spitfire, Alfa Giulia Spider and MGB. 

Advertisement - Page continues below

Porsche Boxster

Thankfully, the Boxster has weathered all that 'not a real Porsche' malarkey, proving once and for all that it doesn't really matter where Porsche puts an engine – it's still going to be a serious contender. 

And if we were to be equally serious for a second, we would implore you to find a way behind the wheel of the Boxster GTS 4.0 – for the glorious noise, if nothing else. 

Mercedes SL

The superlative grand tourer and boulevard cruiser returns for another generation – the seventh, in fact, since the Fifties – and buying an SL at any point since then has rarely been a bad idea. Assuming you can actually afford it, of course.  

Will the new one become a classic like the Pagoda? Well... about that. We will say that it's the first SL to be a Mercedes-AMG product, dropping Benz entirely and replacing it with the sportiness you'd expect from Affalterbach. Which puts it much more in line with its most famous forebears. Clearly there are some high hopes among Merc's higher-ups...

Advertisement - Page continues below

Audi R8 Spyder

Yes, it's expensive, and yes, its styling does seem fiddlier by the day. But there's no denying the essential rightness of a sensible Audi that's also a drop-top, V10-powered supercar.

And for nothing else besides the opportunity to hear a naturally aspirated V10 wailing in the open air, you'd still have to take the plunge, no?

Lexus LC Convertible

A gigantic drop-top grand tourer, designed by a bunch of Californians meant to fill the hole left in Lexus's range by the departure of the utterly execrable SC430. So it's complete dross, right? 

Well, as you're reading a '10 best' article, you might have gleaned the answer ahead of time. As we've said before, the LC Convertible is Lexus's "most loveable car since the LFA". And that's saying just about all we need to. 

Porsche 911 Cabriolet

If you want an everyday supercar, you look for a 911. This has pretty much been established by now. 

It's also been established that it's naturally aspirated for thrills, turbocharged for speed. And that 911s deserve a manual gearbox. And that the coupe is the only way to go – the stiffer body, lighter weight and greater focus befit the 911's purpose, intent and ability. 

So when we say that the new 911 Cabrio is every bit as brilliant as the coupe, and might even be better? You might get some idea of just how silly discriminatory diktats on the 'right version to buy' are after all. 

Ferrari SF90 Spider

Hey, no one said 'cheapest', did they? Hopefully not, given that we've already featured the 911 Cabrio, Lexus LC, Mercedes SL and R8 Spyder. Even so, things are about to move on a touch. Or, y'know, two.  

Or indeed eight cylinders, four litres, two turbos and 986bhp – aided by a full plug-in hybrid system. So you get Veyron-rivalling power and speed, combined with 62 miles of headroom and the kind of apocalyptic aural experience you can only get by sharing the air with a Ferrari V8. 

And yes, the 296 GTS could steal the SF90's spot here... but it's a brand-new car that's sold out for the next few years, apparently. And, finances permitting, you can get an SF90 Spider with delivery miles tomorrow. 

Advertisement - Page continues below

Morgan Plus Six

If you're think it's odd to include such a small, off-piste manufacturer among the biggest and most recognisable marques in the world, perhaps you've missed the point of the convertible. 

For speed, you go for a coupe or super saloon. For space, you get an estate. For reasons only known to science, you get an SUV. So if you're on the hunt for something fun, does it not make a fair measure of sense to go to the company that's made fun its business since before your great-grandad could grow a moustache? 

McLaren 765LT Spider

Convertibles have always had something of an unserious, playful character. That's a good thing, of course, and probably reason enough to buy one. 

The McLaren 765LT Spider, on the other hand, is the drop-top to buy when you're done playing. It's superlatively swift and lightweight, harder than the road it drives on and as forgiving to drive at speed as it is to fall out of. 

Suffice to say that, much like Chris Hemsworth, the 765LT will be able to do things you can't, and look good doing so. With its top off, of course. So perhaps the less limited, less muscular and less intimidating 720 Spider might be a safer pick. 

Advertisement - Page continues below

Caterham Seven

We're told the roof does come off a Caterham, and have it on good authority that once removed, it will go back on. This, therefore, fulfils the basic precepts of a 'convertible'. 

The only problem is that putting up Crystal Palace by yourself is possibly an easier task. But for true driving involvement, even the superlative machines on this list would struggle to match it. Yes, really – it's that good.