Top Gear Advice
Top Gear's five-point guide to how off-road tech works
Confused by all the off-road manufacture jargon? Allow us to explain in layman's terms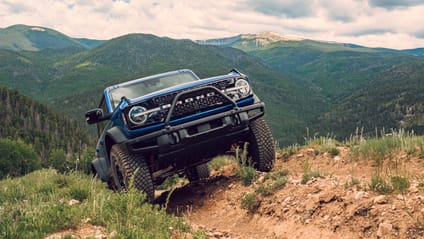 HILL DESCENT CONTROL

A feature common on most off-road capable machinery these days, descent control does precisely what it says on the tin: you engage it on a downslope and the ABS, traction and stability control systems manage speed and traction. Some even let you set a descent speed via the cruise control function.

Advertisement - Page continues below

CLIMB CONTROL

Very similar to descent control, except more complicated. Essentially anti-stall, crawl control will also work with ABS and traction systems in a modern off-roader (Ford, Toyota and LR all have it) to maintain a preset speed across tricky terrain. Will manage speed while you concentrate on steering – always a good thing.

ELECTRONICALLY DISCONNECTING ANTI-ROLL BARS

Anti-roll bars that work wonders for road driving limit vertical wheel movement off tarmac, so most semi-hardcore 4x4s have a system that can electronically separate the bars and allow for maximum wheel articulation. A wheel that's in contact with the ground is gripping – a wheel waving in the air is not.

Advertisement - Page continues below

TRAIL CAMERAS

The proliferation of parking cameras has a benefit for off-road driving too. Land Rover is at the forefront, using existing cameras to let you see exactly where your wheels are, and what they're touching. The 'Clearsight' system also interpolates the view so that you can 'see' through the bonnet to the ground beneath.

WADE SENSING TECH

Sounds like a good idea, right? But wade sensing technology doesn't actually tell you the depth of water you're driving into, just the depth of water you're already in. Which means, in reality, that while it's a good trick to show your mates, having a check manually first is still recommended to avoid getting swamped.