Top Gear Advice
Top Gear's guide to buying a used Mini
A sports car hiding in a city hatch, the modern Mini is every bit as British as Bentley and the Royal Family. So, mostly German, then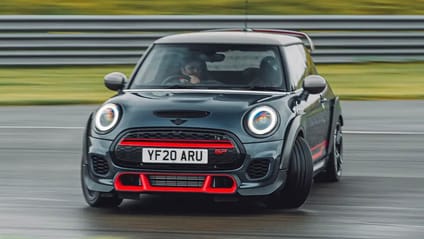 It's the new(ish) Mini, which is distinct from the old Mini in a number of ways.

Firstly, the entire company is called Mini, as opposed to the car that was made by the British Motor Corporation, then British Leyland and finally the Rover Group. But that doesn't even explain the whole thing – you could buy an Austin Mini, or a Morris, Rover, Leyland... or even Mini, after 1969. You could get an Innocenti Mini if you lived on the continent, and if you wanted a bigger boot and yesteryearian styling, you could get a Riley or Wolseley saloon on Mini underpinnings.

But, of course, we're not talking about that Mini. We're talking about the new Mini, the one where... confusion also reigns, actually. There's the Mini hatch, which is only called the hatch in common parlance if you get the base model one without anything interesting on it. Then it's the Mini Cooper, or the Mini E, or the Mini JCW. And that's before you get to the Clubman (i.e. the long one, which also confuses the original meaning of that name) and the massive Countryman.

Secondly, it's quite continental, seeing as the Mini brand was part of BMW's big Rover Group buyout in the mid-Nineties... which then saw it sell off pretty much everything but Mini.

Thirdly, the new Mini is from a wholly new mindset. Sir Alec's original Mini design came from a place of privation – it was a small, Spartan car primarily to be efficient, while the layout and drivetrain was to maximise space. The new one, on the other hand, is absolutely profligate by comparison, slathered in the style of the original, but not the ethos. It's essentially a front-drive sports car layout with a hatchback body on top and any number of niceties inside. But no Smiths gauges. That's either a win or wince-inducing, depending on who you are.

And yes, because it's now not quite as small as it used to be. Good one. Haven't heard it before.

Advertisement - Page continues below

What's so good about the Mini?

We'd say that the best bit about Minis is the handling. That whole 'front-drive sports car with a hatchback body on top' might steal space in a way that'd send Sir Alec into some kind of apoplexy, it does bear fruit when you're keen to have a bit of fun behind the wheel. Because, as much as the newer Minis are losing that essential playfulness, there's more than a few Minis from the past two decades that are laugh-out-loud fun.

Also a big win in our book is its resale value – while limited-run and mollycoddled examples can still fetch wallet-withering sums, the incredible popularity of the Mini from base model to top-spec sporting versions means a huge selection of used Minis at prices that aren't bolstered by any notions of rarity.

But then other people might say the style, the cutesy looks or that broadly indefinable – but unmissable – charm is the best part. Others might say the Union Jack motifs in the later cars' tail lights. Those people would be wrong.

What's so bad about the Mini?

Well, if you were looking for a modern version of the original ethos, you're fresh out of luck. In reality, most modern automotive remakes don't manage this feat – think about the Volkswagen Beetle, Ford Thunderbird or Dodge Charger, to name a few.

But that's unlikely to be a concern for those among us who aren't wistful car tragics. Mainly because, unlike the Thunderbird or Beetle, the Mini isn't unremittingly rubbish. But also because, unlike the Charger, at least there's a visual and spiritual link to the original car. So let's move on to practicalities.

As was bandied about to no end back at the car's launch, the Mini's wheelbase rivalled a Land Rover's. Even so, the Mini offered all the space of First Man – sure, there's some, but it's really only at one end and there's just not as much as you were expecting.

There's also not the best reputation for reliability – or cheap repairs when something does go wrong.

Advertisement - Page continues below

What are the common problems?

That varies quite a bit, depending on the year and spec, but the overarching theme is that Minis require more detailed and involved maintenance than your average city hatchback. Which is understandable, given they're really BMW's first foray into front-drive sports cars.

Early cars from 2001 to 2006 had simpler, more reliable engines, with a series of caveats ranging from oil leaks and a complicated cooling system (requiring specific knowledge and experience to keep in proper working order) to the fact that the supercharged engines are here for a good time, not a long time. Factor in an entire engine rebuild or replacement after 120,000 miles or so. Yes, really – if you're buying a Mini, you're buying a car you have to lavish with attention and great heaped armfuls of cash. And if you're doing that, you may as well have the most rewarding driving experience you can extract in return. More on that in a bit.

Later cars used versions of the 'Prince' engine that BMW co-developed with PSA, which has had some pretty serious issues. As in 'timing chain failure' serious. There have also been issues with the fuel pump, oil consumption and carbon build-up on the valves that requires you to get them removed and media blasted (walnut shells seems to be the preferred media) before reinstalling. We could go on. And we will – just not yet, or we'd be here all day.

At times, gearboxes have also been something of an Achilles heel – the original Rover gearbox whines like a toddler and is about as fragile as the vase they just broke. The CVT gearbox – only found on the earlier cars – is... well, a CVT, which is pretty much anathema to the rest of the car. It also malfunctions; the stepped 'gears' that make the CVT less... well, CVT-ish, sound good in theory but can actually trap the car in 'first gear'.

What engines and trims are available?

Quite a few over the years, actually. Engines range from diesels that suit the Mini's character like an acrophobic suits being an acrobat to supercharged and turbocharged petrols that couldn't be more hand in glove if they were OJ Simpson.

Early cars used a Brazilian-built (yes, really) engine called the Tritec, which also found its way into peerless metal like... the Chrysler PT Cruiser and Chery J11. True automotive paragons, you'll agree.

But it was actually decently reliable – and even stood up to supercharging, creating a properly personable little engine that can, with a few mods and meticulous maintenance, pump out 200bhp and a supercharger whine you'd need a Jag V8 to outdo.

The turbocharged engines that replaced it brought the same sort of power but a mere fraction of the fun. They also brought a laundry list of their own problems, as we've touched on already.

But it's worth mentioning that the naturally aspirated petrols actually shared the same engine architecture as the sportier Minis, and quite a few of the same foibles. So, being every bit as Top Gear-ish as you'd expect, we'd say that the best you can pick is the early supercharged Tritec. Yes, the one that lasts about 120,000 miles before needing a rebuild. We're not tremendous at this 'advice' thing, are we?

Compared to the original Mini, it is a veritable bank vault. With HEPA-filtered air conditioning and an uninterruptable power supply. And those little silicon corner covers you get for kids so they don't do themselves a proper injury when they headbutt the coffee table.

OK, point... well, definitely alluded to, if not actually made, let's find those brass tacks and get down to them.

Even the first-generation new Minis were four-star Euro NCAP rated, with subsequent generations getting either four or five stars as the tests grew stricter and more involved. So while the 2007 Mini got a five-star rating, it's still not going to be as safe in a crash as the four-star- 2014 car.

How economical is the Mini?

In general, quite. After all, it's a small car with a low roof, small engines and the ability to carry good corner speed – so you're not wasting fuel with the slow in, fast out driving style that bigger cars tend to require.

In practice, however, the ebullient nature of your average Mini – and the enthusiastic driving style that it engenders – can have something of a detrimental effect on miles per gallon. Driven with... let's say vim, a supercharged Cooper S can get into the mid-twenties. Low thirties are possible, too, but – as you might expect from a supercharged sports car – it's not exactly built for hypermiling.

The other end of the spectrum would be something like the 1.5-litre diesel available from 2016 onwards, returning more than 60mpg in real-world driving – without any kind of efficiency drive. Badum-tish, et cetera.

But if we're talking about the more modern engines, we'll cast our vote for the 1.5-litre, three-cylinder turbo petrol from the Cooper. And also the BMW i8, as it happens.

OK, so the one in the i8 is about 90bhp up on the 134 to 139bhp on offer in the Mini Cooper, but it's such a happy and willing little thing that you'll relish revving out to the higher registers... and blowing the 50mpg you could be achieving into the weeds.

Advertisement - Page continues below

In a word, brilliantly. That's the entire point of the Mini, after all, what it was designed and engineered to achieve and a huge part of its continued popularity today.

As the generations progressed, the cars got larger and more sensible, so the truly distilled and undiluted experience is the preserve of earlier cars. But you'll still have fun in the later cars, particularly if you pick one with a turbocharger and avoid anything with a diesel.

Quite quick, especially in the sporting versions. Which does make a modicum of sense, you'll agree. The limited-run John Cooper Works GP models, anything with a factory-fitted JCW badge and even the Cooper S makes an easily defended case for being 'a fast car'.

The newest Works GP makes the best argument, of course. But then it would, given its case is bolstered by more than 300 force-fed horsepower and pound-feet, fed through a limited-slip diff for a nought to sixty run in the five-second range and a top speed of more than 160mph.

Honestly? We'd probably go for the first-gen Works GP – its 218bhp might pale against the newer machine, but thanks to a scant kerb weight of 1,090kg, the stats don't. Unless a 6.5-second zero to 60 time and 149mph top speed are somehow just too far off the pace for you.

Advertisement - Page continues below

What's the interior of the Mini like?

Ah, yes – the other reason to buy a Mini. From the outset, this has been an interior firmly focused on the feel-good factor. While the materials haven't always been first-rate – finding a Mini that doesn't rattle somewhere in the cabin is like finding the lost city of El Dorado – the general ambience has always been one that made you feel special.

As an aside, extra points absolutely have to go to the limited-run 'Inspired by Goodwood' edition, with none other than (BMW Group stablemate) Rolls-Royce lending a hand with some seriously sumptuous leather, carpet deep enough to drown in and proper, burnished (good) wood on the dashboard.

How reliable is the Mini?

The Mini is reliably a Mini, and is much more reliable at being a Mini than other cars which are patently not Minis. Even after two decades, we're informed that the early cars are still reliably being Minis, with every indication that they're steadfast in their unique ability to reliably be a Mini on any given day of the week. Which means that pretty much everything will break at some point. Because they're Minis.

The consensus is that the best way to approach early cars from any generation (R53, R56 and so on) is with extraordinary amounts of caution. And, even under this rubric, special mention has to go to early R56s for a laundry list of issues.

Aside from the engine and gearbox maladies we've already covered, there were issues with... well. Take a deep breath. Power windows not working, brittle and rattly interior trim, dodgy thermostat housings, radiators that weep like they're watching Schindler's List, fuel and water pumps that routinely decide against doing just that, clutches that take a leaf out of the pumps' book, control arms that need new bushings after 30,000 miles, engine mounts that feel 30,000 miles is about right as well, spark plugs and ignition coils that fail prematurely, timing chain tensioners that follow suit, turbochargers that fail due to broken oil feed lines... or just because. Oh, and power steering pumps that can self-immolate if their end-of-life whine is ignored.

Speaking of ignored, there is a rule of thumb: ignore the suggested service intervals and change the oil twice, if not three times as regularly as the handbook suggests. But don't ignore your dipstick – pretty much all Minis use (or leak) oil, and can get through a full sump's worth quicker than you'd think. We probably don't need to point out how bad running out of oil can be.

How much does the Mini cost to insure and tax?

Given what we've said about what can go wrong and how expensive it can be to fix, we really do wonder if insurance and tax are the big concerns here.

We did see that Mini offers a 'Mini Insured Warranty' that "can help protect you against the cost of repairs and replacement parts should something unexpected happen", with the obvious joke that everyone probably did expect it to happen. And the less obvious joke that it'll be getting on for £1,000 a year for a comprehensive warranty with no excess. You'll halve that if you agree on a £250 excess. And when a single fuel pump can cost £600 (and need replacing on a biennial basis), it does bear thinking about.

In terms of vehicle tax (y'know, what you were actually asking about), the first-gen Cooper S with the old supercharged 1.6 will be a comparatively expensive endeavour, costing some £360 a year. Compare that with the 2014 Cooper S at £165 a year, thanks to its more efficient 1.6-litre turbo and attendant drop in CO2 emissions. And, as a post-2011 car, it's a much more reliable R56 than the earlier ones, so it might not be the worst idea in the world.

The 2014 Cooper S falls into insurance group 30, alongside other hot hatch fare like the Fiesta ST, Abarth 595, DS3 and Alfa Giulietta 1.75 turbo. Which feels about right.

What feels entirely less so is the fact that, unless you're 50 years old, you'll pay more than £700 a year just to insure the thing against getting bent, nicked or written off. If you're celebrating your 30th birthday with a Cooper S (we've heard worse ideas), expect to pay £900 a year for insurance. So, that's somewhere around £2,000 a year for insurance, tax and a warranty, before you've even started totting up what it costs at the bowser...