Top Gear Heroes
Honda's RA271/272: one of the coolest, prettiest F1 cars ever
The first ever Japanese car to win in F1 also happens to be one of the prettiest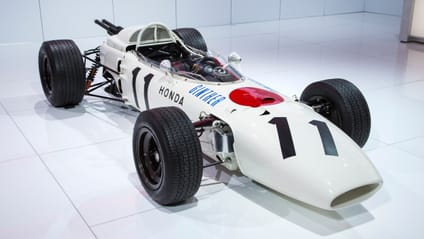 Soichiro Honda is one of the greatest dudes to have ever lived. Take his famous 1954 address, which became known as the 'Isle of Man Declaration'. Honda-san had become obsessed with the legendary Isle of Man TT motorcycle races, and stated that Honda would enter a 250cc race bike in the following year's event, despite having zero previous experience.

He subsequently travelled to this rocky little outpost in the middle of the Irish Sea in June 1954 to witness what was, and remains today, one of the most lunatic endeavours mankind can indulge in. Unfortunately, having made this inspired pilgrimage – the Isle of Man is a long way from Japan – he was rather perplexed at what he found.

Advertisement - Page continues below

"What amazed me was seeing machines running with about three times greater power than we had been considering," he told journalist Shotaro Kobayashi later, "and we'd never dreamed of such a sight. My first reaction was a shock of disappointment. What did I say, I wondered, and what am I going to do? Then it came to me. These people here have a history, and that's why they can make machines like these. We don't have that history, but we've seen these machines, and that can have the same effect for us as history."

Honda duly made its debut in the 1959 Isle of Man TT. Three of the team's riders finished in the top 10, and Honda even picked up the constructor's prize. Two years later the team wiped the floor with everyone, securing the top five places in both the 125cc and 250cc classes.

Pictured: Honda's Isle of Man team in 1959

Soichiro Honda – who was also working on a jet-pack at the time – naturally decided motor racing was next on his to-do list, and rather than pussy-footing around decided to target Formula One. "Since childhood," he noted, "my dream was to become a champion in world automobile racing with a machine I had made myself."

He passed this onto senior members of his team, with amusing consequences. "We are planning to compete in F1. I want you to oversee the project," research director Yoshihito Kudo said to Hideo Sugiura, who was a quality manager at Honda's Saitama factory at the time. "What is Formula One?" Sugiara replied. "I have seen some photos, but I don't know what it is…" "I don't know either," answered Kudo, "but it doesn't matter, everyone is a beginner at first…" Barely two years later, Honda would win its first F1 GP, on its 11th attempt, with one of the single most beautiful racing cars ever made.

Advertisement - Page continues below

As learning curves go, this is practically vertical. So how the hell did they do it? The team initially gained some knowledge of contemporary F1 by purchasing a British Cooper chassis, equipped with a 2.5-litre engine. Sensibly, Honda decided to concentrate primarily on developing an engine and supplying that to an existing team, and a V12 was chosen as the best configuration. The first unit – codenamed RA270E – was clever, and imported thinking and techniques from Honda's bike racing exploits, handy given the new 1.5-litre formula. Honda being Honda, however, a chassis was also still being worked on in parallel, codenamed RA270F.

That turned out to be a smart move. When Lotus pulled out of a deal to use Honda's new engines, it left our plucky heroes with a stark choice: abandon their plans to enter F1 in 1964, or proceed as a constructor, with a brand new engine, run by a new team. Things may have been simpler in the Sixties, but not that simple.

On top of everything else, the RA271 (above) was becoming impressively innovative/overly complex, depending on your point of view. Its V12 – designed by future Honda president Tadashi Kume – was mounted transversely rather than longitudinally to improve weight distribution and handling balance. The radical decision was also taken to make the engine a stressed, load-bearing part of the chassis (using narrower sub-frames bolted to a shortened monocoque to support the engine and suspension). By early 1963, the prototype was achieving 13,000rpm on the bench; Honda clearly wasn't planning on fiddling about on the margins.

RA271 was painted ivory white, with a red rising sun logo. It looked slender, elegant and fast, and 51 years later cooler than ever. It also made its debut at the toughest track on the planet: the Nürburgring, venue for the 1964 German Grand Prix. A young Californian sports car racer called Ronnie Bucknum was the chosen driver, apparently spotted by some Honda guys while he was racing a Porsche 904 at Sebring. He had a great record in the SCCA (Sports Car Club of America) series, but zero in F1, which Honda, typically, took to be an advantage rather than a deficit. In other words: an F1 rookie, in a largely untested car, fielded by a rookie team, bank-rolled by a young Japanese company whose first four-wheeled vehicle – the tiddly T360 pick-up – only went on sale in August 1963… It had disaster written all over it.

Bucknum duly lined up 22nd and last on the grid, but he'd made it all the way to ninth place before the car's suspension was beaten – with only three laps to go – by the 'Ring's notorious crests and jumps. The damage was so bad the team had to sit out the next round in Austria, but returned for the Italian GP at Monza, another notoriously fast circuit. But its long straights played to the RA271's strengths, and Bucknum ran as high as fifth before overheating and retiring. These temperature issues flared up again during the US GP at Watkins Glen, and the team opted not to contest the season showdown in Mexico. Still, not bad at all as half-seasons go.

The following year, Honda expanded its entry to two cars, hiring another American driver, Richie Ginther, who had previous F1 experience with Ferrari and BRM. The company also decided to mount a Formula 2 campaign, the aim being to broaden the experience bank as much as possible. Ginther eventually opened Honda's championship points tally with a sixth place finish at Spa-Francorchamps, and even briefly led the British and Dutch GPs. But Soichiro Honda's expectations were still so high that even this degree of progress, as well as steady improvements to the RA272's centre of gravity and handling, wasn't enough to please the main man.

Then, in October 1965, at the team's 11th attempt, the big breakthrough came at the Mexican GP. The last round of the season, the Mexican race was held 2000m above sea level, the thin atmosphere proving a major challenge to car and driver. Luckily for Honda, it also highlighted the benefits of their engine's low-pressure fuel injection system. Ginther lined up third on the grid, but quickly took the lead in the race and never relinquished it. Bucknum finished an excellent fifth. Just 15 months after making its debut, Honda had won its first Formula One race. It was an astonishing achievement, but Soichiro Honda wasn't about to let success go to his head.

"Ever since we first decided to build cars we have worked hard and been willing to take the most difficult path. We will therefore not be content with this victory alone. We will study why we won and aggressively apply those winning technologies to new cars."

Advertisement - Page continues below

Meanwhile, John Surtees, World Champion on two and four wheels, the latter achieved with Ferrari in 1964, was hired and the team reverted to a single-car entry focused around him. For much of the 1967 season, Surtees drove brilliantly but had to contend with the overweight RA273. Collaborating with the British firm Lola, Honda got to work on a new, lighter car, targeting the Italian GP in September for its debut. The RA300, powered by a 420bhp V12, duly appeared at Monza, 60kg lighter than the lightest incarnation of its solid but unspectacular predecessor. In one of the most memorable races in F1 history, Surtees bided his time beautifully and scored an awesome victory, winning a mere two-tenths of a second ahead of Jack Brabham. Both Surtees and the Honda team finished fourth in their respective championships (the latter tying with Ferrari).

Even so, Honda read the runes and decided to focus on road car development rather than motor racing. This would culminate in 1972's all-conquering Civic, the car that elevated the company worldwide on the back of seismic shifts in consumer behaviour, particularly in North America. But the sporting urge wouldn't subside. Honda's return to F1 in 1983 would soon turn into one of the purplest patches in automotive history.