Top Gear Magazine Awards 2016
Shelby Mustang vs BMW M2: it's muscle car war
It's US muscle and European athleticism in an intercontinental arm wrestle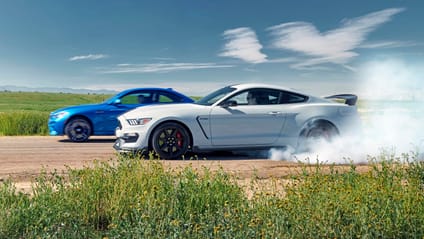 In a high-friction durability test between a doughy Michelin Pilot Cup and a granite-hard road surface, you'd think the bitumen would walk it…

Surely the tread would erode first, evaporating into plumes of acrid smoke, moments before a catastrophic blow out? But the Shelby GT350R Mustang doesn't play by the rules – burnouts are its thing. The road doesn't melt its tyres; its tyres melt the road.

No, seriously. I've just created a miniature pond by pouring half a pint of mineral water into one of two blackened hollows that the Stang has burrowed into the tarmac using nothing but the power of line-lock and 519 all-American bhp. I'm surprised the road didn't concertina up behind us like a Looney Tunes carpet and the Earth isn't spinning a little quicker on its axis. Then again, perhaps it is.

Photography: Webb Bland

This feature was originally published in the May 2016 issue of Top Gear Magazine.

Advertisement - Page continues below

Meanwhile, the BMW M2 is looking on forlornly. All it can manage is a faint chirrup from its rear tyres as it fires off the line using launch control. And even then, the car's overly judgemental electronic nannies won't allow another go until you've taken a few minutes to think about what you've done.

BMW's press bumf claims the M2 has an uncharacteristically humorous Smoky Burnout function fitted as standard, but we're damned if we can make it work. The instructions claim that switching the drive mode to Sport+, selecting first gear in manual mode and mashing the throttle should do it, but no cigar. This is a 365bhp, rear-wheel-drive M car that I CAN'T do burnouts in. Frustrating doesn't begin to describe it. 

Fortunately, I am capable of applying some perspective: a burnout does not necessarily a great car make. However, for the purposes of today's exercise it sure as hell highlights the chasm in philosophy between our two subjects. Both are three-door coupes, both have plentiful engines (one significantly larger and more plentiful than the other) and both direct their combustion energy towards a pair of tortured rear tyres.

But, compared with the Mustang's noise, fury and appetite for smoking its Michelins, the M2 is calm, calculated, quietly focused. When the Mustang is around, nobody, and I mean nobody, notices the M2. It's a shock, even if we are in California – Shelby's backyard.

It feels a bit like sending a bespectacled German academic into the ring with a corn-fed UFC fighter, but there is method to this apparent imbalance. You see, both cars are Top Gear award-winners in 2016, two of our very favourite coupes which have already elevated themselves above their peers with a spread of talents and a desirability that keeps us awake at night. The purpose here is to compare and contrast the greatest American muscle car for a generation against Europe's somewhat leaner vision of what a pony car should be.

A muscle car should be loud. The louder the better, in fact, and I'm not overdoing it when I say the Mustang GT350R makes the greatest racket I've heard in ages. A resonating warble with a rasping metallic edge that physically distorts space-time. Great bubbles of sound pour out of the quad exhausts, and you don't have to be in the upper reaches to unlock it.

With the pipes in Sport mode, a mere tickle of the throttle sends forth a serrated clatter that slaps into everything within a few hundred metres. At one point, having opened the taps through a tunnel, I witness a small rockslide down the side of the canyon. Coincidence? Unlikely.

Advertisement - Page continues below

Under the bonnet is something midway between a Ford Coyote engine and the Ferrari 458's screaming 4.5-litre V8. A unique 5.2-litre flat-plane-crank Voodoo V8 (the crank pins are spaced at even 180° intervals, rather than the normal 90°, allowing an alternating firing order between cylinder banks that reduces the overlap of exhaust pressure pulses, in case you were wondering) that spins all the way to a very un-American 8,250rpm. It's the very heart of this car; even dropped into a standard Mustang GT it would elevate that model to legendary status, but Ford didn't stop at the engine. It's gone deep.

In honour of its 1965 namesake – the Shelby GT350 Competition model – the Shelby GT350R builds on the less-hardcore GT350's spec with the goal of being the most "track capable" Mustang ever. And it is, by quite some margin, but we're not talking about a racecar with a numberplate here, it's no 911 GT3 RS in terms of its single-minded pursuit of speed. This is, despite extensive weight-saving measures, still a significant mass and a generous set of dimensions to hustle from point to point.

A carbon-fibre rear wing, chin spoiler and more aggressive diffuser add a useful dollop of downforce (and help you spot it next to the lesser GT350), while the springs and adaptive dampers are set lower with a specific, firmer tune, and twinned with thicker anti roll bars. By ripping out the rear seats, boot floor, aircon, stereo system and exhaust resonators (hence the Armageddon soundtrack), 54kg is shaved from the GT350's figure, reducing total weight to 1,665kg – 95kg more than the M2. Full disclosure: our car had the aircon, nav and stereo put back in, plus we had a large lunch, so let's call it 1,700kg all-in.

The R's calling card, though, is its standard-fit, ceramic-coated, carbon-fibre wheels – a masterstroke that transforms the GT350 from something lumpy to a living, breathing animal. It's like the tank has been brimmed with Italian espresso, not the 89 octane sludge they sell around here. Weighing 8kg each – a full 7kg less than the aluminium equivalent, they reduce unsprung mass (weight not supported by the suspension) by 40 per cent, and that comes with a world of benefits.

The front end is constantly sniffing out ruts and cambers, but streams 5G feedback. The ride feels busier, but somehow no less comfortable, while the less-stressed suspension is that much more adept at keeping the tyres in contact with the road.

The M2 doesn't have a particular weight-saving story to tell, fancy aero add-ons or an exhaust note to wake the dead. It makes do with a more modest engine, too – a restrained 365bhp 3.0-litre turbo straight-six available with a six-speed manual, although we've got the seven-speed DCT here. As a result, it's simply a more grown-up, sophisticated machine – didn't think I'd be writing that about the latest full-bore M car.

It's not that the M2 is dull or undercooked in any way, it's just that the Mustang is so outrageous in its approach to, well, everything – more noise, more speed, more wing, more cheese on that? Likewise, the M2 is a reflection of the precision-obsessed land which it comes from. There is more than enough power to exploit the M4-derived aluminium suspension on the road, and just enough to throw some shapes on a track, but no more or no less than is necessary.

Sure, the exhaust note sounds a bit meek next to the Mustang's loutish megaphones, but in isolation the trademark smooth six-cylinder fizz with the occasional pop and bang on the overrun is plenty to keep you interested. The M2's real brilliance is its lack of complication. Whereas the Mustang has five driving modes, plus individually configurable damper, steering, exhaust and tractions setting, the M2 makes do with three: Comfort, Sport and Sport+. This thing has been built to be driven and not to impress your mates with gimmicks. 

What might impress them is how it looks. The bodywork is subtly inflated by several psi over a stock 2-Series, to the exact proportions of a French bulldog – small but squat enough to command respect. By comparison, the Mustang is a show pony that demands attention. Up here in the mountains, on the incredible wide and sweeping corners of the Maricopa Highway – unravelling north from Ojai (pronounced 'oh-hi!') through the Los Padres Forest – it fills out its surroundings perfectly. But driving one through London? You'd better get used to being papped.

Advertisement - Page continues below

This really is the perfect road to uncork these two cars (lucky, as it's the only one we've got), although each shines in very different ways. With 154bhp more, it's no surprise that the Mustang devours the straights, only pausing for breath as you slide the satisfyingly mechanical but longish-throw six-speed manual around its gate.

Hold onto second and you'll be hitting 75mph at 8,250rpm before the engine calls time. It's a wonderfully inappropriate party piece, the stratospheric rev limit, but in reality you rarely go there. The engine starts to sound strangled beyond 7,000rpm, and with max torque at 4,750rpm and a ballistic soundtrack that uses the throttle pedal as a volume switch, why bother?

It's not a point-and-squirt car, the Mustang; it's much better than that. Thanks to the loaded steering and the immense lateral grip, it can carve around corners at unruly speeds, but ultimately, there's no hiding its size. You tend to eat the road in several large chunks, biding your time in corners before burying the throttle and subjecting your ears and internal organs to another pummelling.

Despite the physicality of it, it's an addictive onslaught. Not once do I climb out of the GT350R without puffing my cheeks out in disbelief, a wide-eyed grin plastered across my face.

The M2, on the other hand, slurps up straights and corners in one well-oiled mouthful. We'd definitely prefer the six-speed manual, but its relentless pace has a lot to do with the instant nature of the DCT gearbox – allowing you to change gear wherever, whenever, without upsetting the car's balance or taking your hands from the wheel.

We suspect that, on a slick B-road back home, there may be similar rear-axle traction issues to the M4, but out here on warm, dry tarmac you always feel safe, within the car's limits, even when you're close to the edge of your own. That breeds a hell of a lot of confidence to let you throw it around, jump on the throttle earlier and adopt some more aggressive angles in the corners. You sense its short, wide dimensions wrapped cosily around you, and when you want to push harder it's happy to oblige.

Advertisement - Page continues below

If I'm honest, the engine isn't quite the event I'd hoped for – more M235i-plus than M4-lite – but the way BMW has minimised lag and created ruler-straight power delivery is sensational. There's no real fireworks, just high-energy forward momentum. I'm aware that this sounds like the M2 is lacking in the trouser department, but honestly, 95 per cent of the time it's not. It just doesn't dazzle instantly like the Stang, it's more of a slow-burner.

In the morning, it was a constant brawl to grab the Ford's keys, but as the day drags on and energy levels lag, the GT350R's constant droning (even with the exhaust set to normal, it can't resist opening its lungs above around 4,000rpm) wears slightly thin. Conversely, the M2's ability to be creamy-smooth and quiet when you're not on the ragged edge, grows in appeal.

We have moaned in the past about the M3 and M4 being too spiky (well, all of us besides Ollie Marriage, who likes his cars a bit fighty) and, perhaps as a result, the M2 has gone the other way – it's the friendly one. But by omitting a carbon roof, M-specific wing mirrors, an M button and room for weight savings, BMW has left plenty of room for an M2 CSL later. Now what a car that would be...

The problem with the GT350R is you can't buy one in the UK, not through the official channels anyway, but we do get to gawp in disbelief at its American list price: $61,295. In a straight conversion that's £42,286. OK, so the rear seats have literally been ripped out and covered with a cheap piece of carpet and there are some pretty shoddy plastics if you hunt them out, but for something that feels this exotic, that's just outrageous, and half the reason 350Rs are already swapping hands for double their sticker price. In US money, the M2 starts from $52,695 (£37,268) or £44,070 here in the UK.  

If you had to own one of these two, I suspect the M2 would be the more satisfactory long-term partner – one that shares your occasional need for a blow out, but doesn't need to go on a bender every night of the week.

Conversely, if I could choose one car to drive on one road before I die, the Mustang would be right up there. Its ability to deliver the American dream, along with its chassis of genuine talent, is a revelation. Both fully deserve the praise we're heaping on them, but, if I'm honest, the Stang is the one that burned itself deepest into my heart.