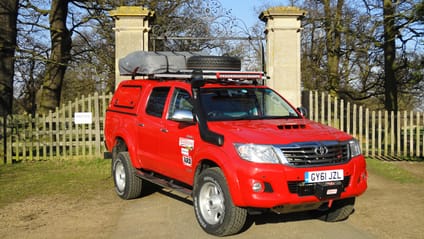 As regular readers of the Top Gear Garage section of our magazine will know (or if you follow us on Twitter @topgeargarage), we've been battering our Hilux 3.0D Invincible for the past few months. It's been treated as the office workhorse/carry-all/fire engine, but also as a private car for school runs and days out, gradually racking up about 9000 miles in five months. And you know what? It might not be the most refined thing ever to grace the TG underground bunker (the 3.0-litre four-cylinder is chuggy and industrial, but feels like it could run on treacle), but it has covered a lot of bases.

There's a run-down of how it's been doing in TG Mag next month, but we thought it might be fun to let all you TG Internet-types in to a bit of a project. Basically we've come up with a bit of an end-of-term jaunt for the Hilux, and in the best traditions of Top Gear and Hilux (remember the one we drowned/smashed/dropped off an exploding building? It still runs). It's going to be a bit special. Now, we can't reveal exactly where we're going until later, but see if you can have a guess after you've seen what we've been doing...

Words: Tom Ford


Advertisement - Page continues below

First job was to get someone who actually knew what they were doing involved. Hence a quick trip to off-road and 4x4 accessories specialists Taubenreuther of Oundle to meet the lovely, informed and genuinely helpful Director Louise Haidar. Thus duly informed, we booked in for a few helpful tweaks. I say 'a few', but this really is relatively light modification....

First job: New ARB rear canopy in matching 'sunburst red' makes securing expedition consumables (biscuits and fuel generally), much, much easier. We had to lose the chrome roll-hoop and roll-top cover....

Advertisement - Page continues below

Those side windows are metal by the way - harder to break into. Though you'd just have to smash the rear window anyway. Shh.

Note that the inside of the canopy is strengthened with metal bracers. That's for later.

Off with the wheels, on with new Old Man Emu uprated leaf springs and shocks, bushes and hangars. New coils and shocks on the front. Adds about 50mm to the height (a mild lift), but not too much. We've got a long way to go, and can't make the trip comfortably in a monster truck.

Off comes the front (looks severe doesn't it? And look at the size of that standard radiator!) to fit a WARN M800 winch.

Advertisement - Page continues below

It's all TUV - approved, so this isn't 'just' a bolt-on bit of kit. And we should be able to drag ourselves out of trouble. The word 'should' is probably very important here.

Rhino Rack roof rack goes on to hold extra spare and fuel.

Advertisement - Page continues below

And mount the Lazer 'light bar'.

Which is plumbed in properly to the Hilux's pair of batteries (standard). Low volt drain, mega brightness. There was some mild blinding when we first tried this. Which bodes well. Where we're going, there are no streetlamps.

Holes drilled into the bodywork to fit the Safari snorkel. Again, this is probably overkill, but best be prepared. I was never a Scout. Sorry.

Asfir sump guard and bash plates underneath. Possibly not mine-proof, but massively solid and shiny, which are always bonus qualities.

Mickey Thompson 17-inch wheels...

Yokohama supplied the tyres - the Geolander being the obvious choice. A good compromise between road comfort and off-road ability when we get where we're going. Two spares mean we should get away with it. There's that 'should' again.

Remember those bracers in the rear canopy? They're there because the ARB tent pops out of roof, and there'll be people sleeping up there. Takes about 10 minutes to set up properly, but it's out of the mud, away from bears etc. Unless bears can climb ladders.

And finished... A few choice stickers and a bit of hitting some wheelarch with a light hammer and we're ready for the off.

Keep an eye out for issue 231 of Top Gear magazine (on sale 23rd May) to see what all these modifications are in aid of. Until then, click through the rest of the gallery to see what our Hilux has been up to in the last few months...