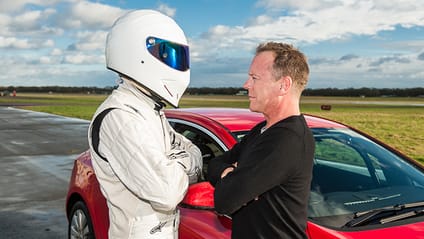 Welcome to Top Gear's glamorous, soggy, sub-zero studio hangar, for the filming of Series 22's second episode. It should be a cracker.

After last week's St Petersburg race saw Jeremy and Richard failing to master a hover-van and bicycle respectively, this week's episode sees them return to four-wheeled transportation, as the boys head into the Australian outback with a trio of posh GTs.

There's also a guest appearance from 24 star Kiefer Sutherland in our Reasonably Priced Car, while Jeremy - for reasons not entirely clear - erects a toilet on the studio floor.

It's all here in your exclusive behind-the-scenes gallery...

Pics: Mark Yeoman

Advertisement - Page continues below

"It's those bloody 'you may be entitled to PPI compensation' people again!" Even Commander Clarkson isn't impervious to Britain's plague of cold callers.

Nissan GT-R, Bentley Conti GT or BMW M6 Gran Sport: which would you take? James and Richard clearly know their answers.

Advertisement - Page continues below

Some say he's the CIA's most feared, fictional secret agent. All we know is, he's standing next to some bloke called Kiefer.

Yep, that worryingly realistic Hammond waxwork is still knocking around the studio. James probably shouldn't have challenged it to a staring contest.

"I saw you blink!" May attempts to play mind-games with the Hammond waxwork. Fails.

"I'm federal agent Jack Bauer, and today is the longest day of my life..."

Advertisement - Page continues below

"Trust me. You do not want to go down this road with me."

"I'm gonna need a hacksaw."

OK, OK, we've run out of appropriate Jack Bauer quotes.

Advertisement - Page continues below

Some say he couldn't work out why there wasn't a ticking clock in the corner of his visor...

"Make a sound and I will blow your brains out all over the windshield." Silence is never an issue with our tame racing driver.

Kiefer rounds Gambon in our Reasonably Priced Astra. Preventing LA's destruction by nuclear weapon is nothing compared to the terror of the TG test track.

"And your lap time was... 24 hours and - no, I'm only kidding." Kiefer waits for Jeremy to reveal where he places on the SIARPC leaderboard.

To find out how he got on - and discover exactly what went down in wildest Australia - you'll have to tune into BBC Two at 8pm on Sunday 1 February. See you there.