Top Gear TV
New Top Gear: here's your Series 30 preview
Here's what Paddy, Freddie and Chris have been up to since we last saw them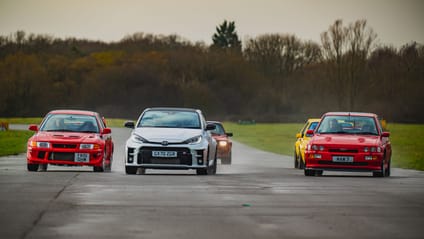 An off-road Highland fling

Is the new Land Rover Defender the ultimate off-roader on sale today? To settle this important debate once and for all, Paddy, Chris and Freddie headed to the wild Scottish Highlands with a new Defender 90, and two of its closest rivals: the Mercedes-AMG G63, and the Ariel Nomad. The latter of which is, let's be honest, a) not really a Defender rival in the mind of anyone save Flintoff, and b) utterly inappropriate for a winter expedition across the coldest corner of Britain.

Obviously, deciding which of these fine contenders was the ultimate off-roader would require some serious, objective testing. Less obviously, these serious, objective tests included high-speed clay pigeon shooting, and racing to deliver a massive lightbulb to the UK's most remote lighthouse. Because not enough Top Gear films to date have run the risk of causing an actual shipwreck.

Watch new Top Gear on Sunday at 8pm, BBC One and BBC iPlayer

Advertisement - Page continues below

Got about £200,000 to spend? Looking for something exotic and Italian? In which case, congratulations, please file under 'nice problems to have'.

Always here to help, Paddy reckons you should spend your hard-earned on the new Ferrari Roma. Chris, meanwhile, thinks you'd be better off with the new-old Alfaholics GTA-R (which, OK, actually costs a bit more than £200k, but let's not worry about that). To see who was right, the pair met up at Dunsfold for a) a shoot-out, and b) a bet involving trousers and the loss thereof.

Harris in a Yaris with friends

You have doubtless already read many words eulogising the new Toyota GR Yaris, the pugnacious, pint-sized hot hatch that redolently invokes those long-lost glory days of Group B homologation specials.

Question is, though, can the little Yaris impress Christopher Harris, Top Gear's very own Claude Littner of performance machinery?

Well, at the risk of giving the film away somewhat: yes, yes it can impress him. Very much so. Because it's ace. But can the little Yaris impress Harris even more than a bunch of classic homologation specials?

Advertisement - Page continues below

Lamborghini's done a hybrid, and, as you'd expect, it has very much gone its own, Lamborghinish way.

The 808bhp Sián ditches batteries in favour of supercapacitors, which are... OK, we're not exactly sure what they are, but they sound excellent.

The ever-selfless Chris Harris takes to the track with two goals. One, to see if he can tame the most powerful Lamborghini ever. And two, to see if he can understand what on earth supercapacitors are, or indeed do.

Extreme E vs jet pack man

Extreme E is a new all-electric, off-road race series that raises important questions about the relationship between motorsport and the planet. Like: can racing really be a force for environmental good? And further questions such as: is it really a sensible idea to highlight the world's most damaged ecosystems by racing all over them?

Freddie Flintoff, however, did not seek answers to the above questions. Freddie Flintoff sought answers to a far more vital consumer issue. Specifically this: is an Extreme E car faster than a man with a jetpack?