Truck
Is the Alpha WOLF really real?
The world's coolest EV pick-up has evolved from renderings to an actual model – we take a look around
This is the Alpha WOLF electric pick-up truck, and if you've never heard of the company let alone the car, that's entirely understandable. It's a Californian EV start up that started making waves last year when it released renderings of the ACE – a refreshingly different, retro coupe with wheel arches to make an AMG Black Series blush. Then they showed us the JAX – a rugged jacked-up version of the ACE, and then it really got our attention when it revealed this, the WOLF.
Problem was, much as we wanted to believe it was true - and were encouraged by Alpha taking no-money reservations on its website - all we'd ever seen were renderings. For all we knew this could be a talented digital designer with a slick website, sketching fantasy cars in their bedroom. Now, for the first time there's something physical for us to touch, feel and walk around. So we went to California and did just that.
Advertisement - Page continues below
First, a quick recap on some numbers. There will be WOLF and extended cab WOLF+ versions (the latter with small back doors and 2+2 seating), with 0-60mph times of around 6 seconds, and a towing capacity of up to more than 3 tonnes with the WOLF+, less than half of that in the WOLF. Both get the choice of single motor RWD, or dual motor 4WD, and get a 75kWh battery for a range of around 250-miles. The WOLF is 4.7m long and a fraction under 2m wide, that's shorter and wider than a single-cab Toyota Hilux, while a stretched proper four-door SUPERWOLF is also in the pipeline.
What you're looking at is a solid model, there's no physical interior yet, although Edward Lee – CEO and chief designer confirmed Alpha's on course to build the first WOLF "test prototype by quarter two of 2022". What's interesting about this detailed model is it's gone straight from CAD to what you see here. No clay, none of that faff – significant because making the most of digital tools to streamline the process of designing and building a car is one of the key pillars of the company.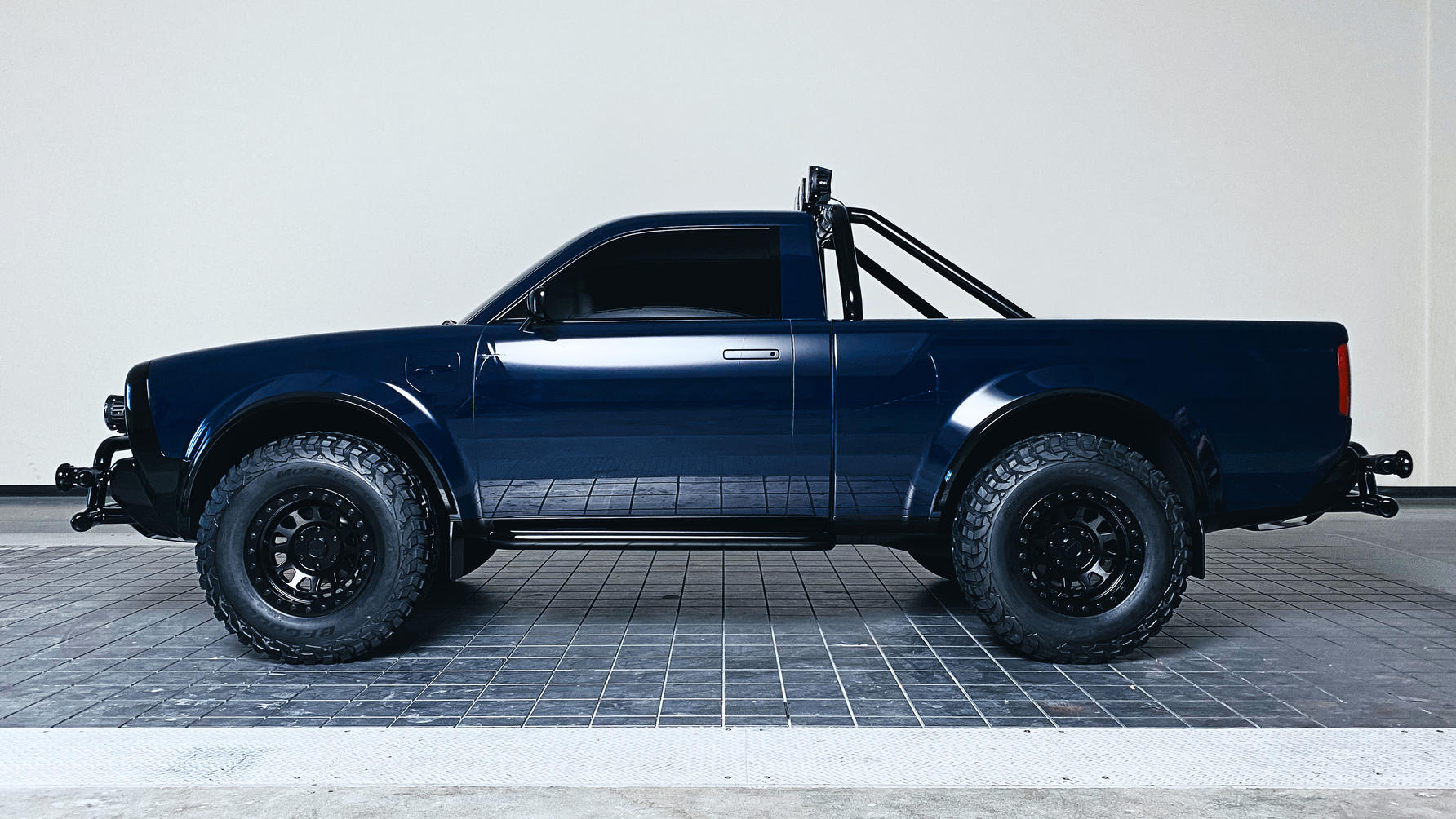 In person, the proportions are fantastic – classic, cartoonish even, but shot through with a futuristic flavour. That's thanks largely to the LED head and taillights plus an array of fog and spotlights Tom Ford would be proud of. The optional off-road tyres will shrink a bit for production, the battery tray is just visible below the sidestep bars but the drop-down tailgate and six-foot bed are all fairly traditional. And that's the point.
Lee again: "In general, our company's mission is to make purposeful vehicles that are functional. So we architected this car from a question of, we understand EVs are a necessity, but how does the average saloon or SUV driver move into a truck? The answer is they have to feel comfortable and they have to feel like it provides them a functional purpose."
Advertisement - Page continues below
The other way Lee plans to make EVs more accessible is with knock-down prices, so Alpha's target entry point for the WOLF is $36k (this model is kitted out in effectively top spec, which is more like $42k), which is ridiculously good, but won't be easy when you consider Elon couldn't make a $35k Model 3 add up, and Tesla's building half a million of those a year. Alpha, based on expressions of interest, is aiming for 25k units a year when it launches in the WOLF 2023, rising to 50k in 2024 and beyond when the WOLF+ joins the range.
Technical details are severely limited, but what we do know is it will have a body on frame construction, like a proper truck. There's no word on where the batteries or motors will come from, just that the idea is to outsource production initially, in the US, and then to build their own factory beyond that if it really flies. There's clearly a long road ahead, but you can't fault Alpha's ambition...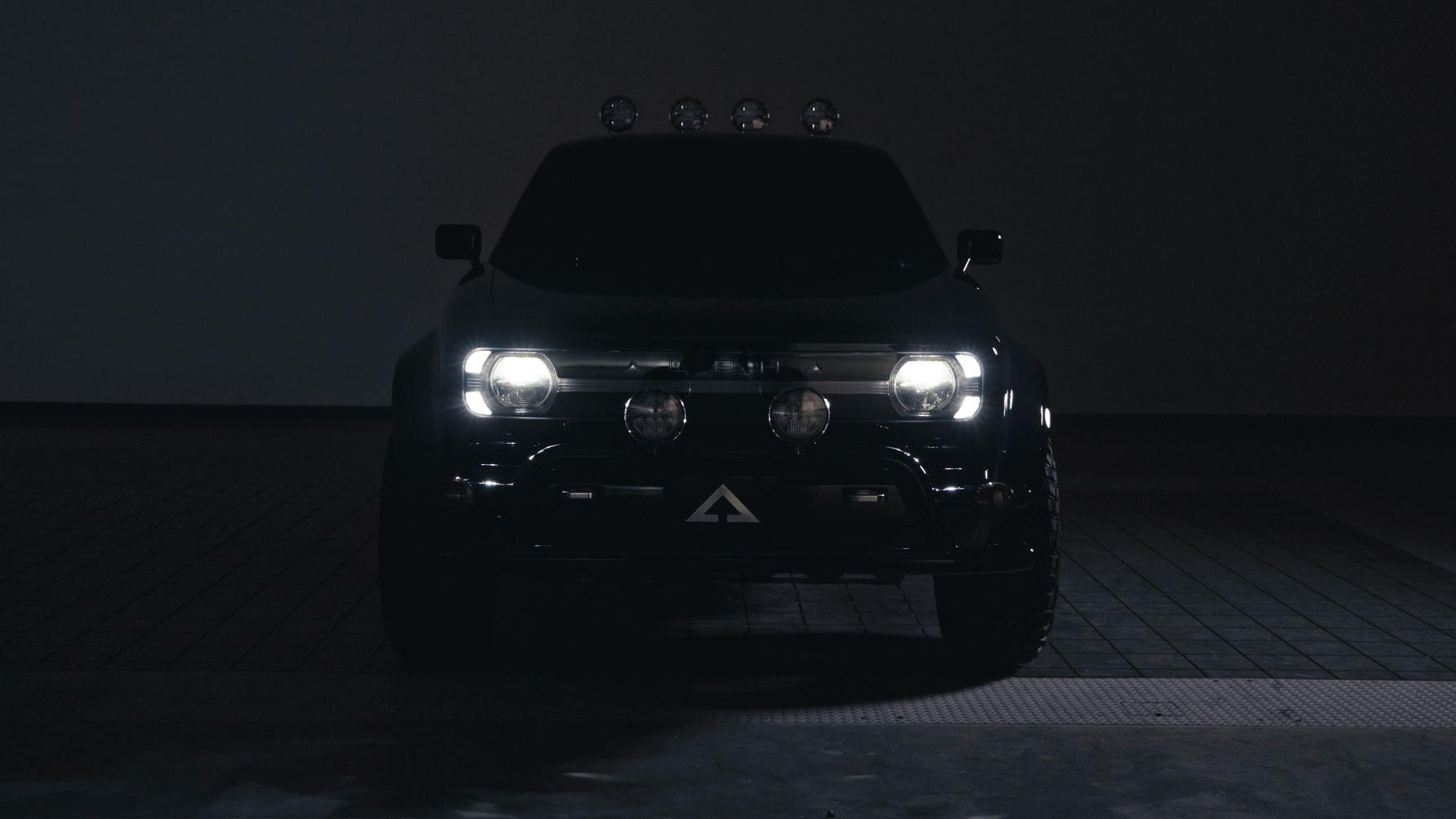 Top Gear
Newsletter
Thank you for subscribing to our newsletter. Look out for your regular round-up of news, reviews and offers in your inbox.
Get all the latest news, reviews and exclusives, direct to your inbox.