News
Twin test: Fiat 124 Spider vs Mazda MX-5
Have the Italians really made a better MX-5 than Mazda? Fight, fight, fight...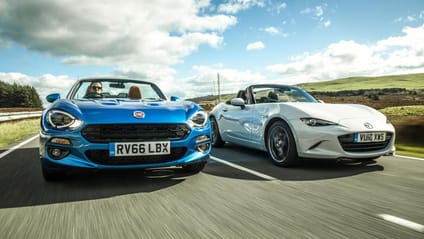 Serena beating Venus. A Torro Rosso overtaking a Red Bull. Pippa Middleton on the steps of Westminster Abbey. It's awkward when the upstart young sibling sticks one over the establishment. So by rights, the Fiat 124 Spider shouldn't be a better sports car than the evergreen Mazda MX-5. But you know what? It just might be.

Photography by Simon Thompson

Advertisement - Page continues below

The new 'Fiata' is, as you're probably well aware, a convoluted Japanese import. Originally destined to be badged as an Alfa Romeo, the deal instead switched to Fiat.

While still built in Hiroshima, it's dressed in more retro yet dowdier bodywork, and stretched in length and width. That results in a heavier, less shrinkwrapped car than the diminutive MX-5. Doesn't sound like the most auspicious start in life.

The 124 uses turbocharged 1.4-litre engines shipped out from Turin to replace the Mazda's 1.5 and 2.0-litre four-cylinders.T

he turbocharger is crucial to the Spider. It gives the Fiat an entirely different character to the Mazda, which thrives on revs, blips, and momentum to keep the wind rustling off the header rail. 

Advertisement - Page continues below

You can lope in the Spider – you'd never lope in the Mazda. It'd labour and vibrate and shudder like it was having an allergic reaction to such low revs, but stick the 124 in fifth or sixth through a village and it'll chunter along in peace and haul out the other side meaningfully. So effectively, it's a bit easier to drive. A nice trick for a roadster.

Obviously, it's got more torque – 29lb ft more, deployable with half the revs the Mazda requires. And as a result, the beefed up gearbox doesn't shift with the magnetic precision of the MX-5's world-class action, requiring more force and rewarding with less tactility.

You wouldn't call it agricultural – it's not as if Brunel would baulk at the effort required – but it's just as well the Fiat doesn't ask for such frenetic gearchanging and fastidiously rev-matched downshifts, because it's more of a chore to execute.

Revving with more inertia robs the 124 of its chance to outpunch the MX-5. It doesn't feel faster, though it triggers the traction control shifting via a rushed change from second to third.

But for this money, there are hot hatches that'll punt you faster – here we thrive on interaction. And the MX-5's engine has a zippiness, a vim and eagerness to please that's endlessly entertaining. 

Drop the 124's roof and you're immediately aware how much its top acts like a boombox, reverberating the motor's blare around the cabin. Once the noise is in the slipstream, it's woefully quiet. Last time I was in an open-top vehicle this quiet, it was driving down a fairway.

Account for its easy-going thrust, marginally bigger boot and willfully less cute physique (the Americans love how this thing looks, part Ford Thunderbird, part Dodge Viper), and you're already reckoning on the Spider being the cruiser of the pair. It's a tempting assumption, but not an accurate one. 

Advertisement - Page continues below

In the MX-5, you turn into a fast bend and wait for the car's rear end to settle, as it shimmies and floats on soft, unashamedly road-biased suspension. It feels very old school.

And that's okay, because this is a nippy, 1000kg roadster that's supposed to channel Lotus Elan and MG B vibes.

But it'll give you the willies when the body movements get out of sync with what the tyres are dealing with, and it can make the Mazda feel scrappy, and untrustworthy. It's not averse to having a 'moment', if you catch its drift.

Advertisement - Page continues below

Fiat's put daylight between itself and the MX-5 by firming up the Spider's posterior. Okay, it still rolls like a much heavier car, but in fairness it copes with shoddy British roads – and I mean proper shockers of cratered back roads and tightrope-narrow lanes – with aplomb, while remaining tied down. 

You can lean on it harder, and feel the car pressing itself into the road surface, knuckling down. It runs an open diff where the Mazda has a locker, but when you're marshaling little more power than a desk fan the effects aren't a problem.

That's a preference to the Mazda I simply hadn't expected. And what's more, with all that extra torque on hand, if you want to just excite the car with the throttle, you get a less snatchy, wallowy response than the Mazda.

So, more grip when you want it (pretty much all of the time), and easier hooliganism if you ever want it (now and again for a treat, perhaps). 

The MX-5 casts a long shadow over the 124. Its meagre thirst is worth pointing out – 37.2mpg here compared to 32mpg for the Fiat. It's also cheaper, sounds sweeter and is ultimately the more fun car to play with. But I really appreciate what Fiat's done differently to create the 124. I wish the fizzier Mazda could match its stability when you fancy a dash.

So, if you want the most accessible, easy-going entry-level sports car, the Fiat 124 Spider is for you, and if you want something that's just a bit more frenetic, that needs some effort and rewards concentration, the Mazda MX-5 is superior. Sibling rivalry always brings out the best in us.