USA
Here's a brief history of the Ford Mustang
More than 50 years of pure pony car Americana, condensed into ten slides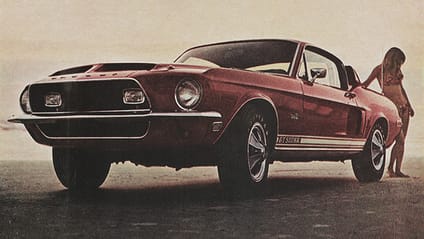 When the reasonably priced, four-seat pony car debuted in New York in 1964, it instantly, dramatically shifted the American car market about its axis. The Ford Mustang racked up 22,000 sales on its first day, effectively birthing the muscle car genre and kicking off a generation of tyre-smoking street wars.

Since then, we've seen a further five generations and ten body shapes of Mustang: some good, some great, some bloody awful. Here's your bluffers guide to the lot.

Advertisement - Page continues below

First Generation (1964-1966)

The one that started it all. Launched April 17, 1964 in New York, it sold over a million units in its first 18 months, securing the Mustang's place in history. Carroll Shelby raced the '65 model as the GT350.

Still the First Generation (1967-1968)

Wider, longer and with bigger engines, this is the Bullitt-era Mustang that cemented the Mustang as the bad boy car of the Sixties. But it faced some serious competition: the Camaro had just appeared, along with the Barracuda and Firebird.

Advertisement - Page continues below

Yep, still the First Generation (1969-1970)

In true US fashion, the absolutely-not-a-new-gen car grew in size and weight, even though it was still on roughly the same Falcon-based chassis as the 1964 Mustang. For the first time, you could have a 'Mach 1' edition of the pony car.

Somehow, still the First Generation (1971-1973)

Even more lard was added for this revision which, combined with the new emissions standards and the backlash from the 1973 Oil Crisis strangling the engine down to just 88bhp in the six-cylinder version, wasn't really the Mustang's finest hour. But you'd better believe there was worse to come.

Second Generation (1974-1978)

Switching to the smaller Pinto chassis, this was known as the Mustang II. You remember the Pinto, right? It remains prety much the punchline to every car joke that doesn't involve a Lada. It was also the car owned by one Stephen King, and was such an unremitting pile of useless bolts that it earned itself a starring role as the broken-down POS in Cujo that leaves a young woman and her small child at the mercy of a rabid Saint Bernard. Basically, everything that was bad about the Seventies in one car. And the Mustang II was no better.

Peerless ugliness, woeful build quality, awful handling. This was what you could expect from a Mustang II. And, unless we all give in to historical revisionism, it'll never be a classic. But if a Ford Anglia can be mentioned in the same sentence as 'classic', really, anything is possible.

Third Generation (1979-1993)

Fox body baby! If you don't know what that means, please kindly shred any hopes of American citizenship now. You're out of the club.

So, what do we mean by Fox-bodied cars? Well, it actually refers to the platform they're built on. If we wanted to be at all accurate, it'd be the Fox-platform cars, or Mustang-bodied Foxes. And before this farmyard menagerie gets any more like The Island of Dr Moreau, let's move on.

The Fox bodies have been maligned for years – not to the extent of the insipid Mustang II, of course – but they're quickly finding favour among fans of cheap, easy horsepower. And that's really what the Mustang's always been about. So, they're on to something there.

Advertisement - Page continues below

Fourth Generation (1994-1998)

Still based on a Fox platform, if an updated one. But here's where the styling and performance really start to return to the tyre-vaporising, easy muscle feeling that's the Mustang's true mien. With a beefed up chassis and Ford's SVT tuning division getting heavily involved, the Cobra became the Stang to have. Or that one-off supercharged 6.8-litre V10 version that Ford Australia built, of course. Oh, those characters from the Upside-Down. Gotta love 'em.

More of the Fourth Generation (1999-2004)

Even though its shape, chassis and interior remained the same, the exterior was made over in Ford's 'New Edge styling language'. A Bullitt version was added to the range in 2001 – to be honest, we think the new version nails it much more than the old – and the 2003 Cobra got a 390bhp supercharged 4.6-litre V8 engine, making the fastest production Stang ever. At the time, of course.

Advertisement - Page continues below

Fifth Generation (2005-2014)

Thankfully, this fifth generation delivered the original proportions and design of the first Mustangs, and a much more modern platform, shared with the Thunderbird and Lincoln LS. Handling and performance were transformed. The loony tunes 202mph, 662bhp Shelby GT500 was a suitably smoky sign-off.

Sixth Generation (2015-onwards)

And here's where the Mustang really joined the 21st Century. Independent rear suspension only took 51 years to make its way to the Ford Mustang. Possibly it hitched a ride on a tectonic plate undergoing contintental drift, but we digress. This is about as perfect a confluence of Mustang old and new as it's possible to get, short of a restomod. But let's not get started on that – Tom Ford materialises out of thin air if you mention restomods too many times. Kind of like Beetlejuice, without Geena Davis. And we've found a way to digress again. 

Now, in right-hand drive and with something approaching modern components, but finessing the retro-modern styling first introduced by the fifth-gen Stang, the Six is where it's at. Especially if you get one in Highland Green, with a cue-ball shifter hooked to a six-speed manual. All of the yes, basically. 

And, after a bit over five decades in production and six (well, kind of ten, but who's counting?) generations, Ford sold its ten millionth Mustang. That's about a 10-to-1 drubbing of the other classic long-lived sports car, the Porsche 911.