USA
TG drives the Dodge Challenger SRT Hellcat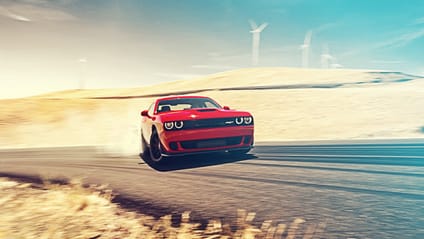 22-32-22. But which way do you turn it first?

This always looks so easy in the movies... a quick spin one way, a twirl back the other and you've cracked the combination. But no. After 15 minutes and counting, all I've succeeded in doing is getting myself as wound up as the mechanism inside this damned padlock. Clearly, if I had a stethoscope, everything would be fine.

All I have to do is open a gate. I briefly consider employing the services of the device behind me. It's called a Dodge Ram 2500. Less of the Dodge, more of the Ram, I'm thinking.

Pictures: Webb Bland

This feature originally appeared in the November issue of Top Gear Magazine

Advertisement - Page continues below

It's a significant gate because it marks the entrance to automotive paradise. Really. On the other side lies a road as sinewy and twisted as the snakes that doubtless lurk in the golden grass on either side. We could call it the Black Rattler and that would be appropriate, although it goes by an altogether gentler name: the Maryhill Loops Road.

We've come to Goldendale, Washington State, to test an old chestnut: that muscle cars can't do corners. We could have just driven the new Dodge Challenger SRT Hellcat here, but with 707bhp the tyres might not have made it the three hours east from Portland, Oregon. Besides, sticking it on a trailer and hauling it alongside the spectacular Columbia River Gorge allowed us to investigate what it is that gets our American cousins so worked up about the other automotive icon they have given the world: the pickup truck.

Now I know: pickups rock. The Ram 2500 is a monument to Detroit's strength and purpose. It's powered by a 6.7-litre Cummins diesel that develops something in the order of 800lb ft of torque. It weighs around 3.5 tonnes, is way over six metres long, and towed 2.5 tonnes of muscle car and trailer as if it weren't there. It's halfway to being a lorry, the gearbox and suspension much happier when given something to work against. Weight, ideally. The load bay alone is six feet long (this is the short one), and on either side there is a lockable Rambox. I suspect most owners put weaponry in these.

Photographer Webb has found phone signal. Apparently, the combination code has been changed. Some swearing occurs. Then more swearing when it takes a further five minutes to finally pop the lock. But we're through, and very soon the car is unloaded and the hills echo to the sound of many cubic inches of supercharged V8 being coaxed into life.

Advertisement - Page continues below

We cruise up the 3.7 miles of privately owned paradise, marvelling at the quality of the tarmac, the endless opportunities for pictures. Elbows resting on open windows, engine rumbling and spluttering, we nudge slowly upwards through the pastures. The colours are amazing: the deep black of the road, the golden crispness of the grass, the empty blue sky, the thick, liquid red of the Hellcat. These are stark colours, a striking palette for a camera to play with. Later, I'll do a burnout and the smoke will seem as white and puffy as cotton wool.

But right now the Hellcat - perhaps the best name ever given to a muscle car - is doing what muscle cars do well, oozing muscularly about the place. Remember the build-up to the car chase in Bullitt? It's like that. And you know what? It feels magnificent. Big, thick seats; simple cockpit; surprisingly snickety six-speed manual gearbox with a lever that's tilted forward and topped with a pool ball. So good. And enough torque that I'll barely use anything other than second gear all day.

The road ends at a tree, and in the shade it casts, we discover that we're not alone. We say hello to Zane. Zane and his buddies are longboarders, downhill skateboarders with a death wish. You might imagine that this fortuitous meeting was all planned, but it wasn't - they come here to use the road for their hobby. I can see why it's every bit as tempting for them going down as it is for me heading up. So I strike a deal with them. It would be pretty cool to chase their gravity-powered sleds down the road, and if they'll let us do that I'll save them the three-mile hike back to the top. Having assumed we were going to throw them off, they can barely believe their luck. Helmets are donned, fives are highed.

Hands skimming the tarmac, they hit 35mph on the way down and any braking is done by drifting through corners. This I admire. The Challenger's front end is getting more of a workout than I expected and the spectacle - and their skill - as they tuck and lean with the forces is very entertaining when viewed from a range of 10 feet through a muscle car's windscreen

There's much whooping and hollering when we reach the bottom. Only one 'boarder went over the edge, and he was whooping and hollering loudest of all. It wouldn't have done to put these extreme athletes into the back of a mom minivan for the ride back up. Nope, the load bay of a pickup truck is a far more apt environment. Five plus boards fit a treat, and once again I realise just how well a pickup suits this lifestyle and environment. Everyone tows something in America, everyone has something that needs to be thrown in a weatherproof load bay, even if it's fellow humans. It's just the way it is. It's easy to forget that Americans are outdoorsy and adventurous, that the wagon trains that came this way did so relatively recently. The pickup picks up where the horses left off.

But now it's Hellcat time. This is, and it wouldn't do to ignore these facts, the most powerful and fastest factory-built muscle car there has ever been. The tag line is simple: "707bhp. End of discussion". And yes, that's more than a Lambo Aventador...

Personally, I'm a little concerned by what looks to be a quite brief wheelbase, although I'm hoping that's a trick of the eye caused by the hunched styling. The detailing is plain superb. Scoops, intakes, hooded grille, one headlight removed, the empty socket now ready to gulp extra air into the supercharger? Hell, yeah. This is not Euro sophistication, but a muscle car isn't a Maserati - it's more blatant, more fun-loving than that.

And probably faster, too. I'm ready for the power, the torque, but I'm not ready for how revvy and sharp the motor is, how eager 6.4 litres of swept capacity is here. Apparently, the engine has to give 80bhp to the supercharger before it gets anything back, but what it gets back is remarkable. Great throttle response, a lovely crescendo of power that builds and builds and hammers you deep into the welcoming embrace of a wonderful set of Recaro seats, while your ears explode at the cataclysmic effects of furiously whining supercharger, piston-thumping V8 and naked exhaust bellow. I'm assured that from outside it sounds as if Smaug has risen from his lair.

Advertisement - Page continues below

So I charge up this remarkable road, traction disabled, nerves somewhat tremulous, and discover something else - the Hellcat has a honey of a chassis. It is possibly the sweetest drifting car I've ever driven. Of course, with 650 readily accessible torques, breaking traction and getting sideways is not the issue - that's of the 'any time, any place, anywhere' variety - but the chassis knowing what to do with it? I have to confess that's a surprise. The natural balance is great, the power is accurately deployable and well managed - you can tell the effort Dodge's SRT department (Street and Racing Technology) has put into this car, there's no shimmy from the bodywork, the damping feels expensive, and control is second nature. There are plenty of fresh-air corners here, plus banks, ditches and other tricky bits of scenic furniture, but the Hellcat swings merrily through the landscape, tail arced out, tyres howling away.

It's not perfect. With 57 per cent of the weight on the front, those tyres can be overworked even though they're 275-width Pirelli P Zeros (the rears are the same dimension), and although the brakes are by Brembo, they're not man enough for the job - too spongy and lacking initial, confidence-inspiring bite. There's also a bit of roll and lurch through the flick-flack direction change two-thirds of the way up. There's no escaping the Hellcat's sheer mass, after all.

But really, I'm having a total ball. Second is good for 90mph, I'm sweeping through stunning scenery under a hot sun, the tarmac is sticky and hazy, the car's bellowing away happily and up on the hill some longboarders are cheering me on. It's no hardship, this.

Advertisement - Page continues below

There are plenty of modes to play with in here: three settings for the traction, same for the dampers, and if I so choose, I could even adjust what revs the launch-control system uses when dropping the clutch, plus there's a second black key that limits the Hellcat to 'just' 500bhp. But that all feels like window dressing detracting from this terrifically amusing car. So I ignore it and concentrate on how it's making me feel. Pretty damn fine.

This is the second full-blooded US muscle car I've tested this year (the other was the Camaro Z/28, issue 257), and once again I'm smitten. I'm sure this is as much a function of this staggering environment as any ability the Hellcat has, but out here, where driving is done lazily with one hand on the wheel and one foot punching the throttle, I can't think of a better way of getting about.