USA
Top Gear's top 20 pickup trucks on sale in the US
Big or small, these trucks can pretty much do it all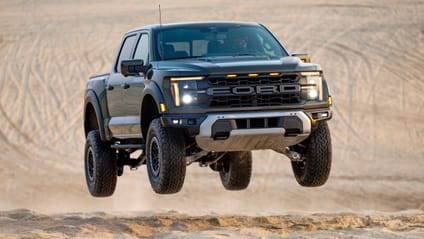 The compact Maverick might not look like much, but in reality, it's all the truck 90 per cent of pickup buyers actually need. There's enough payload and towing capacity to haul your toys and tackle weekend projects, and the Maverick is inexpensive and fuel-efficient – especially if you spec the awesome hybrid powertrain.

Advertisement - Page continues below

There are a few specialized variants of the Ford F-150 elsewhere on this list, but make no mistake, the standard truck is an absolute delight. Whether you spec one of its turbocharged engines, the free-breathing V8, or Ford's PowerBoost hybrid, the F-150 has all the power you need for towing and hauling, and it comes packed with some seriously solid tech – including genuine hands-free driving assist.

In terms of overall ride comfort, no full-size truck can beat the Ram 1500 with its optional air suspension. A pair of mild-hybrid powertrains give this truck an efficiency edge, as well, and if you ask us, the Ram 1500 is one of the best-looking big trucks you can buy. Seriously, have you seen the Chevy Silverado?

Advertisement - Page continues below

Take all the goodness of the standard Ford F-150, give it a powerful and relatively efficient battery electric powertrain, and presto, the Lightning is born. Beyond just being a solid pickup truck for the EV era, the Lightning is incredibly useful, especially with an external onboard power supply that'll let you juice up tools at the job site, or heck, even power your entire home during a blackout.

Much like the Ford Maverick, the Hyundai Santa Cruz proves you don't need to buy a giant pickup to get lots of useful capability. Plus, the Santa Cruz looks great, what with that LED-happy front fascia. The interior is comfy, the turbo engine is strong, and there's a solid roster of driver-assistance tech, too. In terms of pickups that can nicely serve as daily drivers, the Santa Cruz is one of the best.

General Motors has been building half-ton pickup trucks for decades, and the GMC Sierra is proof of the company's expertise in this space. It's also a prime example of just how freakin' fancy trucks can be these days, what with its prim-and-proper Denali trim packing bona fide luxury features into a truck that can still tear down a house if needed.

The R1T is the first product from electric startup Rivian, and wow, is it good. This truck's a smooth daily driver with strong electric power, and it's proven its mettle as an off-roader, too, having won the all-female Rebelle Rally in the United States.

Advertisement - Page continues below

One look at that imposing face should tell you everything you need to know: the Ford Super Duty means business. This is a heavy-duty truck for heavy-duty needs, able to tow tens of thousands of pounds all while coddling its driver with luxurious appointments and plenty of useful cabin tech.

The Ridgeline takes the same approach as the smaller Ford Maverick and Hyundai Santa Cruz, but offers more space and towing capability, making it better able to compete with midsize trucks. Once again, the Ridgeline is a perfect pickup for people who don't constantly need to tow or off-road, with its car-based underpinnings delivering a plush ride and easy-to-drive demeanor.

Advertisement - Page continues below

There's a brand-new Toyota Tacoma on the horizon, but the long-serving current truck is such a charming thing, it's still worth recommending. The Tacoma satisfies the needs of both work and play, with competitive payload and tow ratings, as well as legit off-road chops – especially if you opt for the TRD Pro.

The ubiquitous Silverado might not be a beauty queen, but Chevy certainly knows its target demographic, and those customers want big, imposing brutes. There's genuine capability to match that attitude, too. The Silverado can do everything a Ford F-150 or Ram 1500 can, and thanks to its spiffy new interior and Super Cruise hands-free driving tech, in many cases, Chevy's truck can do it better.

More and more, truck buyers are realizing they don't exactly need the immense capability of a full-size truck – nor do they want to deal with having to drive (and park) something that large everyday. That's where midsize trucks like the Chevy Colorado come in. A choice of engines, great tech, off-road abilities, and rugged good looks make this an appealing purchase.

Don't love the look of the Chevy Colorado? That's fine; try the GMC Canyon. It's essentially the same truck in a more refined package, and the optional Denali trim gives this midsizer some premium appeal without an outrageous price tag.

While not as popular as its chief rival, the Toyota Tacoma, Nissan's Frontier is still a trusty midsize truck. We like its smooth V6 engine, sophisticated nine-speed transmission, and the fact that you can beat the snot out of it and it just keeps on, well, truckin'.

Heavy-duty trucks are endlessly configurable, and the GMC Sierra HD is no exception. You can get it with various engines, cab lengths, and both single and dual rear wheel configurations. GMC even makes a Denali version of this big hauler, so you can be coddled in a heated leather seat while pulling a horse trailer.

The Gladiator is a unique pickup. Based on the Jeep Wrangler, the Gladiator has all the same off-road abilities, and you can still take the doors and roof off, making this the only pickup truck that technically doubles as a convertible. It's a bit longer than a Wrangler, though, making it not quite as ideal for technical trails. Still, no other midsize truck can hang with the Gladiator when the going gets super rough.

This heavy-duty Silverado is essentially Chevy's twin of the GMC Sierra HD, and while it might not be as luxurious inside, this truck is every bit as mighty. The Silverado HD is perfect for people who need to haul goose-neck trailers or massive campers.

Ram's 2500 and 3500 pickups follow the same general formula as other heavy-duty trucks, but like the smaller Ram 1500, these HD models tend to drive better than their rivals. There's a massive list of cabin tech available, too, giving the Ram a competitive edge over competitors from General Motors.

In terms of sales, the Tundra isn't nearly as popular as the pickups from American automakers. But don't sleep on this full-size truck – it's still got plenty to offer. The TRD Pro model will off-road with the best of 'em and there's a powerful and efficient hybrid powertrain option, too. Don't want to drive the same truck as your neighbor? Try out a Tundra instead.

OK, we could have worked the Raptor into the standard F-150 mention, but this truck is so unbelievably cool it deserves to be broken out. No other pickup truck on sale in the US can jump across sand dunes like the Raptor, thanks to its outstanding suspension tech and powerful twin-turbo V6. Now that the supercharged Ram TRX has sailed off into the sun, the Raptor is, without a doubt, the most radical truck standing.