USA
Top Gear's top 20 small SUVs in the US
Affordable, sporty, rugged, or electric – these are America's best all-around small SUVs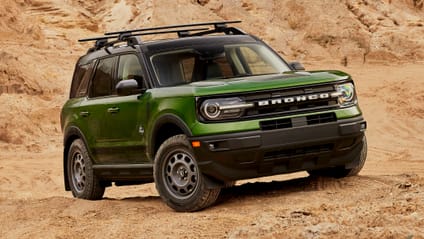 The subcompact BMW X1 tends to fly under the radar, but it shouldn't – this little guy has lots to like. The interior is solid and there's great infotainment tech onboard, but more than that, the X1 is more interesting to drive than a frumpy Audi Q3 or Mercedes-Benz GLA. That's got to count for something.

Advertisement - Page continues below

The Hornet is a newcomer in the small SUV space, but wow does it make a great first impression. Shared Alfa Romeo underpinnings mean the Hornet's got a little pep in its step, and an available plug-in hybrid powertrain gives Dodge's crossover an efficiency boost. Think of it as an Alfa Romeo Tonale for thousands of dollars less.

The NX is a perfect example of what Lexus does well. This small SUV is quiet, the interior feels like it'll last forever, and the gas, hybrid, and plug-in hybrid engine options are all refined and efficient. Lexus pioneered the luxury crossover segment decades ago with the original RX, and the NX is proof that the company hasn't lost its premium SUV knowhow.

Advertisement - Page continues below

What a transformation. The Rogue went from dumpy to dashing in the course of one refresh, and a new turbocharged three-pot engine under the hood makes it really pleasant to drive. Compared to other small mainstream SUVs, the Rogue has better interior trimmings and excellent driver-assistance tech. The rear doors even open 90 degrees, so you can jam a bunch of stuff from Ikea in there without issue.

Mazda's best attribute is that its cars are super stinkin' good to drive, and that's exactly what sets the CX-30 apart from other small crossovers. Is it the most spacious SUV in the segment? Heavens, no. But can it cut a rug better than any other crossover at this price point? Sure can – and with a more premium feeling cabin, too.

Genesis continues to knock it out of the park with every new effort, and the GV70 is one of the company's best executed products yet. It has way more curb appeal than an Audi Q5 or BMW X3, and the cabin is posh as can be. There's a fully electric version of the GV70, as well, only building on this SUV's good graces. Oh, and you can get it in matte green. You should definitely get it in matte green.

No small SUV begs to have the crap beaten out of it like a Subaru Crosstrek. And with 8.7 inches of ground clearance, a robust all-wheel-drive system, and easily washable floormats, you can pack this thing with pets and camping gear and head out into the great outdoors without worrying about scuffs and spills. What a charmingly rugged little thing.

Advertisement - Page continues below

Acura's got a really competitive edge in the compact luxury SUV space, simply because it offers the same equipment as its key German rivals for a lot less money. Assuming you can get over the herky-jerky infotainment interface, the RDX is a comfy daily driver with a strong turbocharged engine that makes it a surprisingly engaging steer.

The EV6 looks like a sporty little hatchback, but it's actually quite large – well, not too large, but definitely "small SUV" large. (Got it?) Whether you grab the regular EV6 or the EV6 GT, there's a ton to like here: long electric driving range, dashing good looks, a great interior, and super quick DC fast charging. It's the total electric package.

Advertisement - Page continues below

Need a subcompact SUV with lots of features? That's the Hyundai Kona. Want one that's purely electric? Oh, look, it's the Kona EV. Don't care about efficiency and just want an all-out monster of a hot hatch? Hey now, it's the Kona N. No matter what you're into, the Kona has you covered, and every single version is a doll.

Okay, so maybe you've matured from the days of extended camping trips in your Crosstrek, but you still want something all rugged and Subaru-y. Step on up to the Forester, which has more space for your family and their belongings, but still boasts enough off-road capability to let you handle rain, snow, mud, whatever.

The Genesis GV60 has the same bones as the Hyundai Ioniq 5 and Kia EV6 – both of which are on this list, natch – but adds a few more clever features that make it worth the added coin. For starters, check out the light-up rotating orb on the center console that doubles as a gearshift. Okay, maybe that's just for a flashy show. But the GV60's facial recognition tech, on the other hand? That's a feature you won't find on any other new car.

When we think of small performance SUVs, the Porsche Macan immediately comes to mind. Nay-say Porsche's SUV offerings all you want – drive one, and you'll be a believer. Great steering, powerful engines, and excellent chassis tuning make the Macan a real winner. Just go easy on the options. Like all Porsches, this one can get very expensive very quickly.

The RAV4 is one of those all-around do-gooders, with lots of trim levels and powertrain options to satisfy the needs of hundreds of thousands of customers per year. Off-road versions let you get off the beaten path, the hybrid version has efficiency in mind, and the RAV4 Prime offers some usable electric range – plus it's quick as heck. Every RAV4 is a good one.

The quirky, boxy little XC40 is a pretty cute little thing, but it's also a showcase for why we like Volvo crossovers. A great seating position, lots of space, and excellent focus on material quality all make the XC40 feel a step above similar subcompact SUVs. That you can get it with a fully electric powertrain only sweetens the deal.

The Honda CR-V isn't the most exciting compact SUV, but it's the one we find ourselves recommending most. Honda's long-serving CR-V just does everything well, from its onboard tech, to its plentiful passenger space, to its fuel-sipping hybrid powertrain. For someone who just needs a solid daily driver with a capacious cabin and all-wheel drive, the CR-V continues to be a winner.

The Tucson earns high marks on looks alone, but this Hyundai has a ton of substance to back up that angular style. Not only is the standard Tucson a sweetheart, the N-Line model adds some sporty touches, the Tucson Hybrid sips fuel and throws down turbo power, and the Tucson Plug-In will let you commute to and from the office solely on electric power.

Tucson's styling not your thing? Kia's got an alternative. The Sportage takes everything that's great about the Tucson but puts a slightly different shark-nosed spin on the design language. Added bonus: there's a Sportage X-Pro model that slightly ups the small SUV's off-road cred.

A lot of people scoff at the link to the Big Boy Bronco, but you know, this Sport is every bit as capable and playful in the dirt. Legit off-road chops are one of the Bronco Sport's best attributes, but it's also a cool-looking and competitively priced small SUV – and it looks like a proper sport-ute, too.

Not only is the Ioniq 5 one of America's best electric cars, it's one of the best small SUVs, too. The retro-future video game styling (that's a thing, we promise) will draw you in, but the fast charging speed, long range, outstanding driving aids, and spacious cabin will keep you happy over the long haul. There's even a high-performance N version on the horizon, which we're sure will be an absolute treat.