News
The Volkswagen Grand California, fully tested
Driving the ginormous new Cali doesn't tell half its story. So we lived in it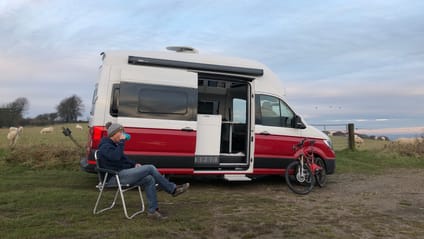 This is the VW Grand California. There's absolutely no point doing a conventional road test with it, because all you need to know is that it's as topply and ponderous to drive as it is to look at.

It's not about the driving, it's about the using it. So that's what we did. In December. In England. In a gale.

Quick bit of info. Two versions are available. This is the 600, which is six metres long and sleeps four. The 680 is longer still, but only sleeps two. Lower roofline. They cost £68,899 and £71,395 respectively.

The 680 is aimed at empty nesters, so comes better equipped with one massive bed at the back. The 600 has a slightly smaller rear bed, but adds another over the top of the cab. Put the children up there. This was a prototype, as full production versions don't arrive until early next year.

A plan was hatched. Pick up son after school on Friday, grab the mountain bikes and head to Dorset to get muddy. The Grand Cali has indoor and outdoor showers. We'd be able to get clean and dry afterwards, so would the bikes, then we could cook ourselves eggs and bacon and drink tea. Happy days.

It didn't quite go according to plan.

Advertisement - Page continues below

On a campsite (this wasn't the plan…)

I should have taken more pictures, but you wouldn't have been able to see anything. It was dark by the time we arrived in Dorset, the coast was being battered by a force eight gale and it was sheeting with rain. Plan A had been to wild camp and go entirely self-contained. We'd stopped and brought food and I'd even remembered to throw in towels and shower gel as well as sleeping bags.

But we can't get the gas working. So at 7pm we have to abandon Plan A and find a campsite. One that's open in December.

Success. Son Luke, 14, and I then pull out the map and torches, and walk a mile through the wind and rain to the nearest pub. The bar area is super-heated by a log fire. We both agree this is better than eating pasta and sauce in the van.

Poker night

We retire to the van for a spot of poker. It's so well insulated that while we've been out, the cabin temperature has only dropped from 15 degrees to 13.

But despite digging out all the handbooks and manuals, we still can't get the gas to work. This is an issue: no hot water, no stove, no heating. It would later turn out that the gas trip switch had been triggered on the drive down, probably when the van hit a bump, and resetting it via the on-board control panel is a process that requires a plumbing qualification. We'd sort it out a few days later.

Anyway, four people can sit comfortably around the table, as the driver and passenger seats swivel, but the bench where Luke is sitting? Fairly upright. And while the table in the standard California simply folds down flush with the side panel, here it has to be removed and stored on the bed at the back when not in use. Not a particularly neat solution.

Advertisement - Page continues below

Inside the boot

Here's the back. A few things to note here. A chair stores in each door. That's good, but there's no external table to permit outdoor dining. Maybe it's an option.

There are lockers all around the perimeter of the sleeping area. None is particularly deep, but together there's plenty of space for clean pants, towels and so on. Below bed height, the cabinets either side contain gas cylinders and fuse boxes, although they also provide more storage for sports kit, plus kitchen equipment. This is just as well, because the fridge takes up most of the space in the actual kitchen area. It's big – 70 litres – and has a built-in freezer compartment, too.

As you can see, the centre section of the bed flips up, allowing us to store our bikes inside. There's not really a way of carrying them externally – the side opening doors aren't conducive to bike racks and the roof is 3.5 metres in the air.

You sleep sideways back here, and the bed is 190cm wide. It's bloody comfortable. I slept nine hours straight. I never sleep for nine hours straight. Luke didn't sleep so tightly over the cab – the limited headroom doesn't help. That forward bed is very neatly packaged. It's double stacked when stowed, the rear half pulling out and locking into place. The access ladder stows up there as well.

Point of housekeeping: you really have to leave the ladder in place during the night so children can get down if they need to, and so on. However, it completely blocks the alleyway between kitchen and bathroom. Completely. This means you can't open the bathroom door. Or get through to the front. It's… inconvenient. I reckon a bit more design work could have created a cleverer ladder.

Storage

Like the standard California there's masses of dash storage – it's also home to a couple of 12v sockets and the main USB plug. All round the cabin you'll find three-pin sockets and a handful of other USBs as well. Enough to keep the modern family connected. Plentiful storage on the dash, and loads around the cabin as well. Loads of room to forget where you've put things.

More storage

In fact lets get all the storage stuff out the way now. There's loads. The front door pockets have three shelves a side. These cubbies, above the dining area, we used for cereal, but basically everywhere you look there'll either be a storage compartment or something important and technical (pipes, cables) inside what would otherwise be a storage compartment. 

Out for a walk

Just as well we had cereal with us, as we couldn't cook. Nor clean ourselves or the bikes. So our solution was a big walk along the beach at West Bay and back along the cliff tops. We headed home that afternoon. What we'd mainly learned is that the Grand Cali has very comfortable beds, and is actually more threadable than you think (it's about the same footprint as an EWB Rolls Royce Phantom), plus sits happily at genuine motorway speeds.

Advertisement - Page continues below

Second attempt

Having spent most of an afternoon on the phone to a chap called Steve at VW HQ, we sorted the gas. This included finding a previously undiscovered cubby containing a second control screen that's basically a back-up for the flashy one on the outside of the bathroom wall. That's touchscreen and runs nearly all the onboard systems. It's mostly logical to use.

So off I went. This time a solo sortie and not too far from home. I basically went and kipped a night on a hill when the weather forecast suggested I'd get a good sunrise.

The heating is bloody effective. Warms the van quickly, doesn't make too much noise. You can select your water temperature as well (either 40 or 60 degrees – 40 is enough). Just be aware that if you're not plugged in, the electricity runs down fast. I'm guessing this is due to the fridge rather than the lights, but I reckon the leisure battery could be bigger.

Here's the bike ride. Another good night's sleep in the van, up at 6.30am and out on the bike.

Advertisement - Page continues below

The dawn colours pinged nicely.

Washing facilities

Back to practicalities. This is the shower. The bathroom is a wetroom, the toilet swivels to make standing more convenient, the basin flips up and there's enough room to turn around. The shower head doubles as the tap. Water temperature was fine, but water pressure was fairly limp. It's a well packaged bathroom, ventilated by a glass panel in the ceiling.

The on-board water tank is a decent size as well – cleaning myself and the bike, plus kettle boiling and washing up only used about 20 per cent of the tank.

Blind faith

This is good. Each window in the back has twin blinds. Pull down from the top for a bug blind, pull up for full blackout. There's even a pair of massive bug blinds that cover the entire side door opening.

Further washing

Once I'm clean and with tea, I can turn my attention to hosing the bike down. There's a separate outlet panel at the back with a hose attachment and hot and cold running water. Again not much pressure, but enough to get the worst off the bike and probably very handy at rinsing sand off feet.

Conclusion

I did some pondering over a pot of tea. The Grand Cali doesn't have the multi-purposeness of the standard Cali. That's small enough to be used every day, and with its pop-up roof can still sleep four easily enough. I have one at home. I adore it. It doesn't have a bog or a shower, but that's the compromise you make.

In adding them in, plus more space and features, the Grand Cali moves away from the simplicity of the standard version. Where the standard Cali is a multi-purpose vehicle in the truest sense of the word, the Grand Cali is simply a campervan. You can't use it for anything else. Now, if we look at it as a camper van, we start to find holes. Because it's built on the standard Crafter platform, it's limited inside. Width is the issue. If someone's in the centre galley cooking or washing up, no-one can get past them to access to bed of the bathroom. It sounds minor, but if it's pouring outside and there's four of you in there, these things start to matter.  

The unpowered side door is also very heavy and awkward. Assuming a powered door is an option, you need it. The two passenger seats are upright and narrow. Their occupants will argue and elbow each other. I'm not that au fait with the campervan market, but a quick search shows that £70k gets you more floorspace elsewhere (although you have to balance that against the fact you'll almost inevitably be driving gussied up Fiat with some dodgy decals).

Standard equipment is rather miserly. The two tone paint of this one is a £2,850 option. Flat white is the only non-cost paint. Very van. Awning, toilet ventilation, ambient lighting and the over-cab bed? All optional. Yes, really. The ability to sleep four in the 600 will cost you £2,490. I find that shocking.

If you still reckon this is the one for you, things start to look up. The fit and finish is excellent. It looks a heap more desirable than most campervans and is sleeker inside. It sweeps along at around 27mpg, and has enough power (a 2.0 turbo diesel with 177bhp and 302lb ft) to stop you holding everyone up. It's pretty refined and comfortable to do distance in.

If I was semi-retired and my other half and I were off Euro-touring then the 680 might be a good bet, but overall I just can't see this catching on for families in the same way as the standard Cali. I did idly wonder whether I'd come away from this mini-adventure wanting to upgrade mine. I don't.