Watches
Are slimmer watches making a comeback?
As fashion tastes evolve, watchmakers have to keep up, and the desire for thin is in
Most watches are on the fat side. A trend for big watches that started way back in the Nineties has eased off a bit, but not entirely. If someone drops serious coin on a watch, they generally want people on the other side of the hotel bar to know. But not everyone wants a watch the size of Big Ben. In fact, an ongoing quest for slimness is one of the toughest tests for watchmakers.
While fatness is governed by personal taste, thinness has to wrestle with physics. A mechanical watch contains lots of small parts moving in harmony with each other, and there are limitations to how much you can shrink them without compromising efficiency and durability. However, the watchmaking community loves a challenge.
Advertisement - Page continues below
The granddaddy of modern watches is a Frenchman called Jean-Antoine Lépine, who was appointed clockmaker to King Louis XV in the 1760s. There were pocket watches before Lépine, but the mechanisms were so bulky they were little more than portable clocks. He redesigned the layout, making a flatter movement similar to those used today.
As Lépine's calibre was adopted by other watchmakers, the pocket watch became a must-have fashion item. One person credited with making it popular was Beau Brummell, famous for transforming the way people dressed in the late 18th and early 19th century. The fitted waistcoat was one of his fashion contributions, so a slim watch was a must.
When watches moved from pocket to wrist in the early 20th century there was extra incentive to go slender and certain brands took pride in pushing the limits. Jaeger-LeCoultre and Audemars Piguet took turns in breaking thinness records in the early days of wristwatches. Piaget got involved in the Fifties and still makes it a badge of honour to make luxury watches in the slimmest packages possible.
In the Seventies the competition for slimness came up against the unbeatable foe of watches that didn't require tiny cogs and springs. Quartz movements don't need much space, so going slender is easy. But that is cheating, so mechanical watches have just carried on defiantly. The battle for ultra-slim mechanical watches has produced some amazing feats of engineering, if you are prepared to pay more for the privilege. Most watches are fat, but ultra-slim is a delight to behold.
Advertisement - Page continues below
PIAGET ALTIPLANO ULTIMATE CONCEPT WATCH
The Swiss watchmaker and jeweller has made a speciality out of ultra-thin watches and won several awards for slenderness. This watch was introduced as a concept in 2018 and to the surprise of the watchmaking community went into production a couple of years later. The movement is integrated directly onto the case, giving a thickness of just 2mm – that is thin for a movement, but for a whole case it just does not look possible. All Altiplanos are slender, and start at around £10,000. But this mega-thin, made to order version is very much 'price on request'. We did request, and it's around £350,000. Hand wound movement in a 41mm diameter case made from a special cobalt alloy.
£350,000 est; Piaget.com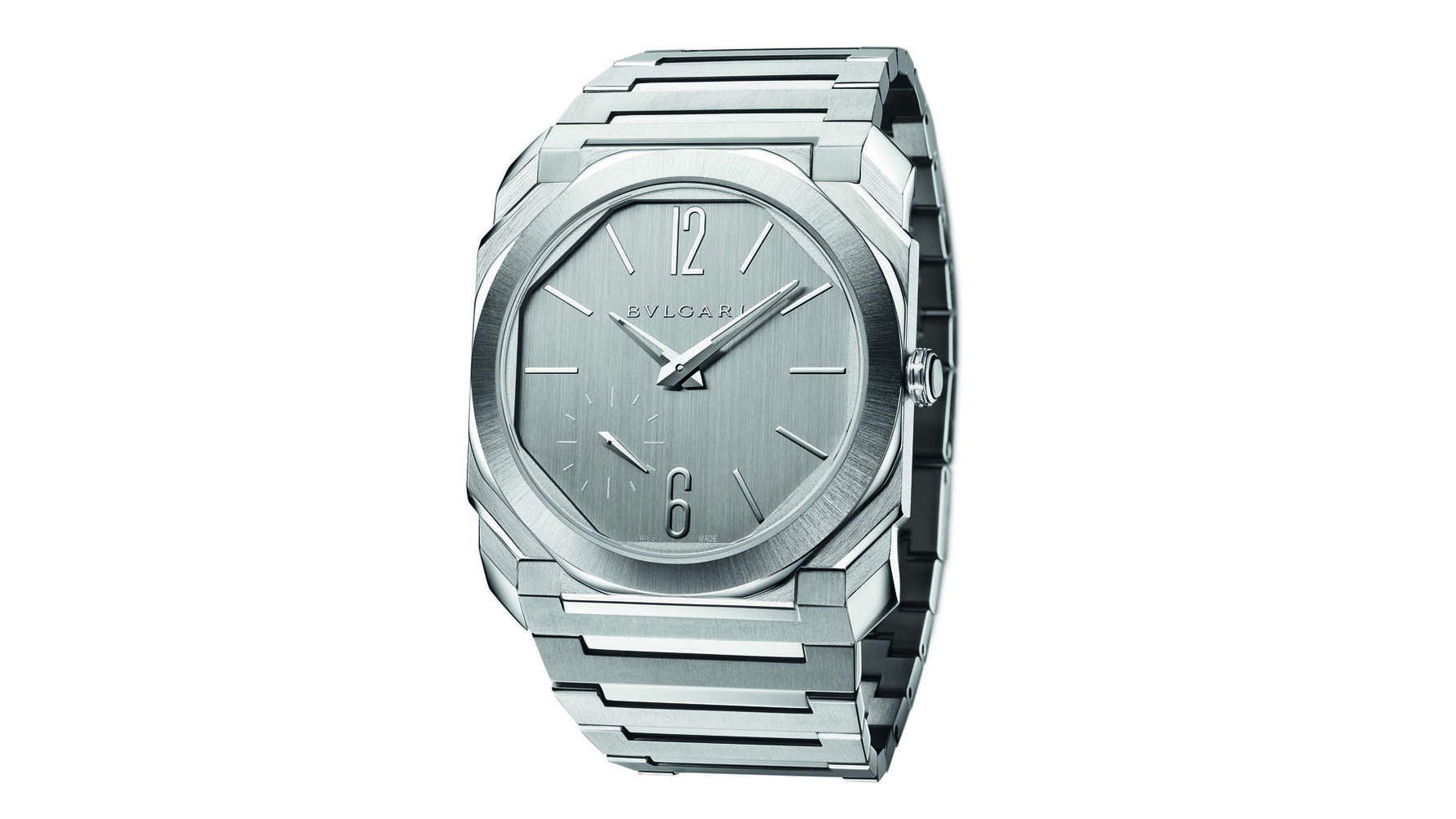 BULGARI OCTO FINISSIMO
Top Gear
Newsletter
Thank you for subscribing to our newsletter. Look out for your regular round-up of news, reviews and offers in your inbox.
Get all the latest news, reviews and exclusives, direct to your inbox.
In 2014, Bulgari brought out the Finissimo line, breaking all manner of records for technical ingenuity. They also have a wafer thin record breaker that costs Maybach money, but this off the peg version for a mere £10,200 is just a svelte 6.4mm thick and has an automatic movement and impressive 100m water resistance.
£10,200; Bulgari.com
NOMOS GLASHüTTE MINIMATIK
The East German town of Glashütte is a watchmaking hub and Nomos makes beautifully styled watches at competitive prices. This one has a 35.5mm diameter case that is a slender, if not record breaking, 8.9mm thick. In house automatic movement.
Water resistant to 30m.
£3,000; nomos-glashuette.com
SWATCH SMART STITCH
Anyone who thinks stylish watches are the preserve of the wealthy should take a look at Swatch. It does a good line in accessible automatic movements too, but anyone wanting thin should go for quartz. With a 42x6.7mm stainless steel case on a leather strap.
£145; Swatch.com