Top Gear Guide To Watches
Wave machine: a hot ride in Aston's £1.6m boat
Aston Martins don't just cross continents, now they cross oceans too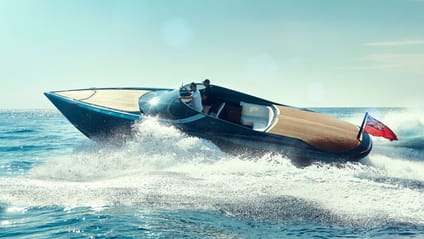 Sunday morning in Monaco. The sunlight has that cinematic liquidity peculiar to this gilded corner of the French Riviera, and the sky somehow manages to be bluer than blue.

Photography: Joe Windsor-Williams

Advertisement - Page continues below

We're in Fontvieille, the newish bit of the principality, built on reclaimed land in the Seventies. Right on cue, three-time F1 GP winner Thierry Boutsen strolls past. These days, he runs Boutsen Aviation, specialising in the 'sale and acquisition of private jets', and has apparently sold 327 since 1997. Well, he wasn't going to open a patisserie, was he?

Yep, Monaco is pretty much a theme park, and the theme is filthy lucre. In the marina, yachts of various shapes and sizes (mostly substantial) strain impatiently against their moorings in the shimmering water. Beyond cars, beyond helicopters, beyond even properties in Mayfair, Manhattan or Mustique, the world's ultra-high-net-worth individuals have proven themselves rather partial to super-yachts.

Advertisement - Page continues below

Maritime spending is what really separates the men from the boys. Microsoft co-founder Paul Allen tore a $250m hole in his $17.5bn fortune constructing his 414-footer Octopus, while everyone's favourite Russian oligarch Roman Abramovich made that look like a dinghy compared to his nautical runaround, the 536ft-long, £740m Eclipse. Sadly, bragging rights have lately passed to Sheikh Khalifa bin Zayed Al Nahyan, President of the UAE, whose yacht Azzam is currently the world's longest at 590ft. This is luxury unlimited.

It also opens irresistible brand-extending opportunities for companies with a priceless foothold in what we must invariably refer to as the 'lifestyle' space. In 2016, few of the world's premium car manufacturers are content just to make cars; the big play is in personalisation, at the very least, in creating bespoke cars in the age-old carrozzeria tradition if you're feeling more ambitious, or in licensing the brand to another company altogether if you really want to turn those revenue streams into torrents.

On which basis, an Aston Martin powerboat sounds like a no-brainer. In fact, it's tempting to ask what took them so long. "Wouldn't it be great," Aston Martin's CEO Andy Palmer recently mused during the opening of Aston's new Dover Street 'retail experience' (shop), "if you were down in a luxury harbour somewhere, staying in an Aston Martin apartment, with your Aston Martin parked in the car park, and your Aston Martin boat harboured outside."

Er, yes. And here it is. Well, the boat anyway. Thierry wanders off in the opposite direction as we head along the jetty towards the fully loaded £1.6m AM37, one of the break-out stars of the Monaco Boat Show, which has just finished, and a shoo-in surely for the next Bond movie. (Daniel Craig is said to be mulling over a new two-film deal worth, get this, $150m.)

Advertisement - Page continues below

Who doesn't love a powerboat? The AM37 is so-named because she's 37ft long, and even surrounded by the nautical monoliths that dominate Monaco's marina, this is an eye-poppingly pretty creation. All the rules that govern car design done properly – stance, proportion, seamless surfacing – are present and correct, to the extent that it almost looks… effortless. Unsurprisingly, nothing could be further from the truth.

Let's clear up a big question straight off. The AM37 is not a nautical revisit of the misbegotten Cygnet. This isn't a pre-existing boat with some enamelled badges whacked on and fancy leather. No, this is an all-new design from an all-new company, funded by a wealthy Aston-owning Dutch entrepreneur. Quintessence Yachts, registered in Holland but based in Southampton, only got going when Aston Martin decided it liked the cut of their jib.

Advertisement - Page continues below

"Look, I'm as cynical as you about badge engineering," Aston's chief creative officer Marek Reichman tells me down the phone from Japan (he's showing the AM-RB 001 to potential clients; they now have more than 600 firm expressions of interest). "The only way I would have done this is if we'd had the opportunity to design it ourselves. Over the years, various boat builders have approached Aston Martin about collaborating on something. It never felt right. But when Quintessence Yachts came to see us, we liked their approach. As a new company, they were interested in doing things differently."

In fact, Quintessence had to play a waiting game. Aston's ever-expanding design studio hadn't quite expanded enough when the first overture was made, around three years ago. "We wanted a similar experience to an automotive gran turismo," Quintessence Yachts' CEO Mariella Mengozzi tells me. "The first brand our principal investor thought of was Aston Martin. It's a name that's truly recognised around the world. Actually, when we started discussing the idea of an Aston powerboat, it was something that seemed to pre-exist already in lots of people's minds."

Six months to the day since the first meeting, Mariella and her partners were back in Gaydon. This time Reichman and his crew were ready. "The biggest challenge we face is staying in control of the programmes we run," he asserts. "From my perspective, it's as important that this was a ground-up new boat as much as the AM-RB 001 is a new car. I didn't want to compromise, and the result is that we've done some things the marine world would have said no to. It's unusual to get an opportunity to challenge the norms of an industry, especially one in which tradition governs everything you do."

The project was triangulated between Aston Martin, Dutch naval architects Bas Mulder, and Quintessence itself. Mengozzi, a charming Modenese lady, has years of experience at Disney and Ferrari under her belt, so she's no stranger to complicated licensing deals, while fusing the different strands of corporate ego. "There are pros and cons, going into business with a start-up," she candidly admits, "but sometimes when you work with leading brands there are… constraints. They interpret the brand in their own way, and if you are an established brand it still has to be highly visible. A small or new company will work a lot harder, you are more flexible, more committed and willing to accept the challenge."

Having defined the class they wanted to enter – a powerboat that could also work as a day cruiser, the fastest vessel in its class but one that was also comfortable – they got to work. Mulder developed an innovative hull and architecture, working closely with Reichman and his team, who approached the aesthetics as if designing a new car, using 40 per cent scale models, CAD and a full-size clay. "Boats are usually done off 2D drawings," Marek avers. "You can see how powerful the volumes are on the AM37. There's a drama to her curves. The hull is concave, not convex, and there's an 'archway' effect at the stern that allows the water to exit in a different way."

The AM37's backbone is mostly carbon fibre and uses e-glass in some areas, with an outer skin in fibreglass. The entire structure is vacuum-infused, and uses resin and epoxy bonding, another technique from the car guys. It's handmade, almost all of it done in-house, and the visible carbon-fibre elements in the cabin aren't just there because they look good. This is one rigid powerboat. She weighs 7.5 tonnes 'light ship', while the fuel tanks can swallow a monstrous 800 litres. The AM37 is good for more than 50 knots (57mph), which is pretty punchy across the water.

Many of Aston's key suppliers have been drafted in to reinforce the brand synergies; the teak in the AM37's bow, deck and transom is exquisite, and the leather that swathes the cockpit area has a reassuringly Aston tactility. The steering wheel's main structure is hewn out of a single piece of stainless steel, and contains nine further elements. The digital instruments live behind a 15in HD touchscreen that's obviously fully waterproof; it's also heat-resistant to be fully operational up to 120°C. Three carbon panels can be manoeuvred into different positions above the main deck, and they disappear again beneath the rear deck at the push of a button (or via an app). Even the anchor's design is so new it has a patent pending. Best of all, though, is the curved windscreen, the most difficult thing to do, according to Marek and a complicated structural element that also joins the visual dots to Aston Martin's cars.

Everything is custom made, apart from the air vents, the microwave, and fridge. There's a 48in television in the cabin, backed up by a server that can handle up to 1,500 movies. Even the lavatory has been specially designed for this boat (is this the Aston Martin of loos?)

My pilot/driver for the day is Quintessence's head of operations, Stefan Whitmarsh. He's worked at (or consulted for) most of the big yachting guns, and is also a former offshore powerboat racer. I've met a few of that breed over the years, and they're about as unhinged as human beings get. But as this is currently the only AM37 in existence, Stefan chooses to ignore my enthusiastic imprecations to punch the throttle. We hit 35 knots, which is still quick enough to get some proper air. Like every fast boat I've ever been on, the AM37 adds an extra dimension simply by interacting with nature's most thrillingly unpredictable force, although tellingly we don't get even a tiny bit wet. The Aston guys worked hard to give her car-like ergonomics, so the throttle control has a seamless weight to it, and the view ahead is far better than usual. We still end up looking at the sky, though.

"She's beamy, which gives you stability, comfort and volume space, but the downside is a possible reduction in performance," Stefan says, as we ride the waves with impressive commitment, and he monitors the shifting 'sea state'. I'm sensing no performance downside so far at all. "This prototype uses two 520hp Mercury marine petrol engines. The engine choice is tailored to usability, and standardisation of parts – the propellers, for example. These engines can be serviced anywhere in the world. We could have more performance with a different engine, but then servicing would be more difficult. To answer the question I know you're going to ask, that's why there's no Aston Martin V12 in there. But as to the future, who knows…"

An AM37 R? It's in the mix, apparently, and she's over-engineered to deliver more. Sixty knots, they reckon. And you can't do that in a shop.