This weekend, welcome to The Speedshop on BBC Two
Need some Sunday night telly to keep you going until series 28 of TG? Step this way
While we all count the days until the new series of Top Gear returns (and it's not long now), may we point your attention to something coming up this Sunday 12 January on BBC Two at 8pm – a one-off show called 'The Speedshop' that is definitely worth your attention.
Genial, wise-cracking Titch Cormack is a 10-year veteran of the Special Boat Service, where he was in charge of making sure the special forces could get any vehicle through any environment, using whatever was at hand. After leaving, he set up his dream business, a souped-up man-cave by the water in Poole, where he and his team work on building unique creations, from custom vintage motorbikes to some other – more out there – creations. For which Titch has exactly the right experience: "Now, a lot of people have the idea of SBS as water-based, but it couldn't be further from the truth, the majority of the operations were all land-based. I was all to do with vehicle and heli-borne operations. And my specialisation was mobility ops, so a lot of motorcycles, quads, buggies, the heavy weapons systems that we use. I ended up being the chief instructor for the unit and running all the training for the guys as well as operations all over the world."
As becomes apparent from the show, this has left Titch and his team – Billy the mechanic, an ex Tank Regiment Commander, and Martin, the tattooed hippie and paint specialist – with the ability to make and fix anything using anything and everything if they need to ("haha – yes, a lot of zip ties, masking tape and bungees. Make it work and achieve the aim").
In Sunday's episode Titch and the team agree to take an old Honda FX 650 donor bike and build a bespoke low-rider for a special customer. Chris is an ex Parachute Regiment soldier who just a few weeks earlier had his leg amputated, but wants to get back out on the road as soon as he can, in a bike he can take away and use. Not only that, Titch has bought an old Hillman Super Minx estate (one of only four left on the road, it transpires), that he's turning into a surf wagon (and which you will definitely want a go in when you see the finished article).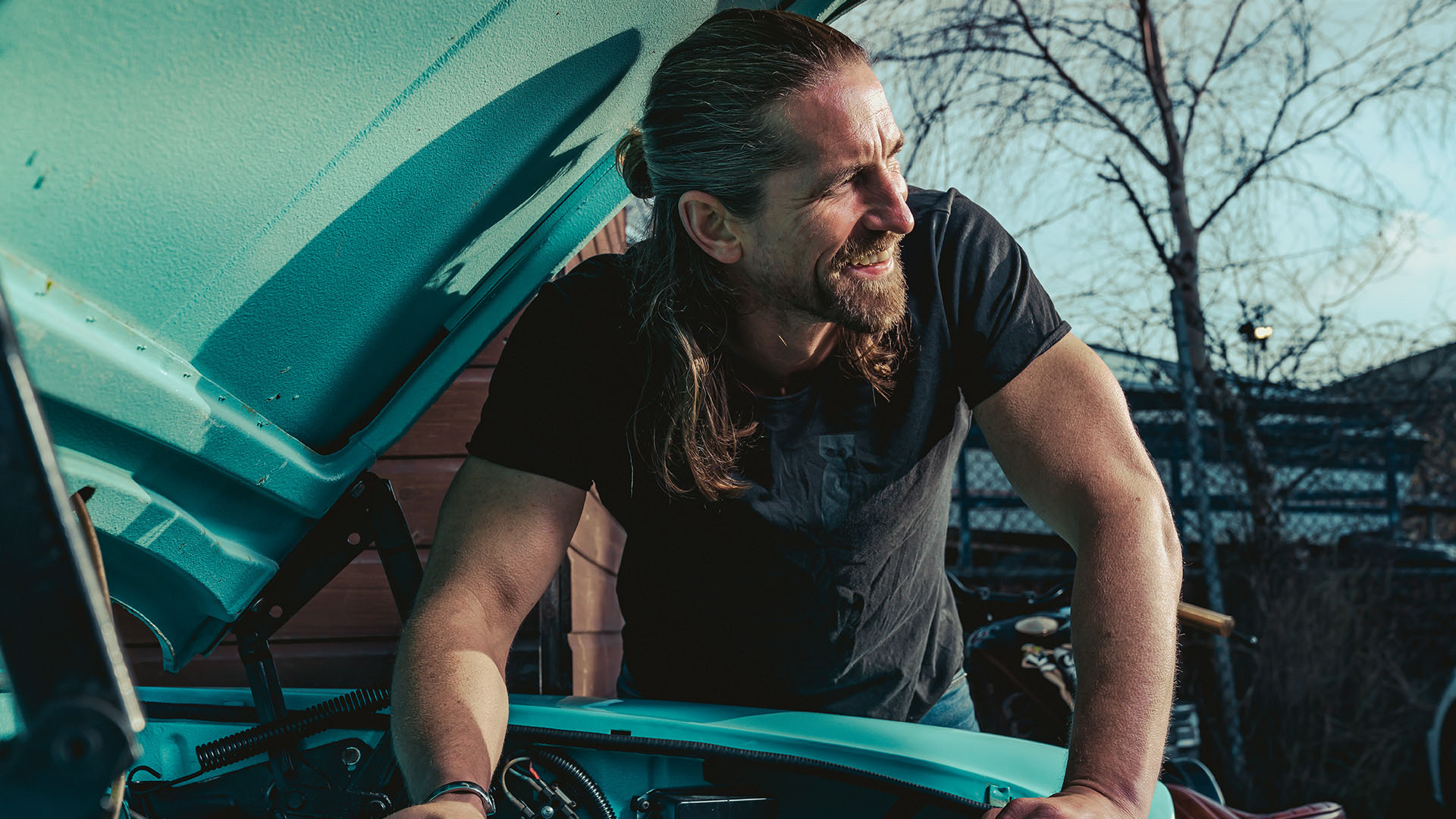 The ambitious plan? To end the bike build with Chris, Titch and his team taking their new bikes on quite the road trip – following the road over the Alps that Hannibal once followed with his team of elephants…
It's a fine watch. In a world of endless identical "buy old car, fix old car, flip old car, move on" shows, The Speedshop is not like that at all – something Titch was aware of when he started making the show. "We were keen to keep it as authentic as possible, let's not make it up and pop in any false jeopardy. What happened, happened – stuff will always go wrong and it always does, and of course there were some absolute belters in there. That's what life's like with second-hand vehicles.
"There's something else: everything has become very disposable. Modern cars and bikes have become very bespoke. They can only be repaired by a man with a laptop. What I loved with the Hillman when we bought it was the manual that came with it. All the instructions were how to repair the car on your drive written for you the owner, and that's how it used to be – you could buy all the parts to repair it and do it yourself!
"While the world is now talking about becoming more eco, and more green, what people are realising is the greenest option of all is to keep a vehicle running, and repair what already exists. Don't make another one, because the process of making it creates more issues than repairing what you had in the first place."
And what vehicles does Titch drive on a daily basis? "I drive a 'utility vehicle'. It's a Renault Trafic van, haha. And I was about to say it's never given me problems but the fuel injection light came on this morning! And I've got about eight bikes now, a real mixture of things from a Sherco to an old Honda CR250 two-stroke motorcrosser that I love, an old Honda XR400 which are actually the bikes we used to use in the service, a Yamaha R6 track bike, and a Honda CB500 track bike which is very underpowered and old-fashioned, but makes it brilliant when everyone else is on one in the one-make stock race series I'm in…"
Speedshop is on BBC Two at 8pm this Sunday 12 January, and we'll have more news soon on exactly when Top Gear returns to that familiar slot…