Weird
Here are 15 of the strangest bonnet ornaments coming up for auction
Includes: a squirrel, a snail, something fit for a horror movie and of course, many dogs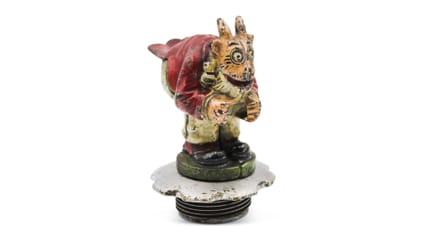 Never again say the world o' cars is a boring, homogenised sandbox full of identikit architecture and uniformity. Because of all the strange, wonderful complexity that orbits outside the main sphere of 'cars', there floats the strange, wonderful complexity of bonnet ornaments.

Or, for our Stateside chums, 'hood' ornaments. Originally a turn-of-the-century affectation to put a more personalised stamp onto your My First Motor Car, these fantastically weird… things are basically _Max Power_ for early 20th century motorists.

RM Sotheby's is hosting an online auction dedicated to these 'hood ornaments' – innovatively titled 'Hoods & Hands' – later this month. So this week, instead of bringing you a cheap giffer to fantasise about, or indeed a multi-million pound lump of unobtanium, we bring you MASCOTS.

Sure, there's the cool stuff, yer flying Bentley Bs and eagles and these Chevy wings on the right, but you're not here for those. You're here for the dogs, the snails, the squirrels and the tiny nightmare-inducing chromed peculiarities.

So come journey down the rabbit hole with us.

Advertisement - Page continues below

The Fiddler - £150-£220

We begin with a figure of a violinist atop a "period dog bone", built in the 1920s. This isn't even the strangest one.

Tete de Chein - £220 - £290

Named after an alp, it literally translates as 'dog's head'. And lo, this is a dog's head – and what a Good Dog – atop a "period radiator cap", built in the 1920s.

Advertisement - Page continues below

Rugby Player by Charles - £220 - £290

What better way to demonstrate your love of a particular sport than having a miniature crafted in its image? Though, we're yet to see an ornament representing competitive cheese rolling. One can only hope.

Cockerel - £220 - £290

Sure, you've got yer jaguars and yer griffins and eagles and so on, but nothing beats a proud, upright cockerel. Majestic.

Vulcan Blacksmith - £220 - £370

Believed to have been crafted between 1919 and 1928 is this little gem; a mascot of a Man Being A Blacksmith. Might be difficult to replicate in today's world, mind: one suspects 'senior business development executive' would prove tricky.

Trapeze Artist - £220 - £290

The motorist of the 1920s clearly had a deep appreciation for the performing arts.

Advertisement - Page continues below

Rabbit - £290 - £370

Paging director Jordan Peele…

Austin Rooster by Stanco - £290 - £400

How to one-up the plucky motorist sporting a cockerel on the top of their bonnet? A chrome rooster, that's how.

Advertisement - Page continues below

Le Tank by L. Brunswick - £290 - £370

Truly, we are lost for words. Presented on a period radiator cap sits this creation from the 1910s: a woman atop a snail. Answers on a postcard, please.

Running Bulldog - £290 - £440

A Good Dog, immortalised forever in chrome.

Faust by LV Aronson - £290 - £440

It was Faust who made a pact with the devil, so why does he look like one here? In any case, we're making a pact with ourselves to sleep with the lights on from now. Soon to be the basis of a new horror franchise, surely.

Squirrel by Max Le Verrier - £370 - £500

Sending Golden Retrievers doolally since the 1930s is this tiny squirrel mounted on a period radiator cap.

'Old Dog Yak' - £440 - £600

Aaaaand that's our nightmare complete.

Man with Beer and Tyre Iron - £440 - £600

Road recovery specialists were different back then, huh.

Hebe by A. Delm - £1,450 - £2,200

Because no car is complete without a terrifying rendition of a winged creature assaulting a human being.