This review was first published in Issue 192 of Top Gear magazine (2009)
The Ferrari 599 GTB Fiorano is a car that's so good it can turn you into a ridiculously picky person. I mean, to be sitting there in a £200,000 supercar and having a pop at, say, the design of the instruments is a petty and twisted thing to be doing. (But, yes, the dials aren't all that clear or beautiful.) In most areas though, it nudges perfection, and I've yet to meet the individual fussy enough to adjudge there's anything shabby about the 599's handling. Even so, in that department Ferrari has decided it can do even better.
Advertisement - Page continues below
Hence the Handling Gran Turismo Evoluzione pack, or HGTE to its friends. It's a £13,960 option pack rather than a separate model. In fact if you've already got a 599 you can have all the dynamic changes done as retro-fit. Word has it that Luca Badoer, Ferrari F1 test driver, is first in line for that upgrade.
The pack, if someone of Badoer-like handiness is at the wheel anyway, enables the 599 to navigate the Fiorano test track (which is about the same length and layout as the TG one) 0.6secs faster than the stock version, even though it's no lighter and develops no more power. That time saving isn't a huge margin at all, but for some it'll be worth having. And what's definitely worth having is the subjective gain, the extra feeling of control.
The day I tried the 599 HGTE, there was a window of opportunity at the Fiorano test track. Now I'd naively assumed that since the in-season F1 test ban, the place might be all tumbleweed this time of year. Not so: Ferrari uses it for R&D and demo drives with sponsors and all sorts of other work pretty well all day every day. So TG had to grab the chance. Unfortunately the track was cold, damp, greasy and inconsistent. Frankly, it couldn't have been more treacherous if a herd of mozzarella buffalo had been out on the tarmac raising their tails and dumping for all their worth.
So I set off with the manettino in the green-for-slippery setting. The car seemed remarkably at ease, so gradually I worked my way up through white-for-sport and orange-for-race. With each notch, the dampers' programming gets more eager, the stability control more laissez-faire and the paddleshifts quicker. There's also red-for-stability-control-off, but I used that only on the very slowest corner where there's plenty of run-off. This turned out to be a wise decision. Read into that what you will. (No, no. I brought it home unbent.)
Advertisement - Page continues below
So I can't tell you much about the ultimate track grip. But it was obvious how adeptly it handles its mass through the chicanes. This thing is a quarter-tonne heavier than a Corvette ZR-1, but it drives through an S-bend like a featherweight, and that's even better than the regular 599.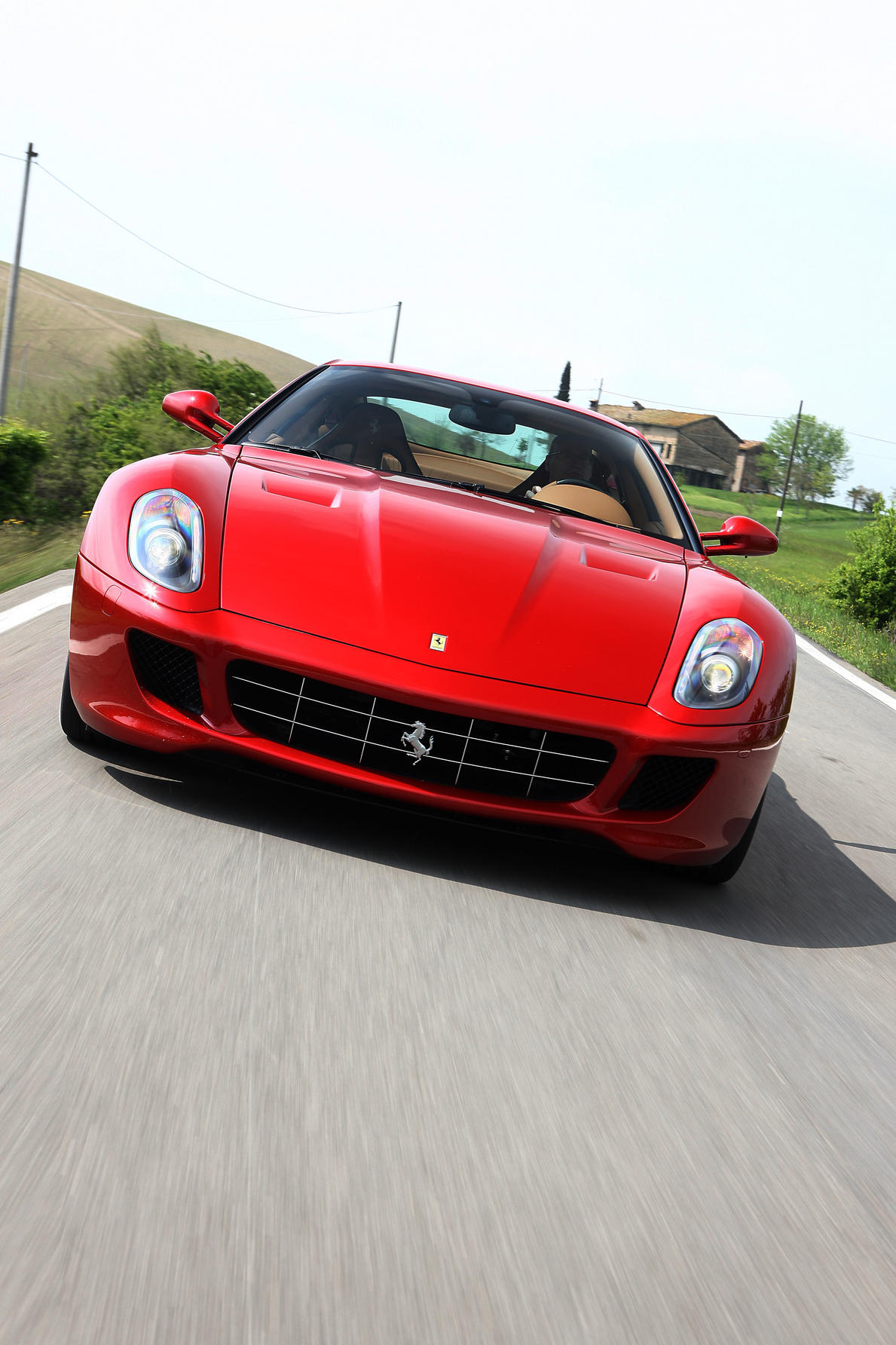 How does it do that? Well, the springs are a bit stiffer front and rear, and the car is lowered by 10mm. The rear anti-roll bar is thicker too. Which means the car will roll and pitch less in the steady state. But also, the adaptive damper software has been modified, at least when you call up the sportier manettino settings. The dampers now turn stiffer than before as the car turns into a corner or begins to brake or accelerate - this quells the pitch and roll by far more than the static figures suggest. And this gives it the newfound feeling of agility, as does a marginal change to the front wheels' camber. Oh, and the tyres might be the same size and design as stock, but they're made of gummier rubber. Don't stick them to the underside of your school desk.
Meanwhile, the shifts are hammered through in 85 milliseconds, thanks to new gearbox software for the more aggressive manettino settings. It makes you feel like you've got a pile driver thumping against your chest, but boy does it give you a hurry-up. Using the revs and all its 620bhp, this car is violently fast. And, of course, the carbon brakes are more than equal - I always hit them too soon. That moment at the end of the pit straight as the sharp-right-hander looms, and you're on the stoppers and tug back on the minus paddle, well it ought to be in the training manual for free-fall parachutists.
Time's up. Fiorano has some secret work to be doing, and TG is politely shooed off. Not that I took a lot of persuading, I've got the rest of the day to go squirrelling the HGTE around the Italian hills.
Top Gear
Newsletter
Thank you for subscribing to our newsletter. Look out for your regular round-up of news, reviews and offers in your inbox.
Get all the latest news, reviews and exclusives, direct to your inbox.
Remember, the engine hasn't changed. But there's a new exhaust in the HGTE pack that gives it a richer baritone. Even so, it's an old-school Italian V12 sound, high-pitched and mechanical, not the hard-rock bass bin of a Murciélago. And at the start of things, you might wonder if you're really getting full performance value, at least in the middle of the rev range. It just doesn't have the punch of the Lambo, or the supercharged mania of a ZR1, or the lungs of a 911 Turbo. But ping it down a couple of gears - zam-zaaammmm - and the far-distance suddenly slaps you in the face.
Which means you need all the suspension control you can get. And this car is a marvel. Just as it checks its body movements when suddenly turning on a smooth track, it'll do an equally strong job on a road that bucks and weaves in all other dimensions. Of course, those surface changes - never mind the fact that we're going from wet to dry and back today - mean you're poleaxed unless you know what grip the wheels have, and here the HGTE serves up its most delicious surprise. There's an even sweeter, more detailed sense of chassis feel than before. It gives you priceless confidence, and it's something that you just don't get from any of the other front-engined supercars out there.
That chassis feel comes in part through the semi-race seats, with adjustable bolsters to clamp you in. You can get them on a normal 599, but their full-carbon shells are an HGTE item only. Ditto the split-rim wheels. There are carbon interior door liners and fascia garnishes but they don't save weight - it's about looking expensive. And anyway it's optional on the standard car, except for one little pencil strip of carbon above the radio, which is apparently unique to this pack. The HGTE also gets cast-finished prancing horses front and rear, instead of polished. I think we'll stop now. Sometimes one can know too much.
And anyway, there is one detail about the HGTE that's more important. Ferrari says it doesn't compromise comfort much. It doesn't, much. But at low speeds, the stiffer springs make the car bang and creak a little. The standard car feels more suave. A normal 599 ('normal'? when was any word less appropriate?) is such a brilliant thing because it feels like a luxury GT when you're not flogging it, and a true supercar when you are. The HGTE is without doubt a better supercar. But it's a full-time no let-up supercar, and somehow that makes it slightly less miraculous. See what I mean about it making you picky?
Powered by