First drive: Bentley's 600bhp, 187mph, £160k Bentayga
Take one for a spin or order a brochure
Powered by
motoring.co.uk
What's this, then?
It's the tricky-to-spell, difficult-to-miss Bentayga. Or, as
Bentley
modestly describes it, 'the fastest, most powerful, most luxurious SUV in the world'.
Bold claim.
A bold claim indeed, but one that's tough to dispute. Under the Bentayga's significant bonnet sits a new version of Bentley's 6.0-litre W12, with twin-scroll turbos plus high
and
 low pressure direct fuel injection. An official 296g/km and 21.6mpg likely won't be of much concern to potential Bentayga owners. A stated 600bhp and 663lb ft of torque certainly will. Such power will haul the 2.2-tonne Bentayga from 0-60mph in four seconds flat, and on to a v-max of 187mph. 187! In a full-fat SUV! Leaving aside the modified efforts of Germany's ambitious tuning houses, no 4x4 will dispatch autobahns quicker. Fastest and most powerful? Check and check.
And most luxurious? More difficult to prove numerically, but if you equate luxury to ticket price, the big Bentley's got that one licked too. The Bentayga starts at a chunky £160,000. Most of the bells-and-whistles cars on our early test drive were weighing in comfortably over £200,000.
Luxury's about more than price, though.
True, but poke around the Bentayga's cabin and you can see where at least a chunk of that cash has gone. It's an extraordinary, opulent environment, this, with enough wood and leather to retrim the QE2. It takes, says Bentley, 130 hours for 53 artisans to handcraft each Bentayga, and the quality of the workmanship – from the stitching to the leather to the shimmering veneer to the chocolatey hides – is unsurpassed, the Bentayga feeling more… bespoke than any other posh SUV out there. Than any other production car out there, maybe. If you want to spend even more cash, you can spec your Bentayga with its own glitzy picnic set – contained within its own three-piece luggage set designed to fit snugly in the boot, naturally – or even a Breitling Tourbillon dash clock that spins at the press of a button. The price for the latter? Somewhere around 150,000 Euros. On its own.
How does it drive?
With precisely as much speed, composure, refinement and grip as you'd expect from a £200,000 SUV. It is devastatingly, effortlessly fast, the Bentayga. Maximum torque is available from just 1350rpm, giving an open-the-fire-hoses surge of power whenever, wherever you deploy the throttle. Combined with the high vantage point, such point-and-squirt pace makes it a mighty overtaking weapon on all but the narrowest roads. Throw in the near-silence of cabin even at silly, silly speeds, and you're looking at a disarmingly easy car in which to slip far beyond the speed limit, whatever the speed limit. It's the sort of car in which, almost inevitably, ends with an encounter with an angry policeman and the line: "Do you know how fast you were going back there, sir?" "Absolutely no idea. I'm guessing 'really, really fast'?" Things get yet more impressive when you push the Bentayga hard through a series of fast corners. With the air suspension dialed into 'Sport' mode, the Bentley does an extraordinary job at resisting body roll, staying flat and doing a very convincing impression of a far lighter car. Thank a new 48-volt active anti-roll system that, says Bentley, reacts three times faster than a conventional hydraulic anti-roll system. It works. Grip levels are mighty, the Bentayga encouraging you to deploy as much of its 600bhp as possible at every opportunity. It's predictably, monstrously effective, and potentially the recipe for one of the fastest, messiest road accidents in automotive history.
Can it off-road?
Very much so. We tackled a rutted, twisted off-road course, pockmarked with craters and holes big enough to pitch the Bentley onto three wheels. The Bentayga coped with it all impressively, its fat road tyres finding purchase even on one-in-one slopes, nose and tail avoiding grounding in even the steepest-sided ditches. How many Bentayga owners will subject their £160k-plus SUV to such harsh treatment is another question – it is, frankly, a trifle uncomfortable doing silly off-road things in something so very expensive and opulent – but hey, it's good to know the big girl's got the abilities in reserve if, say, Kensington and Chelsea suffer a major meteor strike.
And how's the cabin?
Predictably splendiferous. No other company does interiors quite like Bentley does interiors, and the Bentayga develops Crewe's game even further. There are no fewer than 15 leather colours, and seven choices of veneer, allowing for colour combinations ranging from 'understated' to, um, 'devastated'. It's the little details: rather than conventional plastic, the instrument binnacle screen is made of mineral glass, the same material you'll find on the face of posh watches. Close the doors, and they squeeze flush-shut with a perfect, motorised click. The window glass looks – and feels – thick enough to stop gunfire. Please don't test this at home. The new infotainment system – with eight-inch main screen and 60GB hard drive – is a world beyond that of the current Continental, finally putting Bentley within swinging distance of the poshest offerings of
Mercedes
and the
BMW
 group. Top it off with some smart self-driving tech – lane assist and adaptive cruise control that works even in stop-start traffic – and the Bentayga proves a relaxing place to spend time, a car that simply vacuums up miles without causing so much as a furrow in the brow of its driver. Put it this way: if someone stuck you in a Bentayga in New York on Monday morning and told you to be in Los Angeles by, say, Tuesday evening, you wouldn't bat an eyelid. It'd be a pleasure.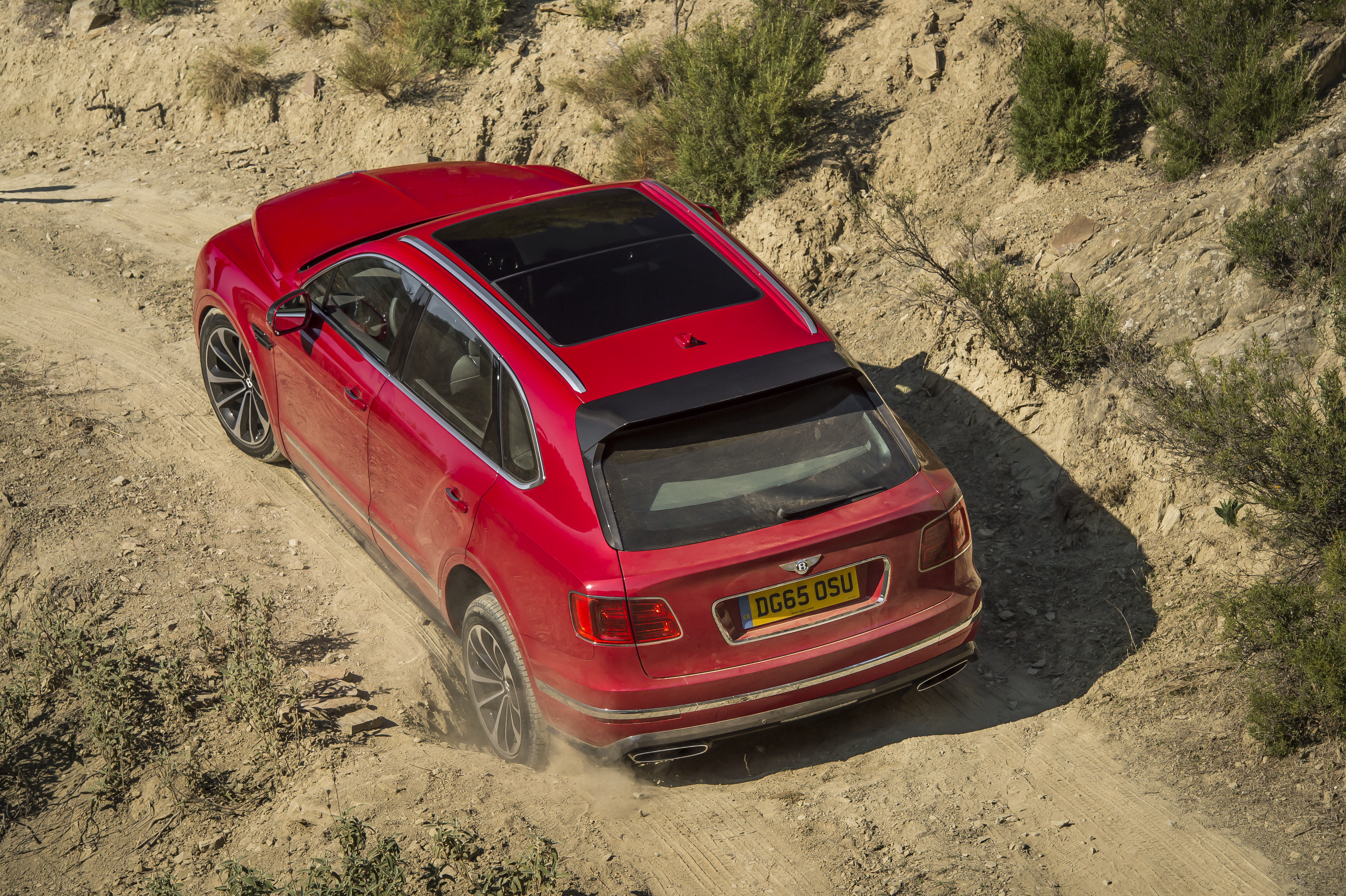 What about the looks?
You've got eyes. Make your own mind up. Having seen it in the metal, all we'll add is this: it may not be the most elegant, flowing of designs, but afrom every angle but front on, the Bentayga does a decent job of disguising its significant proportions, appearing somewhat lower and less vast than its dimensions would suggest. Second, it's very colour-dependent. Go for a dark shade and steer clear of the most liberal lumps of brightwork, and you'll have a hyper-SUV rather subtler than the gold Bentayga of the original press shots from its Frankfurt unveiling. And to those griping whether such a grand sports car maker should really be doing something as nouveau as an SUV, we'd say only this: the Bentley range already contains the
Flying Spur
and
Mulsanne
. Is an 187mph SUV really that much of a brand stretch?
So should I buy one?
Quite frankly, it probably doesn't matter a jot what Top Gear – or indeed any other automotive review portal – makes of the Bentayga. This is the car Bentley customers have spent years baying for, and even if we were to declare the Bentayga a G-Wiz-grade atrocity, it'd be unlikely to deter any of the 5,000-plus buyers who have already placed their order. The Bentayga, thankfully, isn't a G-Wiz-grade atrocity. Rather it's a very posh, very powerful, very expensive SUV that does everything you'd expect of a very posh, very powerful, very expensive SUV, all with consummate professionalism. If the
Veyron
was the VW Group at the top of its performance game, and the
XL1
its eco-masterpiece, this is Europe's great automotive empire doing luxury better than anyone else. Perhaps our only gripe with the Bentayga is that – and this might sound an odd thing to say about a £160,000 super-SUV – it almost feels too restrained in some regards. Unless you're feeling flash enough to go for the Tourbillon and the picnic set, there's little in the way of oh-for-the-heck-of-it extravagance here, of designers pushing the luxury SUV envelope to its very limit. Yes, the interior is executed with immaculate, unparalleled class. Yes, the personalisation options are all but infinite. But for all that, the Bentayga actually plays it fairly straight, eschewing British idiosyncrasy in favour of straight-bat luxury. But remember this is just the start of the story for Bentayga. Bentley bosses have already confirmed there are hybrid and diesel versions to follow, along, quite possibly, with a
X6-style SUV-coupe
. We wouldn't bet against a yet-more-powerful 'Speed' edition. All will offer opportunities for Bentley to have more fun with the luxo-SUV formula. For now, though, a 600bhp, £160,000 4x4 is plenty to be getting on with. Bentley boasts the Bentayga 'establishes a new class of car […] the benchmark against which all other SUVs are measured.' Another bold claim, but, on the basis of this early drive, a fair one. The luxury SUV bar has been raised.
The competition
How about an alternative?
The Cullinan is Rolls-Royce's belated and controversial response to the boom in SUVs
The best off-roader in the world might be the best luxury car in the world
Surprise, Surprise - big Mercedes is excellent. And far less obnoxious to look at than its closest rival.