Hang on, Bugatti actually let you drive one?
Hard to believe I know, but yes… lucky me. On a smoking hot Sicilian afternoon I was handed the keys to a €5m Bugatti Divo and told to go drive on part of the actual route of the Targa Florio road race. One caveat, I had to have Bugatti's test pilot Andy Wallace (the man who recently cracked 300mph in the Chiron Super Sport 300+, also the man who set the 240.1mph speed record in the McLaren F1) in the passenger seat to keep an eye on my ham-fisted inputs. However, when your caveat has a CV like that, and happens to be one of the nicest people on the planet, it's really no hardship.
Advertisement - Page continues below
Just run me over that price again…
Sure. Just the €5m… plus tax, so a cool £5.4m at current UK exchange rates. Except dropping a mansion's worth of money isn't quite enough to get you on the list for one of the (already sold out) 40 Divos that will be produced. No, you have to already own a Chiron to be considered, or simply add one onto your bill at checkout. That'll be £8m all in. Crumbs, better not prang it.
It's clearly smart business though because that's 40 cars on top of the 500 Chirons Bugatti is already building, and since the Divo broke cover in 2018 we've seen several other Chiron-based coachbuilt specials: namely the £12m Voiture Noire and EB110-inspired Centodieci, as well as more focused derivatives such as the Chiron Sport and Chiron Pur Sport.
How different is it to a Chiron then?
Advertisement - Page continues below
To look at, wildly. From the squinty headlights, to the ankle slicing front splitter; vents and slashes and winglets, to the massive, hydraulically-actuated 1.83m-wide double-decker rear wing (23 per cent wider than the Chiron, fact fans), this is clearly a far more aggressive take on the Chiron's silhouette. Some will claim the Chiron's elegance has been lost, but not I. Keep the colour subdued like the exposed navy weave you see here and it's a mighty piece of design: pure theatre, hulking presence, but still a delicacy to the details. Take those rear lamps for example, more modern art installation than taillights, but perfectly functional and usefully lighter than the Chiron's units, too.
Is this basically a track-focused Chiron?
Nope. Bugatti is clear that this still isn't designed to bully racetracks, it's merely a dynamically enhanced road car: bit more of an appetite for corners than the standard Chiron, but not as extreme as the Chiron Pur Sport. Even so, it's more than just a carbon-fibre coachbuilt body dropped on top of a Chiron chassis. Stiffer springs and dampers, increased camber, 35kg lighter (mostly thanks to lightweight wheels, but also no active aero in the front bumper and even more carbon bits) and 436kg of downforce at the limited 236mph top speed (90kg more than the Chiron). All in, it's eight seconds faster than the Chiron around the Nardo handling circuit, which is a sizeable chunk.
Same engine as the Chiron though?
Top Gear
Newsletter
Thank you for subscribing to our newsletter. Look out for your regular round-up of news, reviews and offers in your inbox.
Get all the latest news, reviews and exclusives, direct to your inbox.
Correct. Twice the price and the same powertrain wouldn't normally be seen as terribly fair, but when said powertrain contains an 8.0-litre quad-turbo W16 producing 1,479bhp and capable of propelling this two-tonne lump from 0–62mph in 2.4 seconds… we'll give them a pass. Concerned that the Divo slams into its limiter at 236mph whereas the Chiron continues to 261mph? Don't be, it's because the extra downforce and negative camber increase the load on the tyres, hence this nod to self-preservation.
How about the interior?
Mostly carry-over from the Chiron, but with a few key changes like the asymmetrical two-tone colour scheme, designed to place the emphasis more on the driver by surrounding them with lighter-coloured leather. There's also a knee pad on the transmission tunnel stitched with the Divo logo (lest you forget which of your fleet you're driving) slightly more sculpted seats and fixed instead of pop-out door pockets… and that's it. Again, no biggie, because the Chiron is already simple and exquisitely built inside. Our highlight? The displays built into the top knob on the centre-stack that reads out the maximum power you recently deployed. We managed 1,279bhp on a very short straight, not bad considering the state of the roads.
What? Thought the roads would be magical?
Erm, the old pits were cool, but the roads themselves were poorly surfaced, narrow, undulating and littered with Fiat Punto rentals travelling at either 17kmh on the right side, or 170kmh on the wrong side of the road. However, this wasn't quite the disaster it sounds. You look at the numbers, the materials, the cost, the sheer dimensions of the Divo and you assume it's going to be some sort of diva: tricky to see out of, jerky at low speeds, a boulder of momentum in the corners… but it isn't.
Go on then, what's it like?
Firstly, I've driven a couple of Veyrons a number of years back, but never a Chiron, so the experience was all-new. You quickly realise the engineering genius of this car is that its capabilities are so far removed from normality and yet it's as easy to see out of and drive normally as (cliché incoming) a DSG Golf. Honestly, it's ability to cope easily with less than perfect roads is out of this world.
It starts in the first ten metres. I was expecting the Divo to feels heavy, slightly cumbersome and full of inertia, but the complete opposite is true. The steering is always light - it's a quick rack, but crystal clear in its messages and hooked up to a front end with bottomless bite. Tickle the throttle and the response is instant – yes, there are 16 cylinders to wake up, but the performance feels frictionless at low speeds building to something more full-bodied when you keep it pinned. It comes in stages: the initial, naturally-aspirated surge, then the kick of the first two turbos – let's call this normal supercar quick. Resist the urge to roll off the throttle and for the finale it really fills it lungs… the full blurry, catapult, new-trousers-please effect.
And the way it finds traction on a surface without a single flat section on it, is staggering. Every crack and ridge is rounded off, there's zero harshness in the damping, and despite the bumps it finds a way to keep all four tyres in contact with the ground and deploy all that grunt. It's obvious that all this grip, shove and body control would add up to a blistering lap time, but it never feels like that type of car – it feels like the ultimate hyper GT.
How does it sound?
Totally unique. A cacophony of intake roar, exhaust rumble and hissing from the turbo wastegates combine to make it sound like the industrial revolution is occurring over your right shoulder. There's also a faint clicking wherever you go – shutters on the camera phones that amass wherever you stop. What's the Italian for "it's basically a Chiron, but a bit madder looking, faster around corners and twice the price", again? Remind me to have that tattooed on my forehead next time I drive this thing around Sicily.
Why the Targa Florio, assuming there's some historic link?
Correct again. The Divo is named after racing driver Albert Divo who won the Targa Florio twice in 1928 and '29 behind the wheel of a Type 35. Which is why Bugatti brought its own T35 along, a gorgeous, raucous little car powered by a 2.0-litre straight-eight. Unfortunately, I wasn't allowed to drive it (I did ask), but after seeing Andy Wallace execute the 92-stage start-up process and coax it out onto the road, I was rather glad to be in the passenger seat, arm resting on the spare, deafened by wind and the exhaust underneath me, it was a glorious end to an incredible day. Lucky me.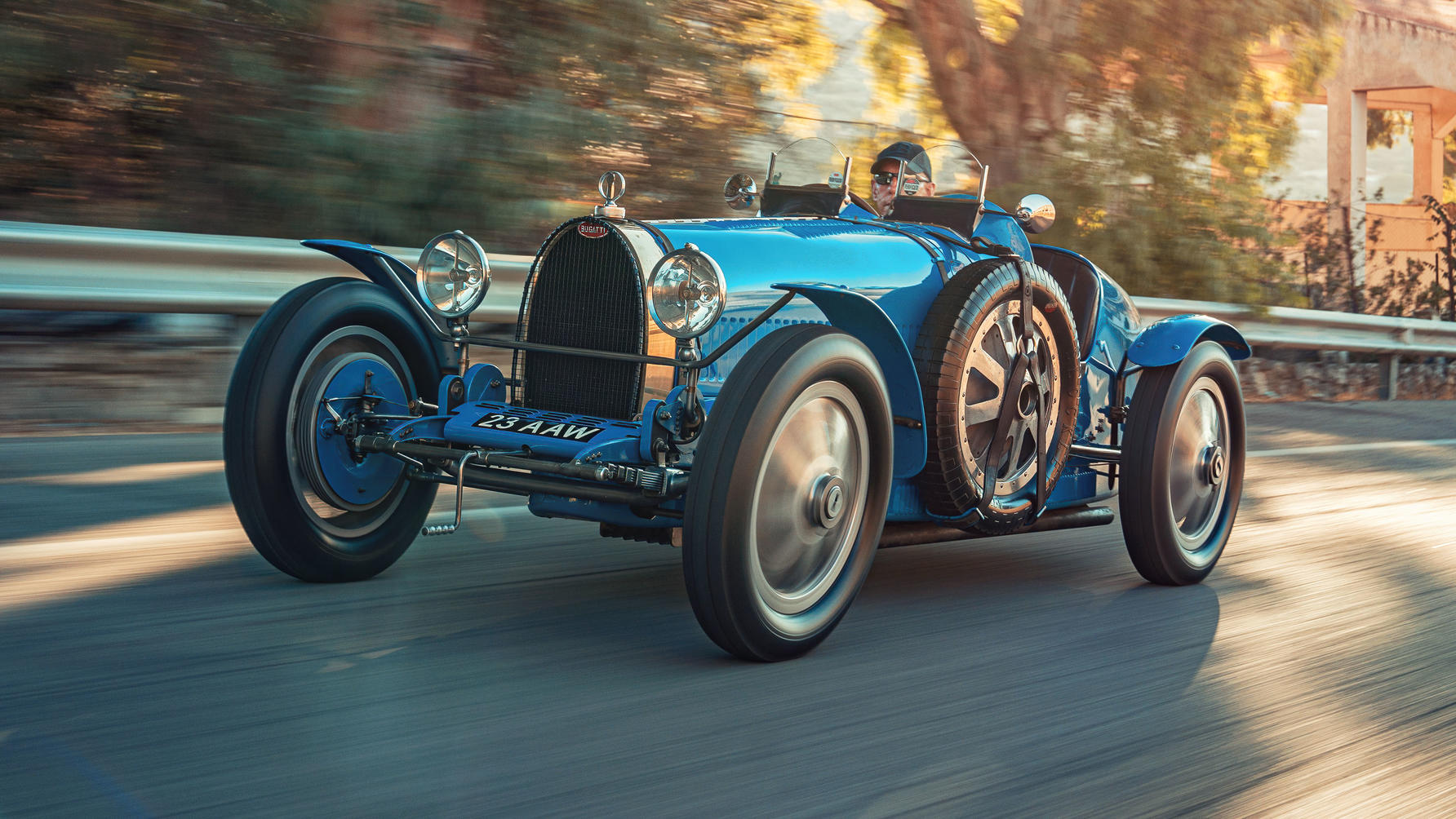 Powered by