Designed in bedlam, with the final design focus group run in a little lock-up garage out the back of Rampton Mental Hospital, TVR's new Sagaris sits eyeing me from the other side of the car park like a big blue herptile predator eyeing an unusually vertical hairy mammal. Subtle? No. Not a word we are going to be using here, or any variation plucked from the thesaurian depths so that a journalist can feel clever. Because the TVR Sagaris is about as subtle as being stabbed in the eyes with a stick. It impinges. Like when you get that feeling that somebody is staring at the back of your head, you'll always subconsciously turn towards it with slight unease, aware that it's just looked the other way. 
What I'm trying to say is that it's not pretty, not slick or cohesive, or any of those handy adjectives. There's a lot to look at, but the disparate parts aren't always relevant to each other. But what it does have is presence. It has that aggressive pout that makes you think it has a length of lead pipe stuffed up one sleeve. Semtex visuals; it has a big fat ability to get everyone's attention in the shortest possible time available. From the castellated, fake, almost-slots on the front wings to the stepped rear arches and transparent gurney flap bookending the stumpy tail, the Sagaris is a shouted expletive in the library of life, a hearty belch in the minute's silence of the soul. From the outset it apologises for nothing and dares you. To do what, I'm not sure yet, but the gauntlet has undoubtedly been bounced off my head... 
Advertisement - Page continues below
But it is, after all, just a car. The familiar TVR button-under-the-wing-mirror door-release makes an appearance, popping the lid on a cabin that's identical to the T350, except more roomy-feeling. There's that fat transmission tunnel that provides an impromptu rest for the left arm when working at the close-ratio five-speed gearbox, the resolutely fantastical binnacle propped out in front with digital and analogue read-outs cheek-by- jowl. It's so far out, it never fails to impress, and can't date. To date, it would have to have had something to do with fashion in the first place.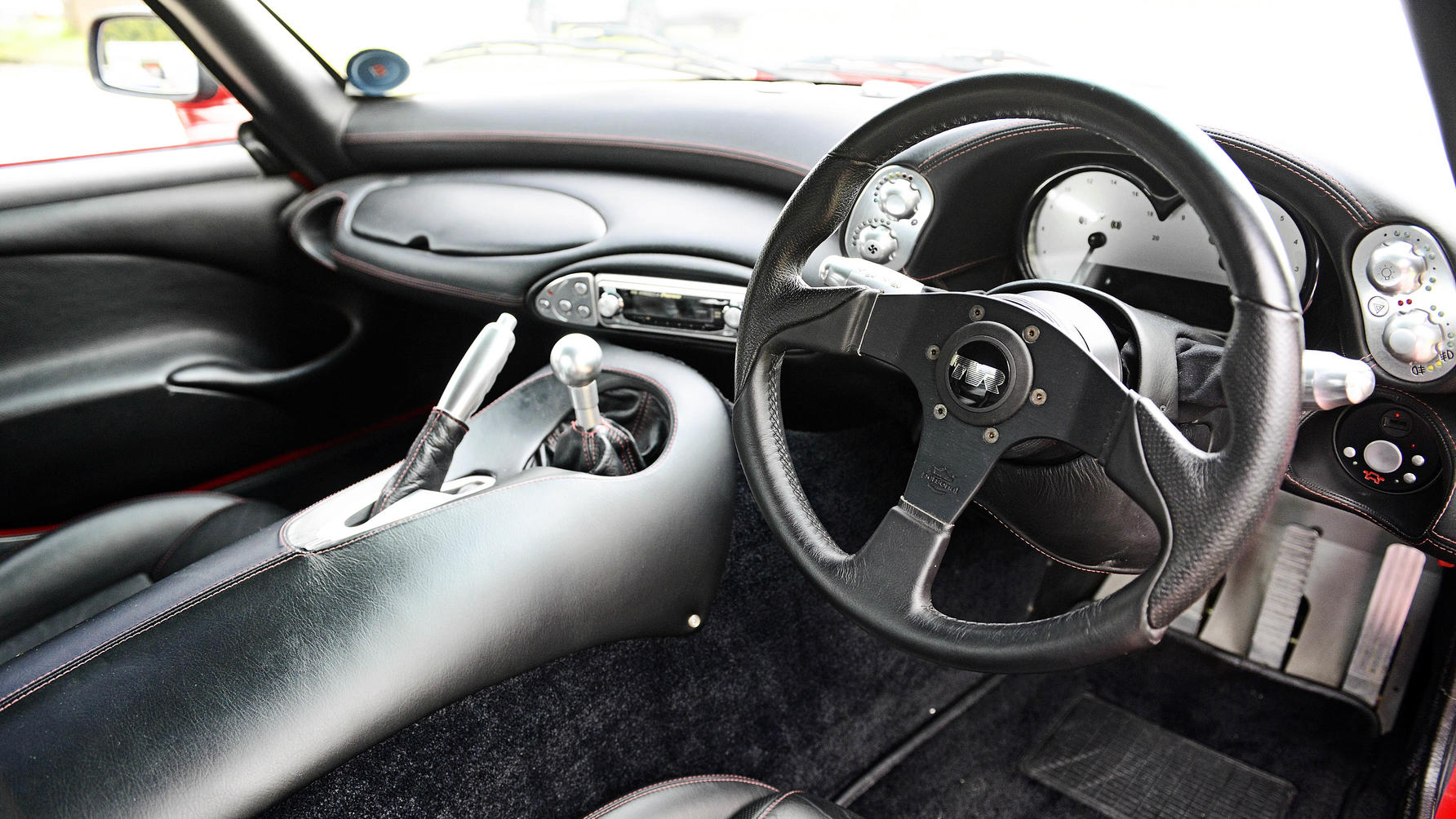 The pedals are adjustable, and for the first time you get the feeling that despite the mentalist external appearance, the Sagaris is quite a comfy place to lounge about in. Even the vision is pretty hearty, helped by the transparency of the blatantly corrective aerodynamic gurney out back. Mind you, if it wasn't see-through, the rear view would be a bloody useless inch-and-a-half of sky. As it is there's a mildly diverting optical effect that makes you feel drunk should you spend too much time staring at following cars at night. But still, it's really very easy to get comfortable in what is such an extreme-looking piece of hardware. 
It's the better for it. Dripping with intent, the newest TVR is the kind of car we try to turn our noses up at on grounds of taste, and yet secretly twist ourselves into knots to get a drive of. And when the four-litre Speed Six engine fires up and coughs fierce hairballs of unburned petrol at the cars parked either side of it through side-facing rear exhausts, you know that TVR is still up for a round of shorts. Or possibly even some sort of mildly crippling brawl. 
Advertisement - Page continues below
Slot into first, using the heavy but communicative clutch, feed in a bit of power and the Sagaris grumbles a bit, pops a bit more unburned fuel out into the atmosphere and moves off without fuss. And it's not just the once, either. This new TVR calmly feeds through traffic like a family hatch. OK, so perhaps it's the Addams Family hatch, but it's still easier to drive than any other heavy and brutalising TVR that's gone before. 
It still fizzes and rattles a bit on the trek out to find some roads with decent corners. There are still a few squeaks from the integral FIA-approved rollcage, which does leather-clad perimeter duty around the cabin, but the extra racy vocalisation suits the car. Total refinement might well dilute the experience, make the car feel less visceral and less connected. You certainly know that you're aboard a TVR, Bostik-laden glue smell and all. It doesn't matter; forgiveness is easily forged when you hear the almost stupidly mechanical thrash of the engine and rampant woofle of the exhausts. This is definitely a tunnel-happy car, and as I pass through the Hangar Lane underpass I depress the throttle a fraction more and explore the 400bhp potential. Not much happens. Like all TVRs, the exceptionally long-travel throttle needs a determined plant of the right foot to get the requisite effect from the engine – I'm just going to have to try harder. 
Thankfully we're soon on a more agreeable network and the Sagaris gets to stretch and yawn. My immediate reaction is that this is a different breed of TVR. It's gone soft. It rides. There is, shock horror, an infinitesimal degree of body roll and I still have all my teeth pointing in the same direction. The steering feels less inclined to splash you across the canvas of the countryside at the mere thought of a millimetric misjudgement. My God, a TVR that has an element of ego-saving understeer. The damping feels just as planted as ever, that feeling that it needs to be on a smooth track to really shine, but the springs feel softer – more capable of dealing with the inaccuracies of men in yellow jackets and their yellow, tarmac-laying trucks. What it means for the Sagaris is that it grips better than any other TVR (admittedly, I've yet to drive the Tuscan II) because it doesn't stumble from bump to bump like some broken-legged baby foal. It's easier to drive and therefore, more importantly, faster than any TVR I've driven in the past five years. 
The 400bhp bomb under the Venetian-bonneted front end obviously helps, cranking out a definite power-hike after 5,500rpm. It spins the rears at the end of the rev-range in the first two gears in the dry, and squats the car in the remaining three gears. One suspects that third might get a bit scary at full whack in the wet, thanks to a Hydratrak slippy diff on the rear axle that means the Sagaris likes to oversteer in the same way that Pete Doherty likes to get high. It may be ever-so-slightly less aggressive, but the Sagaris has not been tamed. 
Top Gear
Newsletter
Thank you for subscribing to our newsletter. Look out for your regular round-up of news, reviews and offers in your inbox.
Get all the latest news, reviews and exclusives, direct to your inbox.
Fair to say, though, that to push this car isn't the white-knuckle desperation, nerve-frying experience that an old Red-Rose Tuscan might have thrown your way. The snap is less sudden, there's more real information as to what grip levels are like and therefore more time to organise your responses and correct mistakes. Both the Tuscan and the T350 have incredible amounts of grip, but without serious exposure drivers must slow down because the cars simply don't inform as to when the slip might come. They don't growl before they bite. You push and push and then you crash. Unlike the Sagaris, there is plenty of chatter, but precious little really being said – one of the reasons why many original Tuscans had a habit of exiting stage left through a hedge after about three weeks on the road. Owners forgot what they were driving and got cocky. 
As did the Sagaris. I'm not one to subscribe religiously to reliability surveys, but the Sagaris picked up a sender fault that meant it wouldn't idle, stalled and flashed 'low oil pressure' warning lights at me constantly. Even more irritating because I was having so much fun. But it makes you look ego-wiltingly inept in such a flashy car when it stalls at every stop. A bonus-bought penis-extension you don't know how to drive. My over-compensatory rolling heel-and-toe to keep the revs up similarly made me look like an overenthusiastic red-light racer. Even when I was apparently trying to intimidate a learner-driver in a 1.2 Micra. OK, so it's a relatively easy fix, but if you've just blown at least five notes under 50 grand on this hair-raising right-hook of a car, you would probably prefer not to look like a steroidal fool when pulling up to traffic lights. 
Strange to be saying this about such a bonkers-looking car, and especially a TVR, but the Sagaris has more of a rhythm than any other car in the Blackpool stable. It flows better. Personally, I'd prefer a slightly more aggressive throttle to wake the engine a little more quickly, although having only driven the car in the dry, I can see how that extra element of torque-balancing give might be a life-saver when pulling out of a damp junction. Even so, it's hard not to be smitten. 
Which I am. In a whole day out in the car I didn't once reach for the radio. Didn't feel the need. A nasty, cheap-looking Halford's bargain of a thing anyway, I never got tired enough to want to drown out the Sagaris or even mute the experience. Funny, TVR is a company that a lot of people secretly root for, but they have consistently produced cars whose very hairy-arsedness became a caricature rather than a by-product of the engineering. They verged on the spiteful. With the Sagaris, we get a show-stopping look without a potentially life-stopping handling balance. For the first time, here's a TVR I wouldn't mind spending some serious time with. 
Verdict: The first TVR that won't rip your head off when you put your foot down, and it's the better for it.
4.0-litre straight-six
400bhp, RWD
0-60mph in 3.8secs, max speed 195mph
1140kg 
£49,995
Words: Tom Ford
Powered by
more on this car
Take one for a spin or order a brochure
Powered by